Garth Crooks's team of the week: Rooney, Terry, Boyd, Ramsey

By Garth Crooks
Football Analyst
Last updated on .From the section Football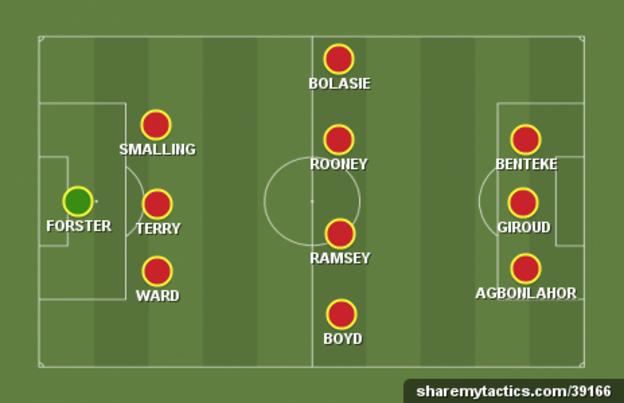 There were some resounding wins in the Premier League this weekend, with Manchester United, Arsenal, Everton and Aston Villa all scoring at least three unanswered goals against their opponents.
Whether it's the race for next season's Champions League or the fight to avoid a relegation scrap, everything seems a little bit tighter now, with some clubs gathering real momentum.
Manchester City's 1-0 loss at Burnley and Arsenal's 3-0 win over West Ham suggest that not everything is cut and dried behind leaders Chelsea.
And Burnley have certainly made sure the relegation battle remains open, with Villa's 4-0 thrashing of sorry Sunderland ensuring the Clarets have a lifeline.
Here are the players who I thought excelled in my team of the week.
GOALKEEPER - Fraser Forster (Southampton)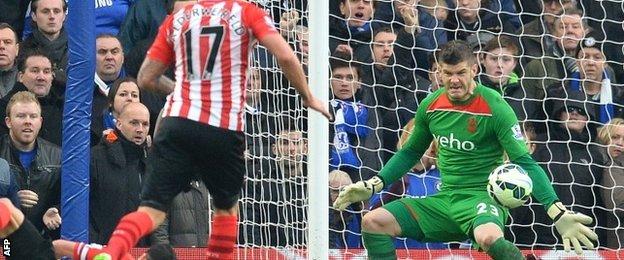 After 60 minutes of Southampton's 1-1 draw with Chelsea, it was Blues goalkeeper Thibaut Courtois whose name I had pencilled into my team of the week. By the time the game had finished I replaced him with Fraser Forster. Saints boss Ronald Koeman said that to get a result at Chelsea you need a great goalkeeper. I wouldn't call Forster a great, but he had an excellent game. Two world-class saves at a crucial period in the match gave Southampton the point they deserved and perhaps kept the title race open. Just.
DEFENDER - Chris Smalling (Manchester United)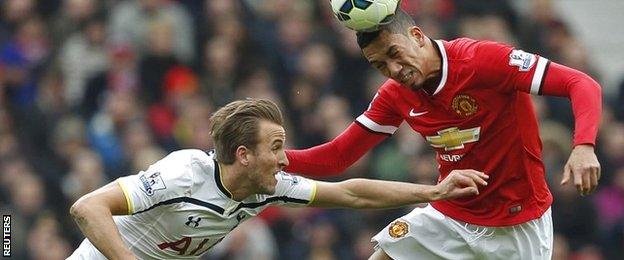 Prior to the game at Old Trafford, Tottenham fans would have put a lot of faith in their team coming away with a point and their talisman Harry Kane scoring a goal. In the end, Spurs got neither and it was largely down to the first-half display of Manchester United centre-back Chris Smalling. He didn't gave striker Kane a kick during the 3-0 victory. The perfect example of a defender dealing with the danger.
DEFENDER - John Terry (Chelsea)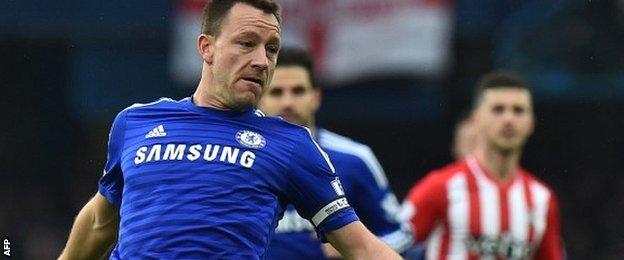 This was a game Chelsea could have easily lost but if they had won it, it would have been down to John Terry rather than the usual match-winners. It took a tremendous block towards the end of the game by Southampton to stop the former England captain scoring. Typical of the man who will do whatever it takes to win a game of football.
DEFENDER - Joel Ward (Crystal Palace)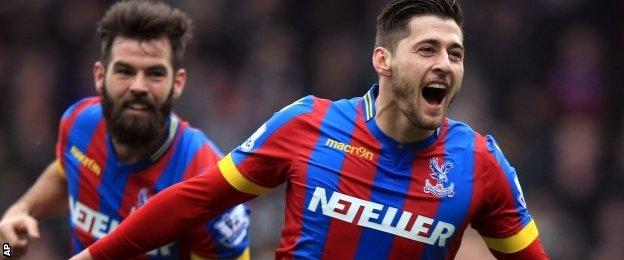 The work between Crystal Palace winger Wilfried Zaha and full-back Joe Ward proved to be a problem for QPR all afternoon. The highlight of the partnership was when the pair slalomed their way past three Rangers players and Ward burst into the opposition penalty box to score Palace's third goal in the 3-1 win. His celebration suggested he doesn't score many.
MIDFIELDER - Yannick Bolasie (Crystal Palace)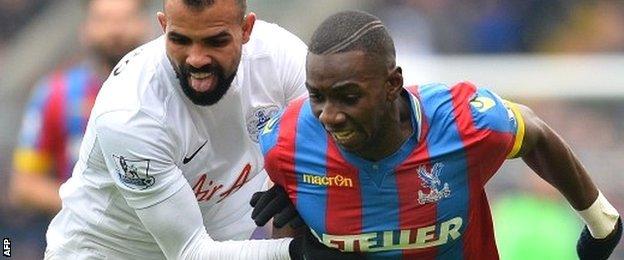 Yannick Bolasie terrorised teenage QPR full-back Darnell Furlong in the first half but that was his job. You'd have thought QPR might have known the sort of form Bolasie has been in and afforded the talented young defender more protection. He was left exposed to an international playing at the top of his game with the Palace winger setting up two goals. By the time Bolasie had finished his demolition of the defender, the game was over.
MIDFIELDER - Wayne Rooney (Manchester United)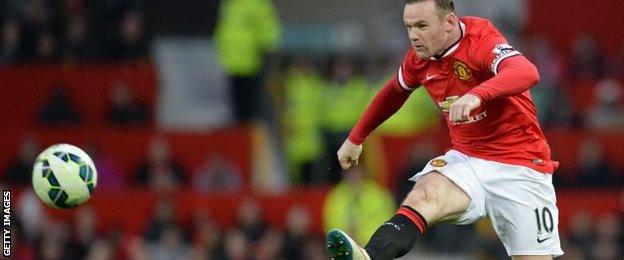 What a wonderful celebration. Not only was Wayne Rooney superb against Tottenham as Manchester United took them apart in the first half at Old Trafford, he also showed tremendous grace in rising above any intrusion he may have suffered in his personal life this week. To remain utterly professional throughout the match and during his post-match interviews is a testimony to the player. Looks like Roy Hodgson picked the right England captain after all.
MIDFIELDER - Aaron Ramsey (Arsenal)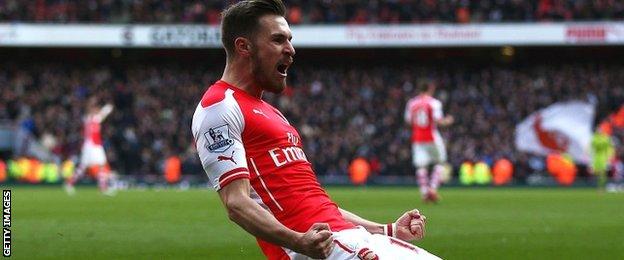 Whoever plays in midfield for Arsenal these days, you can bet your bottom dollar that you will see a virtuoso performance. We've seen it from Santi Cazorla, and Mesut Ozil this season, and now Aaron Ramsey - back in the side after an awful spell out with injury - is once again pulling the strings to a wonderful show from the Gunners. His link-up play with striker Olivier Giroud and Ozil during the 3-0 win over West Ham was particular pleasing on the eye, but what fans like to see at the end of good play is goals. That's what counts and Ramsey delivered.
MIDFIELDER - George Boyd (Burnley)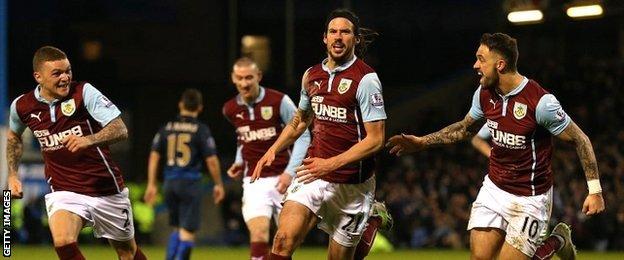 I don't think I've seen a sweeter strike from George Boyd than in Burnley's 1-0 win over Manchester City - it was simply superb. He gave Manchester City ample warning with an earlier shot with his right foot but they never took him seriously. They will now and what damage it has done.
FORWARD - Christian Benteke (Aston Villa)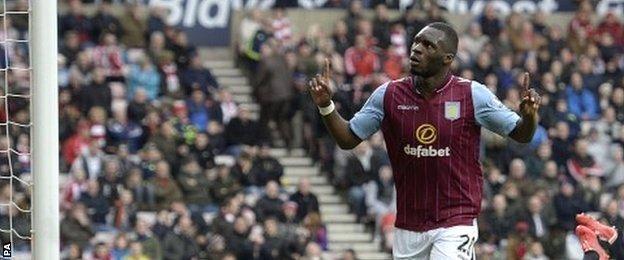 The boy looks back to his best. Christian Benteke took both his goals against Sunderland with an ease and panache that makes you wonder why he suffered from a lack of form earlier in the season. What is becoming abundantly clear is that Villa boss Tim Sherwood is having the same effect on Benteke as he had on Tottenham's Emmanuel Adebayor last season. Great news for Villa fans.
FORWARD - Olivier Giroud (Arsenal)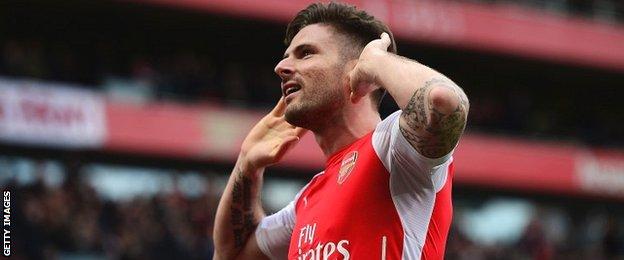 On Final Score on Saturday, my colleague Chris Sutton went to great lengths to emphasise that Arsenal are the best footballing side in the country. That point couldn't have been better illustrated than against West Ham, where it seemed every goal they scored was perfectly constructed. Oliver Giroud scored their first and engineered the second and third. The Gunners were firing on all cylinders but let's see if he can do the same against Monaco in the Champions League on Tuesday.
FORWARD - Gabriel Agbonlahor (Aston Villa)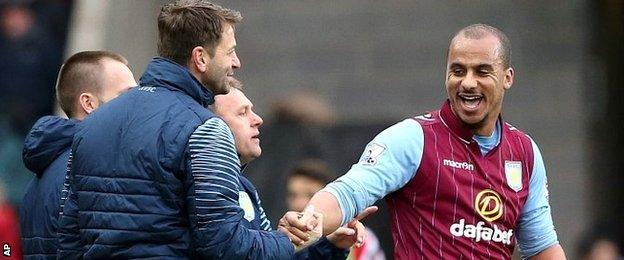 What a way to mark your 300th Premier League appearance - a stellar performance at your favourite away ground. He scored his fifth goal in five games against Sunderland, although I doubt he will ever find it so easy to register as he did on Saturday in the 4-0 win. Sunderland are nicknamed the Black Cats but after that defeat away at Bradford in the FA Cup and the drubbing by Villa I'm beginning to wonder if one of their players might have run one over.