Milan Mandaric: Football's Mr Fixit says farewell

Last updated on .From the section Football
The first time Milan Mandaric and his wife went to America they came out of the airport in Chicago and asked a taxi driver to take them to a "hotel", one of the few words of English they knew.
Two hours later, having circled the city a few times, their gallant guide dropped them off at a low-rent dump in the type of area the guidebooks forget to mention.
Mandaric can still remember his wife's tears as they listened to the sirens outside, and it was probably the last time anybody took him for a ride.
That was 45 years ago, when the football-mad man of the world was between fortunes, having just walked away from one in his native Yugoslavia and not yet found his second in the gold-rush environment of California's Silicon Valley.
But as remarkable as his version of the American dream is, it is not as remarkable as his third career.
Lots of hard-working immigrants have made new lives in the United States, but he is in a gang of one when it comes to men who have bought and sold three big English football clubs and can still smile about it.
A simple secret
"It's been an amazing journey, with special stops," the 76-year-old said of his time in charge at Portsmouth, Leicester City and Sheffield Wednesday, the Championship club he handed over earlier this month.
"I'm a very ambitious guy when I take on a project. I want to be a winner and do better than the last guy."
"Project" is putting it politely in the case of Portsmouth in 1999, Leicester City in 2006 and Sheffield Wednesday in 2010. From a financial point of view, they were English football's equivalent of that Chicago hotel, and you could argue Mandaric was setting his bar low.
But that would underestimate how hard it is to turn around failing businesses in a cut-throat market, and British football history is littered with the wreckage left behind by wealthy men who could do no better than the last guy.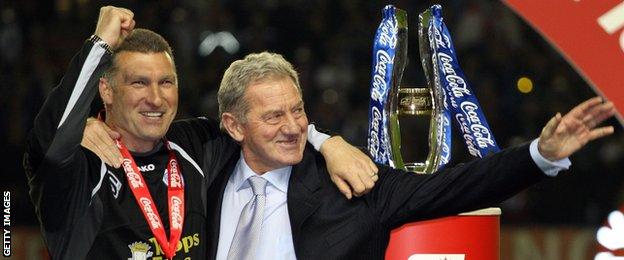 "All three were in difficulties but the secret is very simple: you have to recognise who really owns the club," Mandaric said.
"It's not the guy who has just come in, it's the supporters who've been there for 100 years and will be there for 100 more.
"You set up a dialogue with the supporters and tell them: 'One day I will leave your club but before I do I will bring stability and it will be debt-free and in better shape than I found it'.
"But to do that you need two things from the fans: support and, above all else, trust."
It is easy to dismiss this as a slightly self-indulgent view of his fix-and-flog jobs but fans of these clubs will tell you pretty much the same thing: Mandaric did what was needed - no more, no less - and they are grateful.
Compare that to what you would hear about the other serial club chairman of recent years, Ken Bates. Actually, don't do that, this is a family website.
Love of the game
But when Mandaric tells me his "mission was never to make money, it was because I loved the game" he can tell from the look on my face that he is going to need to qualify that.
"OK, I didn't make any money but I didn't lose any money either," he said, citing the £30m he put into Wednesday over five years as an example.
"My reward was the respect from the supporters. You can't buy that with money."
True, a cynic might say, but respect does not buy homes in Belgrade, California, Monaco and Slovenia.
But again, Mandaric deserves credit.
Anybody who pours millions into businesses already millions in debt, and then manages to sell them on for more millions, deserves a return. And there are easier ways to make a million for a man like him.
A 'capitalist traitor' and George Best's friend
That story starts when Mandaric took control of his father's engineering business in the Serbian city of Novi Sad at the age of 21.
Five years later it was one of the largest firms in Yugoslavia and on a collision course with Marshal Tito, the authoritarian leader of socialist Yugoslavia, who denounced Mandaric as a "capitalist traitor" when the entrepreneur took his family to Switzerland.
He spent a year there, desperately trying to get his cash out of the Balkans, before arriving in Chicago for a family wedding. That visit was enough to tell him he did not like the Windy City but a relative suggested he try California. It was 1970.
Milan in America and Europe
1974- Having already set up a company team at his computer components firm in California, Mandaric invests in new North American Soccer League outfit the San Jose Earthquakes.
1978- Buys the NASL's Connecticut Bicentennials and moves them 2,500 miles to Oakland to play as the Stompers, a year later they head north to Edmonton in Canada to become the Drillers.
1989- Invests in the new Major Indoor Soccer League with the St Louis Storm and meets Preki, the Serbian winger who would later introduce him to English football
1993- Takes a stake in Belgium's Standard Liege but then buys Sporting de Charleroi outright
1995- Moves south to French side Nice, wins the French Cup in 1997
What followed over the next decade or so would be far-fetched in a soap opera, but he really did start a computer-components firm that was bought by one of the largest companies in America, co-found another even bigger electronics business, become a US citizen and sign George Best to play for the first professional sports team in Silicon Valley, the San Jose Earthquakes.
The Best experiment came in the midst of his attempt to break soccer in America. A frustrated centre-forward, Mandaric founded the Earthquakes, moved another club from Connecticut to California, tried to kick-start an indoor league and got involved in the sport's national federation.
"I was a pioneer there but it will take a long time for soccer to make it," he explained.
"The Americans have their favourite sports: (American) football, baseball, basketball and hockey. That's 95%; the other sports share 5%.
"The other reason is the media. Here, you guys played football when you were younger, so you understand what good football is.
"When I was in America the media was only interested in how many beers George Best drank, rather than how well he was playing."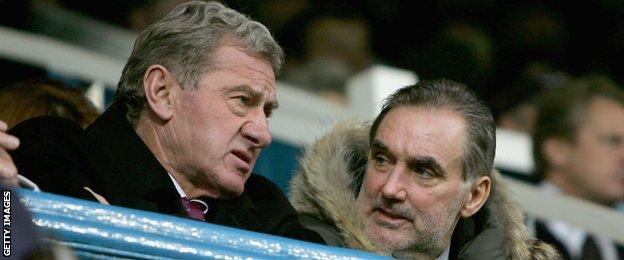 Tired of waiting for his adopted countrymen to catch on, Mandaric took his ball back to Europe, buying Belgium's Charleroi and then moving on to Nice.
The Eaglets won the French Cup in 1997 but managed to get relegated from Ligue 1, too, which is perhaps why he did not laugh when his former St Louis Storm star, and fellow Serb, Preki told him about a club called Pompey that was ripe for a makeover.
Pompey, Redknapp & aspirin
The deal went through in 1999 with Portsmouth on the brink of bankruptcy and so began a pattern that would be repeated over the next 16 years.
A wobbly start as owner and club got acquainted, a few spins of the managerial merry-go-round, investment in the squad, improvement, promotion, consolidation, sale.
Like the cliché about a parent not being able to choose a favourite child, Mandaric tied himself in diplomatic knots when asked for a favourite club but he admitted to having a soft spot for the Portsmouth side that finished six points clear of Leicester City, of all clubs, to win promotion to the Premier League as champions in 2003.
Milan in English football
1999- Having sold Nice a year before, Mandaric buys Portsmouth out of administration, appoints Harry Redknapp in 2002. Pompey win the Championship in 2003.
2006- Sells Portsmouth to French-Israeli businessman Alexandre Gaydamak for £32m and buys Leicester City for a reported £6m. Also invests in Slovenia's FC Koper. Leicester City get relegated to League One in 2007 but bounce back as champions in 2009 and lose in play-off semi-finals in 2010.
2010- Sells Leicester City to Thailand's Vichai Raksriaksorn for £40m and picks up heavily indebted Sheffield Wednesday for £1. Wednesday win promotion from League One in 2012 and Mandaric sells them to another Thai businessman, Dejphon Chansiri, for £37.5m.
That side - which featured Paul Merson, Tim Sherwood and Steve Stone - was assembled by the man he did not need to say was his favourite manager.
"I've had a lot of great times with Harry (Redknapp): great guy, special guy," he said.
"Harry builds a team like a puzzle, putting the right players in the right place and getting the best out of them.
"Sometimes with Harry you have to take a couple of aspirins to calm down, but he'll be my friend forever."
He needed a few packets of aspirin the day he heard Redknapp had just announced he was going to manage Pompey's "great neighbours" Southampton, particularly as the Englishman had told Mandaric he was quitting Fratton Park because he needed a break. Two weeks, some break.
Mandaric does not do grudges, though, and when his patience with Frenchman Alain Perrin ran out - "a good coach, but inflexible, and it didn't quite work" - Redknapp returned, having placated Pompey fans by taking Southampton down.
"He's a good character. We need people like Harry in football," Mandaric added wistfully.
"I just wish he'd got the England job, but that's how it goes."
Corruption saga and the football bug
Ah, that brings us to the other reason they will always be remembered as a double act, their roles in a corruption saga that started with a BBC Panorama investigation in 2006, and ended with them being acquitted of tax evasion in 2012.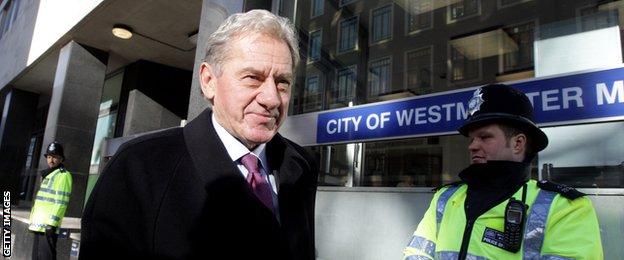 During that time, Mandaric bought and sold Leicester City, having taking them to the Championship play-offs, and had moved on to South Yorkshire; while Redknapp had won an FA Cup with Pompey and taken Spurs to the last eight of the Champions League. He would miss out on the England job, though, twice.
"I'm not angry, I was more sad and disappointed," Mandaric said.
"You have to respect the system and they thought there was something wrong. But if they had done better due diligence on me, I would never have been in that situation.
"I'm more disappointed for my wife and two daughters. They couldn't believe what was happening.
"And people who knew me from Wall Street, or the mayors of the cities where I had owned clubs… everybody who knew me, knew I wouldn't have done anything wrong. To even be accused of that was crazy."
Some might argue he was crazy to stick around - his family did - but the poor guy is afflicted with a bad case of the football bug.
Finding the right owner
He says he was also determined to find Wednesday a new custodian, a recruitment job he seems to have pulled off at Leicester City with the family behind Thailand's King Power travel retail empire but perhaps did not manage at Portsmouth.
"What happened at Portsmouth breaks my heart," he said, referring to the financial collapse that started three years after he sold the club to Alexandre Gaydamak.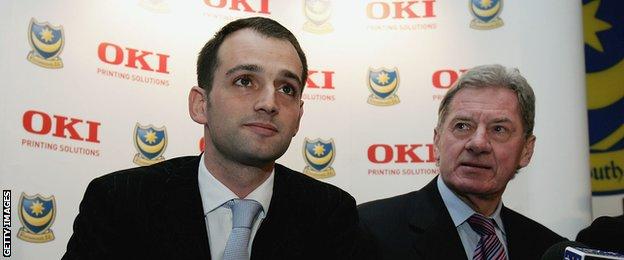 "I left Portsmouth in the hands of a guy who gave me commitments and promises, and he seemed like a good man.
"He did OK in the beginning but I don't know what happened later and it's not fair for me to judge. But it made me think that whatever I do with my next club, I've got to find the right owner to sell to."
After a long flirtation with Azeri tycoon Hafiz Mammadov, Mandaric believes he has found that owner in Dejphon Chansiri, another Thai businessman with the ambition and wallet to fund a Premier League push.
"You need more money than you used to," he said.
"I didn't want to stay too long in the division because it gets a lot harder to get out. You need a forklift to get out.
"That's the reason I pushed myself to find a proper buyer who comes with the enthusiasm and fresh money to invest in additional infrastructure.
"He's got a strong platform at Sheffield Wednesday. We're not going to go up this season, but we're not going down, and we've got a healthy team on and off the field.
"So you have to find a very wealthy person but they have to have the passion for the club, too. One without the other doesn't go well."
And with that throwaway remark Mandaric summed up both his unique achievement in English football - the outsider who scored a hat-trick of rescues - and why he is already an anachronism.
Quite simply, this Serbian-American entrepreneur is no longer exotic or rich enough to own a top club in England, which is a shame as he was good at it.