Phil Neville: How Marouane Fellaini became key for Man Utd
Last updated on .From the section Football

Former Manchester United player and coach Phil Neville explains how Marouane Fellaini's performance in United's 3-0 win over Tottenham shows how he has become one of Louis van Gaal's most important players in their bid for a top-four finish.
There were lots of positives for Manchester United to take away from their impressive win over Tottenham but the most pleasing thing for me was to see Marouane Fellaini get a standing ovation when he came off near the end.
It was something he fully deserved, the same as it had been for Juan Mata a few minutes earlier.
I was at United as a coach when both players were signed and neither of them have had an easy time of it at Old Trafford.
Last season, Fellaini was probably getting ridiculed a lot of the time. People were saying that he is not a United player.
The way he has come back from that has been fantastic.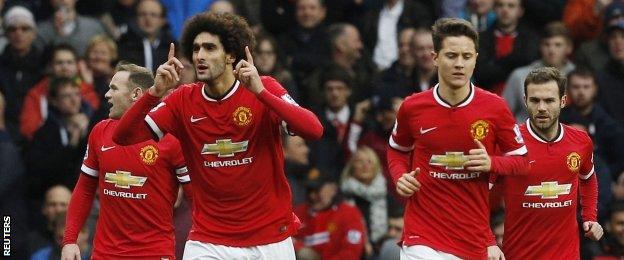 At the start of this season he was out for two months with an ankle ligament injury and had to fight to get into the team.
Not only has he done that, along with Ashley Young he has been United's most improved player over the last few months, and also one of their most consistent performers.
'Fellaini needs the freedom to get forward'
Fellaini has won people over by being brave about the stick he was getting and never going missing in games, even at times when things were not working for him.
You also have to give United manager Louis van Gaal a lot of credit. He has not been afraid of playing to Fellaini's strengths, despite being criticised for doing so, and I think he has come up trumps.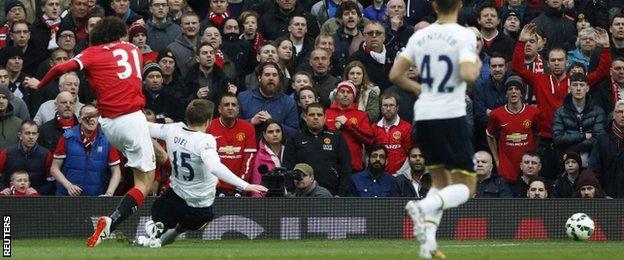 Whenever I have seen United play this season, Fellaini has had an effect on the game - for example when he came on against West Ham and helped rescue a point.
I do not see a problem with getting the best out of him, and this is something I argue about a lot with United fans.
United have always played direct football, and that does not mean long ball. It means passes forward and runs forward.
Part of playing that way is putting lots of crosses in and then you need somebody in the box to get on the end of them. Fellaini is probably as good as anyone at doing that.
He is developing a really good partnership with Wayne Rooney and probably the only thing that has been missing from his game recently has been goals - for me he has not scored enough this season.
Fellaini put that right against Spurs, and United saw the benefits of playing him in a position that suits him - he needs to have that freedom to get forward and get on the far post.
Marouane Fellaini's touches vs Tottenham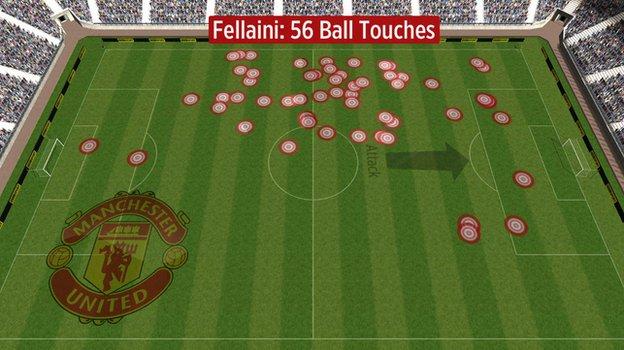 He is at his best in a midfield three with a licence to get from box to box, like he does when he plays for Belgium.
Part of that role involves defensive work, and he did that really well on Sunday, when he mainly operated down the left channel.
He dropped in on Ryan Mason when Spurs had possession but, when United had the ball, he sprang away from Mason really well to find space himself.
'Mata used all of his footballing intelligence'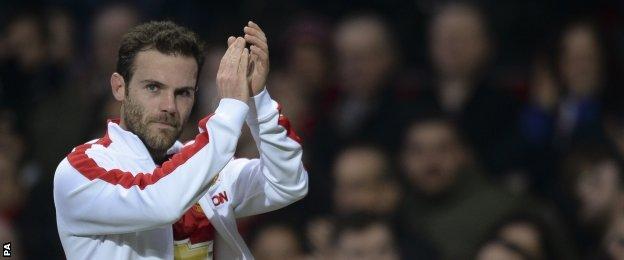 Like Fellaini, Mata has also struggled to establish himself. Sunday was his first Premier League start since the middle of January and I am surprised he has not featured more.
What he gives the team is control in midfield with the way he uses the ball and he is a goal threat too.
He likes to play the ball over the top for the striker or slip balls through and, with Michael Carrick being sidelined recently, United have lacked that sort of guile.
Juan Mata's touches vs Tottenham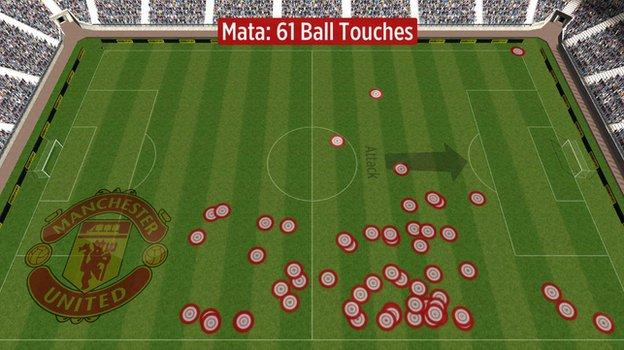 I would love to see him in a central position behind Rooney but against Spurs, you saw him use all of his footballing intelligence on the right-hand side.
He held the ball up brilliantly, took up such clever positions on the pitch and linked up superbly with Ander Herrera.
Mata looked to come infield all the time and helped create passing triangles all over the pitch which totally bypassed Spurs. There were times when they could not get near the ball.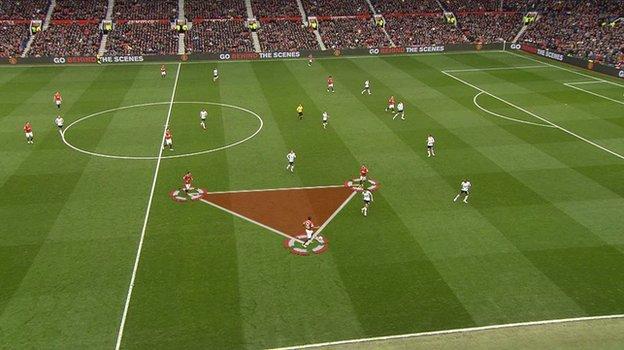 When you go away from home, maybe having him out there tracking full-backs is not the best place for him to play but at home, when you are dominating possession, he is brilliant coming in off the flanks.
One of his weaknesses when he plays on the right is his defensive work but it looked like he had a point to prove against Tottenham, and he certainly did that. His attitude off the ball was great too.
Mata's performance against Spurs has given Louis van Gaal a massive problem ahead of United's trip to Anfield next weekend.
Angel Di Maria will be back from suspension but Mata's display was a statement that he is playing well and wants to stay in the team.
'United need to stick with positive mentality'
The biggest difference about United on Sunday was their mentality. Not only was there was a higher tempo to their passing, there was a big change in terms of their thinking and running forward too.
It created a real vibe around Old Trafford - everything was positive.
Chris Smalling was coming out of defence with the ball, Michael Carrick was playing some really good passes forward and everyone was on the front foot.
In that first 45 minutes, Spurs very rarely got into the United half because, every time United lost the ball, they had more men in the Spurs half than I have seen in any game this season.
Average position of Man Utd players in first half vs Tottenham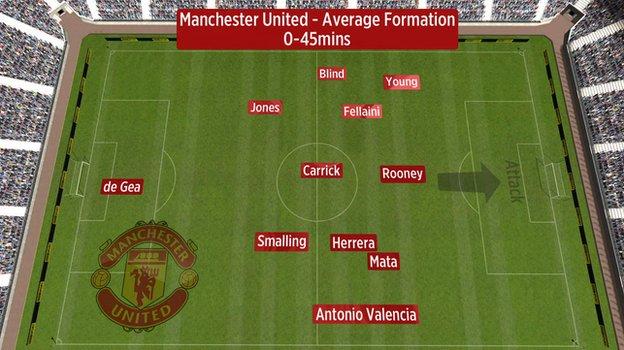 United could give the ball away high up the pitch but they had a lot of players in a small area to go and win it back quickly.
I think Van Gaal has to stick with the same positive approach between now and the end of the season.
There are only nine games left and the clock is ticking.
United need to keep winning to get in the top four. That means gambling and playing high-risk football, but I think going for it is their best option now.
They have to go to Anfield next Sunday and win, not just draw.
If United beat Liverpool they almost put them to bed - just like with Tottenham, it would almost knock them out of the race for a Champions League place.
The only way to win at Anfield is to be brave and to attack. That is how United played against Spurs and they got their rewards, and I hope they do the same against Liverpool too.