Juan Mata: Man Utd midfielder reveals love of Chinese art
Last updated on .From the section Football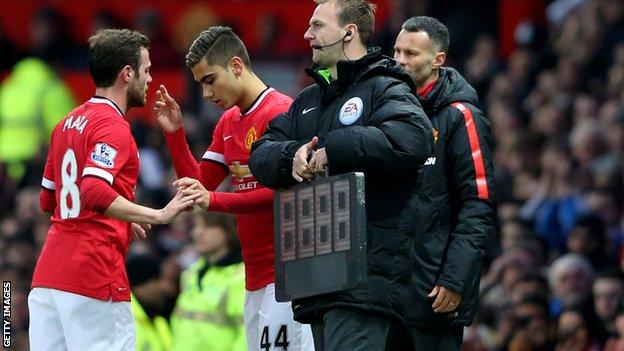 He's the £40m Spaniard known for his footballing artistry, but off the pitch Manchester United's Juan Mata has revealed he has a secret passion for Chinese gunpowder drawings.
Mata wrote in his latest blog that he is a museum connoisseur and spends his spare time at Manchester's Whitworth Art Gallery - a place he describes as "overall, a very interesting and well-designed museum."
The midfielder gushed over the work of Cai Guo-Qiang and urged fans to go and admire his art.
"I went there a few days ago and I was surprised by some of Cai Guo-Qiang works and his drawing technique," Mata said.
Mata, 26, is no stranger to culture, often discussing music and films on his website.
He studied for a sports science degree in Spain and a course in physical education and marketing from the University of Madrid.
Mata might also have enjoyed these other exhibitions currently on show at the Whitworth: Later-Day Saints; Merchants of Print: from Venice to Manchester; Romuald Hazoume: Dance of the Butterflies; and The Weather and its Moods.
The Spanish midfielder played a key role in United's 3-0 win over Tottenham on Sunday and also used the blog to thank supporters for the "love" they showed him after his late substitution.
The former Real Madrid and Valencia player added: "Your applause when I was substituted and on my way to the dressing room is something I will never forget."