Portsmouth: Mick Williams leaves PST and club board
Last updated on .From the section Football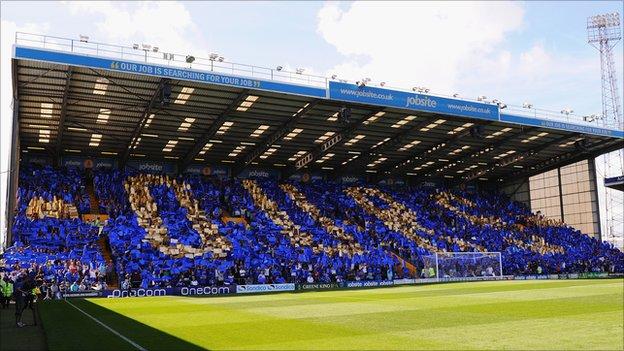 Mick Williams, a key figure in helping save Portsmouth from liquidation in 2013, has left the club after resigning from Pompey Supporters' Trust.
Williams' resignation was announced on Saturday with a club statement citing "a point of principle".
BBC Radio Solent have since learnt that Williams' departure follows a disagreement over the behaviour of a fellow PST board member.
"I wish them all the best," Williams told BBC Radio Solent.
The Trust are set to announce his replacement in the coming weeks and his departure from the Trust board also resulted in his departure from the club's board of directors.
"I felt I needed to resign from the PST board on a matter of principle and that triggered an immediate removal from the PFC board," added Williams.
"I'm still a Pompey fan, still a shareholder and supporter of the club and Trust. Sometimes you have to do something because of a matter of principle. You have unpleasant consequences."
Williams first became involved with the PST in 2011 and, with the club going into administration in 2012, he was a crucial member of the group that helped save the club and bring it into the ownership of the fans.
"The most important thing is we did it," he added. "We saved the club, we are stable and I'll move on."
His departure follows the exit of Ashley Brown as chairman of the PST, with Ken Malley replacing him in 2015.