Gareth Bale 'delight' at return to form for Real Madrid
Last updated on .From the section European Football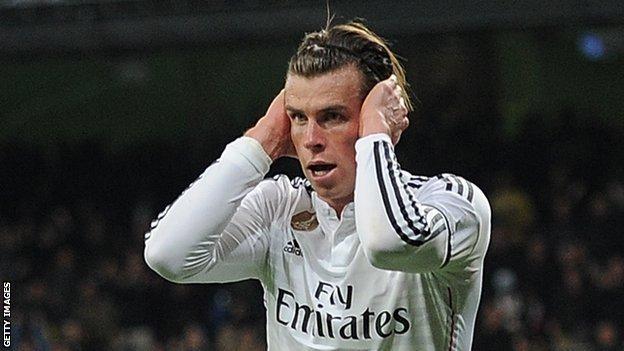 Gareth Bale responded to criticism over his form for Real Madrid by covering his ears as he celebrated scoring two goals in a 2-0 win over Levante.
Bale opened the scoring with a volley and also took out his frustration by kicking a corner flag as he ended a run of nine games without a goal.
His second came when he diverted in a shot from Cristiano Ronaldo.
"Delighted to get back on the scoresheet and win," said forward Bale after the La Liga match.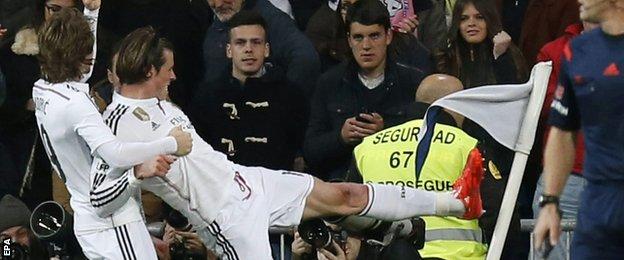 Real are now one point behind La Liga leaders Barcelona and play their fierce rivals on Sunday, with Bale adding: "Can't wait for next week."
Ancelotti on Bale
Real Madrid manager Carlo Ancelotti believes the return of midfielder Luka Modric from injury played a part in Bale rediscovering his goalscoring form.
"Bale looked more motivated and more hungry," said Ancelotti.
"The presence of Modric offers more depth for Bale to link up with his team-mates.
"They know each other well, they played together at Tottenham, and there's no doubt Bale is more comfortable with Modric on the pitch."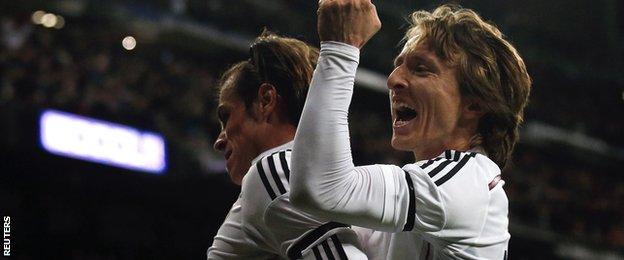 Marca reaction
The Spanish newspaper believed it saw a different player in the game against Levante after levelling a degree of criticism at Bale, among others, in the build up to the game.
"Bale took to the pitch against Levante with a different attitude to the one he had displayed in previous matches," said a story on the Marca website.
"He looked far more committed to his defensive duties, seemed eager to please and went more direct in attack, a combination that enabled him to finally rediscover shades of the player who was sparkling barely four months ago.
"The 25-year-old's reward came in the shape of two goals that secured all three points for his team - the first of which he celebrated wildly, releasing all the bottled-up tension following a tense few weeks."