Northern Ireland: Shane Ferguson call-up mystifies Rangers
Last updated on .From the section Football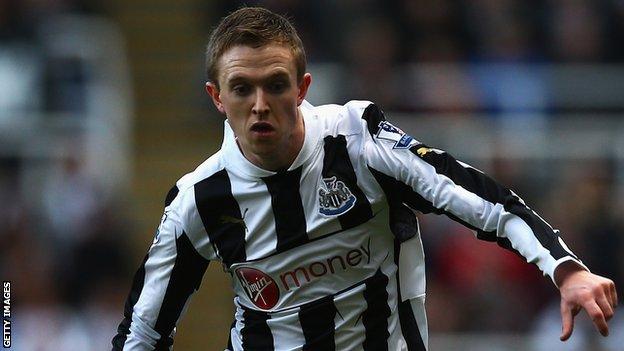 Winger Shane Ferguson's call-up to the Northern Ireland squad to face Scotland has left Rangers manager Stuart McCall mystified.
The 23-year-old joined the Ibrox club on loan from Newcastle United in January but has yet to play for Rangers because of a serious knee injury.
And Ferguson might never play for the Scottish Championship side.
"From what I've been led to believe, we won't see him at all this season," said McCall.
Ferguson's only two first-team appearances this season were in October for his country.
But Northern Ireland boss Michael O'Neill has admitted he is likely to be withdrawn from the latest squad within the next 48 hours.
Meanwhile, McCall has warned his Rangers players that no-one will be guaranteed a start while he tries to find a winning formula at Ibrox.
The former Motherwell manager took charge of the side for the first time on Saturday - and has taken a sabbatical from his role as Scotland assistant coach - after replacing Kenny McDowall.

Rangers were held to their fourth draw in a row and they have slipped seven points adrift of second-top Hibernian.
McCall has promised to tinker with his side for Tuesday evening's visit by Alloa Athletic.
"We will change personnel over the next few weeks," said McCall, who has goalkeeper Cammy Bell available after a long-term injury.
"I need to see what the guys look like, so most of the squad will get a game. That's not about giving someone a game just for the sake of it.
"There might be a couple of players who will feel they merit a chance when they've not had one, so how can I judge them if I don't see them?
"Until we get the right formula and see players deserving a jersey, I will make changes.
"We've got a couple of injuries for tomorrow night, so that will be the case already."
McCall is due to meet interim chairman Paul Murray and director John Gilligan on Monday night.
Among the topics of discussion are the possibility of adding some free agents to McCall's squad before the 31 March signing deadline.
"If there is an opportunity to freshen things up with a couple of new faces then that might be a possibility to consider," the manager added.
"But I look at young Tom Welsh, who started on Saturday and did fantastic. Maybe we will go with the youths, but I need to see a wee bit more of them.
"I've seen a couple in training - Robbie Crawford made an impression while Fraser Aird is back in training and did the same."