Home-grown heroes - Is Harry Kane part of a new breed?
Last updated on .From the section Football
"He's one of our own, he's one of our own… Harry Kane… he's one of our own."
It has been a familiar refrain around Premier League grounds this season as Tottenham fans celebrate proudly how the find of the current campaign, who used to sit alongside them in the stands, has emerged through the club's ranks.
Kane's stunning 29-goal contribution this season has been rewarded with his first England call-up for Friday's Euro 2016 qualifier against Lithuania and next Tuesday's friendly in Italy.
But the emergence of the 21-year-old, the local boy who came through the youth system to establish himself in the first team, hints at a new kind of 'home-grown hero' - at least among England's top clubs.
Ryan Giggs retired at the end of last season after 963 appearances across 24 years, all in the colours of Manchester United. Steven Gerrard will have played more than 700 games for Liverpool in 17 years when he departs for Major League Soccer at the end of this campaign.
But Kane has come through in a very modern way, with multiple loans to lower division clubs replacing reserve-team football as a finishing school.
So does FA chairman Greg Dyke have a point when he wonders 'how many other Harry Kanes are out there in the youth teams of Premier League clubs, who can't get a game?'
Is it harder now for locally-sourced talent to make it to the top in a league where England-qualified players constitute only around a third of the playing time, a figure which drops to less than a quarter for the leading clubs?
And ultimately, how important is it to a club's supporters? Do they care where their players come from if their club is winning trophies?
The local boy done good
Kane, born in Chingford, half a dozen miles from White Hart Lane, suggests Spurs fans "feel that little bit more of a connection with the home-grown players". "It is not just me, with Ryan Mason and Nabil Bentaleb and Danny Rose and Andros Townsend too," he told Football Focus recently. "It is great for them to see us doing well."
The 21-year-old suggests the benefits of several players coming through the ranks together are obvious. "When you know the other players you are playing with, you play better because you know what each other is going to do. There is nothing better than playing with your mates. That is what we all feel like at the moment."
But Kane - like Mason, Townsend and Rose (Bentaleb arrived at Spurs' academy via spells in Belgium and France after initially joining home-town club Lille's youth set-up) - has taken a circuitous route to his footballing nirvana.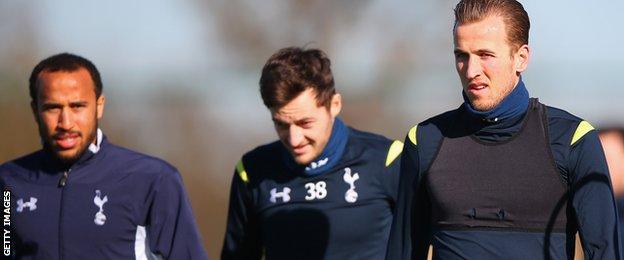 Kane had four separate loan spells, so too Rose after joining Spurs from Leeds' academy. Mason - a late call-up into the England senior squad on Monday - had five. Townsend's CV shows nine different loans in four years, including spells at Yeovil, Millwall and Leeds United.
And these are not minimal contributions either, such as the five games David Beckham famously played for Preston during the 1994-95 season. Or the six John Terry amassed during a one-month spell at Nottingham Forest in 2000, when he was 19.
Kane would have to keep his place for every remaining game if his league starts for Tottenham were to match the combined tally from stints at Leyton Orient, Millwall, Norwich and Leicester.
Has the pathway to the first team changed then?
It would appear so. Of the England squad Roy Hodgson named for the games against Slovenia and Scotland in November, only five players had not been transferred since making their professional debut.
Of that quintet, Arsenal pair Kieran Gibbs (Norwich) and Jack Wilshere (Bolton) both had one loan move, Ross Barkley two (Sheffield Wednesday and Leeds), whilst West Brom's Saido Berahino spent most of 2012 away from the Hawthorns, at Northampton, Brentford and Peterborough.
It left Liverpool's Raheem Sterling as the only 'one-club man' in the traditional sense.
The names might have been slightly different in the squad Hodgson announced for the forthcoming Lithuania and Italy games, but the story was the same.
Five players are still at their parent club, but Sterling is alone in only making first-team appearances for a single team.
With Giggs gone and Gerrard on his way out of Liverpool, a glance at the Premier League's top 10 appearance-makers for those who have come through a club's own youth set-up paints a stark reality.
Top 10 appearance-makers in Premier League for players at same club

Steven Gerrard (Liverpool) - 449 PL games

No loans

John Terry (Chelsea) - 449

Loan to N Forest (99-00). 6 apps

Leon Osman (Everton) - 336

Loan to Carlisle (02-03). 12 apps. Derby (03-04). 17 apps

Gabriel Agbonlahor (Aston Villa) - 301

Loan to Watford (05-06). 2 apps. Sheff Wed (05-06). 8 apps.

Mark Noble (West Ham) - 273

Loan to Hull (05-06). 5 apps. Ipswich (06-07). 13 apps.

Tony Hibbert (Everton) - 264

No loans.

Steven Taylor (Newcastle) - 206

Loan to Wycombe (03-04). 6 apps.

James Tomkins (West Ham) - 182

Loan to Derby (08-09). 7 apps.

Jonny Evans (Manchester United) - 130

2 loans to Sunderland (06-07 and 07-08). 33 apps in total.

Ciaran Clark (Aston Villa) - 113

No loans.
Beyond Gerrard, only Everton's Tony Hibbert, 34, who has racked up 327 appearances in all for the Toffees since his first-team bow in 2001, and 25-year-old Ciaran Clark, who only passed 100 games for Aston Villa last season, have not had at least one loan spell at another club.
Even amongst the longest-serving 'home-grown' players, the most popular way into the first team is via a minimum of two loans.
Why the change?
Put simply, the current Premier League Under-21 competition does not provide an adequate bridge between youth football and the top flight. Tranmere chief executive Mark Palios recently called it "antiseptic".
Manchester United provided their own judgement at the end of the last transfer window by bringing in defender Andy Kellett, 21, who had spent most of the season on loan at League Two Plymouth, from Bolton in a loan exchange for Saidy Janko, who went to the Championship side for the remainder of the season to gain first-team experience. By the end of March, Janko had made six appearances for Bolton's first-team and Kellett three for United's Under-21s.
"It is hard to map out a player's future," explains Liverpool Under-21 coach Michael Beale. "Raheem Sterling played about 20 Under-21 games and then he was off in our first team. Someone else needs slightly more.
"But there are so many inconsistencies in the league. Up until the end of January, we had played nine league games. Over a three-month period we played three; Tottenham on 31 October, Norwich on 17 December and Manchester United on 26 January. What do you do with your players in the meantime?
Number of players out on loan at leading clubs

Chelsea -

25

Including: M Salah (Fiorentina), C Atsu (Everton), V Moses (Stoke), P Bamford (Middlesbrough), J McEachran & B Traore (both Vitesse Arnhem)

Manchester City -

14

Including: M Richards (Fiorentina), A Negredo (Valencia), S Sinclair (A Villa), J Guidetti (Celtic)

Arsenal -

8

Including: L Podolski (Inter), C Jenkinson (West Ham), Y Sanogo (C Palace), J Campbell (Villarreal)

Man Utd -

13

Inc: J Hernandez (Real), T Cleverley (Villa), Nani (S Lisbon), W Keane (Sheff Wed), J Lingard (Derby)

Liverpool -

9

Including: D Origi (Lille), S Coates (Sunderland)

Tottenham -

5

Inc: A Lennon (Everton), L Holtby (Hamburg)
"This is an Under-21 league. We are an Under-19s team. The Under-21s are either with your first team or out on loan. If you are going to be ready to play in our first team you have to be able to play every three days against people who are not the same age as you. So we look for loans so they can go and play."
"We have a generation that gets lost between 19 and 21," says Phil Neville, a member of Manchester United's celebrated 'Class of 92'. "This is the time when those kids should be getting into the first-team. At 22 it is too late. We have the talent. I actually think the academy system is really good for bringing through good, young players. The problem is when they come to the end of their apprenticeship, there is a massive, massive wall that is blocking their progress into the first-team."
Is it a question of talent? Or philosophy?
Bringing through young players requires patience and is not always a high priority for top managers under huge pressure to deliver results.
At Spurs, Kane and company are benefitting from manager Mauricio Pochettino's philosophy - one he brought from Southampton - that "if you have players with potential for the first team, why not?"
"This is our identity," he said recently. "We have to give these players opportunities to show their value. Maybe we are brave. Sometimes you win and sometimes you lose, but when you believe the player is ready, why not give them the opportunity?
"It is difficult, very difficult. It is easier to coach senior players, because they are already developed. You need to be patient, but I think my staff have this quality."
Neville believes too few Premier League clubs share the same vision, and why players at some disappear down a 'black hole' at 19.
Players from leading clubs' academies to have played in Premier League this season

Chelsea -

2

J Terry (Eng), R Loftus-Cheek (Eng)

Manchester City -

2

D Boyata (Bel), J A Pozo (Spa)

Arsenal -

8

W Szczęsny (Pol), K Gibbs (Eng), J Wilshere (Eng), D Martínez (Arg), F Coquelin (Fra), C Akpom (Eng), H Bellerín (Spa), A Maitland-Niles (Eng)

Man Utd -

12

J Evans (NI), A Januzaj (Bel), D Welbeck (Eng - now at Arsenal), T Cleverley (Eng), D Fletcher (Sco - now at WBA), P McNair (NI), J Lingard (Eng), M Keane (Eng - now at Burnley), T Thorpe (Eng), T Blackett (Eng), A Pereira (Bra), J Wilson (Eng)

Liverpool -

2

S Gerrard (Eng), R Sterling (Eng)

Tottenham -

4

A Townsend (Eng), H Kane (Eng), R Mason (Eng), N Bentaleb (Alg)

Southampton -

8

J Ward-Prowse (Eng), L Isgrove (Wal), H Reed (Eng), J McCarthy (Eng), M Targett (Eng), J Hesketh (Eng), R Seager (Eng), D Gape (Eng)
"Manchester United is a club that creates a pathway to the first-team," he says. "There has to be a pathway right to the very top of your club. The manager sets the pathway. He sets the vision. The journey you are going to go on. At Manchester United now, regardless of who is in charge, there will always be opportunities for young players. That pathway at Manchester United will never change.
"Southampton have a pathway to the first-team. It doesn't stop at 19 when they go abroad for a player. It carries right on to the first-team. From the age of 10, at Manchester United and Southampton, there is a clear pathway to the first-team. But at other clubs, that pathway becomes a dead end at 19."
Chelsea's youngsters recently reached the FA Youth Cup final for a fourth year in a row. In a recent Under-21s game against Manchester United, 11 of their 16-man squad - all aged from 17 to 19 - hailed from London or the South-East, with three more from other parts of England. Only two were foreigners.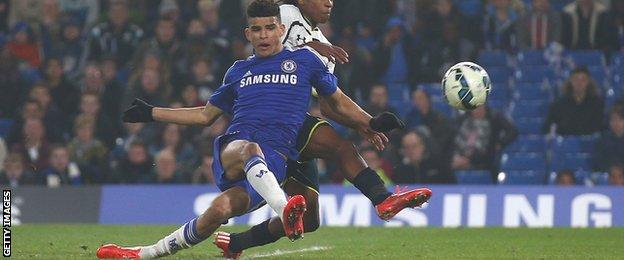 One of the young Englishman, 17-year-old striker Dominic Solanke - who scored 20 goals in 25 games for Chelsea's Under-18s last season and was named England Youth Player of the Year for 2014 - was drafted in to train with Roy Hodgson's senior squad on Tuesday.
But aside from John Terry, 34, and Gary Cahill, 29, the only other Englishman to get anywhere near Chelsea's Premier League team this season is 19-year-old midfielder Ruben Loftus-Cheek, whose lone appearance was as an injury-time substitute against Manchester City in January.
"Chelsea have some of the best young players in the country," Neville says. "I have seen them. I have coached with them. I have watched them. It is getting to the point now where these players are 18, 19 and 20 and they are not getting first-team football. For me that is wrong. These lads are the best."
Does a 'local' connection to the club matter?
The decision of United boss Louis van Gaal to sell Danny Welbeck - a Manchester-born striker who had come through the club's youth system - to Arsenal at the end of August caused the club's former assistant manager Mike Phelan to accuse his former employers of "breaking the club's identity".
The majority of United supporters gave a strong indication of their feelings on the subject with a warm round of applause when Welbeck was substituted at Old Trafford a fortnight ago - after scoring what proved to be the goal that knocked his old side out of the FA Cup.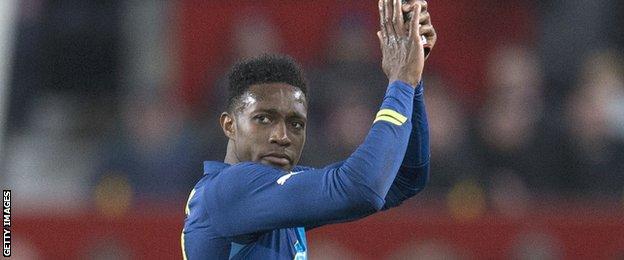 "It is preferable to have local players in your team but you have to be realistic about the likelihood of that happening at a time when there is so much money available," said Geraint Duckfield, 24, a regular at United's Under-21 games.
Kevin Barber, 67, of Manchester, adds: "It does make a difference to how you view the team. But does it matter? I am not so sure really. These lads have had the prestige of playing at a club like Manchester United, which probably helps them later in their careers. But the fans' main concern is that the team wins rather than where all the players come from."
Spurs fans are convinced the emergence of Kane and co is having a positive effect on the whole club.
"We have spent millions on strikers and never really replaced Dimitar Berbatov," explained Tottenham fan Bernie Kingsley. "Then some young lad [Kane] out of the youth team comes from nowhere, gives everything for the team and gives the impression that he is grateful to be out there. That is what people are responding to.
"We have hardly brought anyone through the academy since Ledley King. Now, with Harry, Ryan Mason, Nabil Bentaleb and Andros Townsend, we have a nucleus of home-grown lads who have generated an energy the rest of the team is feeding off.
"It is definitely something the fans have picked up on and one of the reasons why that song about Harry came about."