Greg Dyke: FA chairman wants action over surrounding referees

By Dan Roan
BBC sports editor
Last updated on .From the section Football406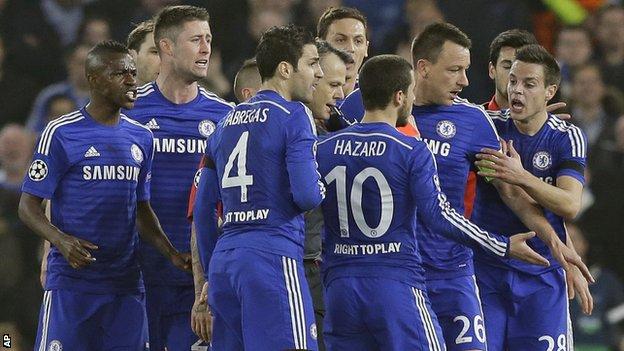 Football Association chairman Greg Dyke has expressed his concern at the "scary" increase in incidents of players surrounding referees.
The number of confrontations of match officials in the professional game in England has almost trebled since last season, figures show.
The FA wrote to clubs in England's top five divisions in December to remind them of their responsibilities.
"The whole game needs to ensure it is addressing this issue," said Dyke.
What constitutes 'surrounding a match official'?
The FA says an offence of this nature has been committed when three or more players of one club approach an official in a confrontational manner.
At this stage last season, the FA had charged six clubs for not controlling their players. This term, the number has risen to 16.
Clubs have been warned following such incidents on 29 occasions, compared to 14 this time last year.
"We have seen a pretty scary increase this season in the number of clubs charged with their players surrounding referees," Dyke said.
"I believe it is particularly important for professional clubs to set an example so that this kind of conduct is not replicated at grassroots and youth level."
The FA's bid to tackle the issue comes after Chelsea's players were criticised for surrounding referee Bjorn Kuipers during their Champions League tie against Paris St-Germain.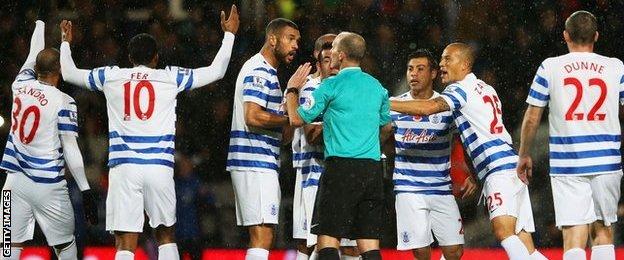 Chelsea will not face any action from Uefa as, unlike the FA, the European governing body has no specific rules governing surrounding the referee.
Uefa president Michel Platini is expected to consider introducing similar regulations, however.
The FA introduced a charge of surrounding match officials as part of its Respect campaign.
Now, seven years after the launch of that campaign, designed to improve player and spectator behaviour at the grassroots level of the game, the FA is desperate to clamp down on what it sees as a growing problem.
The issue was raised directly by FA officials with players and club staff at visits in the summer, when it was made clear it would not be tolerated.
That has been reflected by charges being consistently brought against offenders.
Chelsea were fined after being found guilty of surrounding the referee during a recent game with Everton, while Queens Park Rangers were fined for the same offence in November, as were West Ham United in February.
The FA is understood to be open to the possibility of increasing fines for clubs whose players are found guilty of harassing a referee. Referees may also be encouraged to take a tougher line on dissent, and book more players who surround them.
The Professional Footballers' Association could also come under pressure to provide more guidance and better education to its members.