Dick Advocaat: Tough, strict but new Sunderland boss is 'no bully'
Last updated on .From the section Football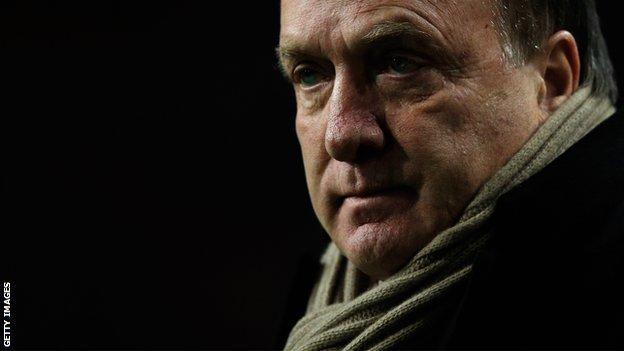 Former Rangers boss Dick Advocaat has taken charge of Sunderland for the rest of the season, tasked with keeping the Black Cats in the Premier League.
They lie one point outside the relegation zone after a run of six league matches without a win.
So what can fans expect of the 67-year-old Advocaat, who has managed the Netherlands, Belgium and Russia as well as clubs like PSV Eindhoven, Rangers and Zenit St Petersburg?
The BBC World Service spoke to Dutch journalist Marcel van der Kraan, who has followed his countryman's managerial career.
What type of character is he?
"Dick's nickname is 'The Little General'. He is a tough guy, he's always had strict discipline. His discipline has been one of the key things in his coaching style over the years.
"But he's a very human person. He's not a bully, he's very close to his players. That's because he was a good player for a long time himself.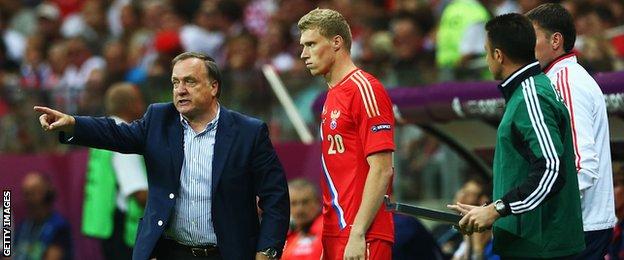 "The rivalry between him and other coaches has motivated him: Guus Hiddink went to Russia; Dick Advocaat went to Russia.
"If you look at their time coaching out there, in a very difficult football culture, I think Dick came out on top.
What's his management style like?
"Advocaat, like Louis van Gaal and Ronald Koeman, will lay down strong foundations because he believes in his own style.
"He will not change, he will not adapt. He will walk into Sunderland from day one, make it clear to the players and say: 'This is the way we're going to do it, no messing about. If you don't believe in it, get out.'"
Advocaat's major club honours
PSV Eindhoven:
Dutch Eredivisie 1996-97; Dutch Cup 1995-96
Rangers:
Scottish Premier League (2) 1998-99, 1999-2000; Scottish Cup (2) 1998-99, 1999-2000; Scottish League Cup 1998-99
Zenit St Petersburg:
Uefa Cup 2007-08; Russian Premier League 2007
Why Sunderland?
"I think Dick is one of the best coaches we have produced over the last 30 to 40 years. He has always been incredibly successful.
Advocaat's highest managerial win percentages (more than 25 games)

Rangers:

(1998-2001) 67.53% from 194 matches

PSV Eindhoven:

(1994-98) 65.79% of 152 matches

PSV Eindhoven:

(2012-13) 65.31% of 49 matches

Netherlands:

(1992-94) 57.69% of 26 matches
"Now, it's kind of pick and choose. Come in as a bit of a Red Adair and sort out a club. He's done it with PSV Eindhoven, he's done it with AZ Alkmaar and now he's going to Sunderland."
Five years too late?
"Sunderland fans may not know this, but he was very, very close to joining them five years ago. There was contact."