Parma chairman Giampietro Manenti held over credit card scam
Last updated on .From the section European Football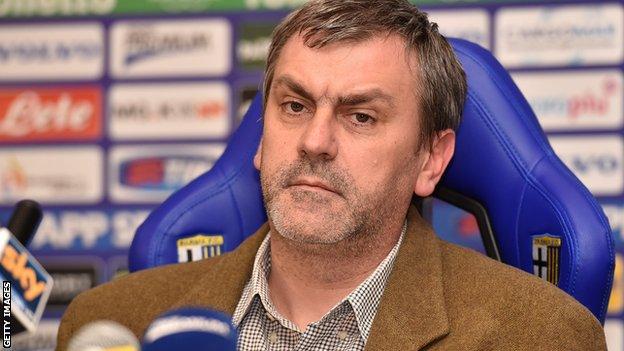 The new chairman and owner of troubled Serie A club Parma has been arrested in Italy on money laundering charges.
Prosecutors say Giampietro Manenti was part of a failed credit card hacking scam using stolen or cloned cards.
He is one of 22 people arrested across Italy in an alleged bid to fraudulently obtain about 4.5m euros (£3.24m).
Parma face being wound up due to crippling financial debts and have already been docked points for failing to pay their players.
Manenti took over as Parma's new owner and president last month, agreeing to pay off the club's debts, which are estimated at nearly 100m euros (£72.4m).
He was due to attend a bankruptcy hearing on Thursday.
Prosecutors say Manenti could have disguised the money involved in the failed scam as revenue from sponsorships or gadget purchases.
It was allegedly foiled before any transfers to Parma accounts took place.
Parma are currently bottom of Serie A and 16 points from safety. The two-time Uefa Cup winners may be prevented from completing the rest of the season.
The club was also forced to postpone two games earlier in the season after failing to reach agreements on paying players and stewards.
Former president Tommaso Ghirardi and club official Pietro Leonardi were both given four-month bans for the same reason by league disciplinary officials on Friday.
Captain Alessandro Lucarelli said: "I hope sooner or later this all ends because, honestly, we can't take any more."
Earlier this month, Parma were loaned 5m euros (£3.6m) by the other Serie A clubs to help them complete the season.
If Parma are wound up, all previous results this season stand and future results will be recorded as a 3-0 win to the opposition.