Sepp Blatter: Fifa president rejects BBC and Sky election debate

By Richard Conway
BBC Radio 5 live sports news correspondent
Last updated on .From the section Football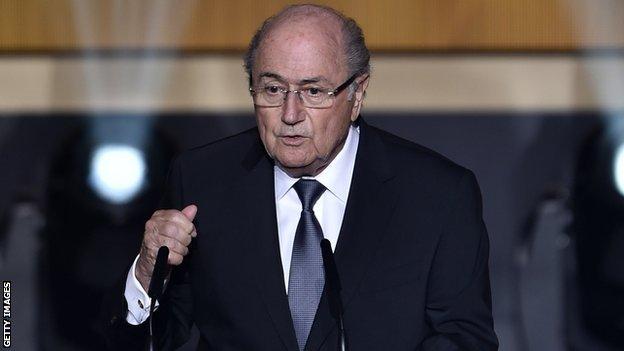 Fifa president Sepp Blatter has rejected a joint offer from the BBC and Sky to take part in a televised presidential election debate.
His three rivals accepted the invitation but insisted all candidates must take part in the debate as a condition of their participation.
The BBC and Sky proposal was based around fans asking questions to the candidates.
The Fifa presidential election is due to take place on 29 May in Zurich.
Sepp Blatter in focus
Born: 10 March 1936, Switzerland
Has a degree as Bachelor of Business Administration and Economics from the University of Lausanne
Played football in the Swiss amateur league
Fifa technical director 1975-1981 and general secretary 1981-1998
Was elected as the eighth Fifa president on 8 June 1998
The other candidates in the Fifa presidency election are Jordanian FA president Prince Ali Bin Al Hussein, Dutch FA president Michael van Praag and former Barcelona, Real Madrid, Inter Milan and Portugal winger Luis Figo.
Blatter, 79, is seeking a fifth term of office.
At this stage, the candidates were asked only to express a commitment in principle towards taking part.
Further talks between the broadcasters and candidates would then have taken place over the exact format, location and structure of the debate.