Motivated Lionel Messi transforms Barcelona's hopes for trophy treble
By Andy West
Spanish football writer at the Nou Camp
Last updated on .From the section Football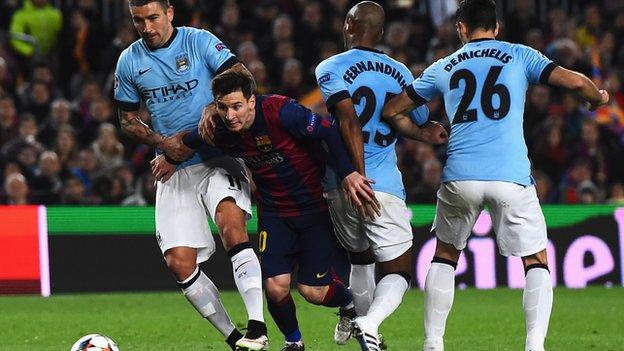 A little over two months ago, Barcelona were in the grip of a full-blown crisis after losing their first game of 2015 against David Moyes's Real Sociedad.
Having been left on the bench for that encounter, star man Lionel Messi was reported to be considering his future after supposedly suffering a bitter falling-out with manager Luis Enrique, who in turn was - according to dark whispers - on the verge of being sacked.
Sporting director Andoni Zubizarreta had already been sacked, prompting recently-retired legend Carles Puyol to immediately resign from his administrative post, while president Josep Maria Bartomeu called early elections in January in a bid to "lower the tension" surrounding the club.
Now, just a few weeks later, the Catalan club are sitting atop La Liga, are into the Copa del Rey final and through to the Champions League last eight after a first-half masterclass against Manchester City. How have they achieved such a transformation?
Messi's new-found motivation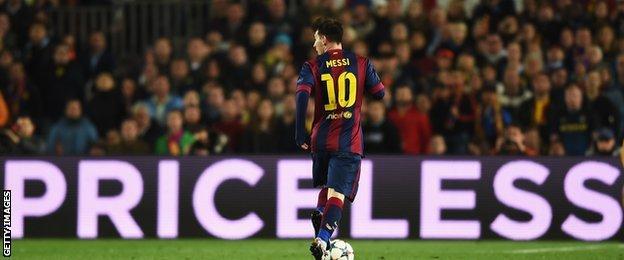 In December, former Manchester United midfielder Paul Scholes claimed that Lionel Messi looked "bored" after watching Barca play against Valencia. Strange as that assertion sounded, it was difficult to argue as the Argentine often appeared disinterested and demotivated, with his performances sinking to the levels of ordinary mortals.
But since the loss at Real Sociedad, the Argentine has been dramatically re-energised, exuding positive body language and also dispelling fears that the strain of a decade in the limelight was starting to catch up with his body.
Messi, 27, is a very private person who rarely talks to the media and delivers uninteresting platitudes on the few occasions that he does, so it's only possible to speculate about the true source of his new lease of life.
Maybe it needed Messi to have his falling-out with Enrique - which was fiercely denied at the time but later reportedly confirmed by defender Jeremy Mathieu in an off-guard interview - to act as a spark and shake him out of the lethargy which marked many of his appearances in 2014.
Another theory is that Messi is seriously disenchanted with the club's current board, and that his improved mood has resulted from Bartomeu being forced into calling this summer's early presidential elections, which he will almost certainly lose.
Whatever the explanation, Messi's new-found motivation has allowed him to return to his very best, scoring 20 goals and providing 13 assists in just 17 appearances since January.
Messi: from false nine to right wing
A significant element of Messi's success has been his new playing position on the right of a three-man strike force also containing Luis Suarez and Neymar.
During the previous half decade, Messi had helped reinvent modern football by playing as a withdrawn, deep-lying centre forward in the 'false nine' role devised for him by former boss Pep Guardiola.
Over the last couple of years, however, the false nine began to hold fewer fears for opposing teams, who realised they could counter Messi's unusual positioning by holding their defensive line rather than chasing after him and getting dragged out of shape.
During the opening weeks of this season, Messi fluctuated between the false nine and the right wing, doing neither with great conviction as Enrique appeared uncertain how to get the most out of the three gifted forwards at his disposal.
Once again, however, the loss at Real Sociedad appears to have served as the catalyst for a definite decision and Messi has played exclusively on the right wing - although with considerable licence to drift inside - ever since.
In addition to the goalscoring potential provided by the new position as he cuts inside onto his favoured left foot, lining up on the right has allowed him to maximise his exceptional passing ability to set up chances for team-mates - exactly as he did with a brilliant pass for Ivan Rakitic's winner on Wednesday.
MOTD presenter Gary Lineker: "Messi is indisputably the greatest player ever to don a pair of football boots. Don't even attempt to argue the point. A measure of Messi's greatness is that he makes world-class players like Sergio Aguero and Luis Suarez look distinctly ordinary by comparison."
No more rotations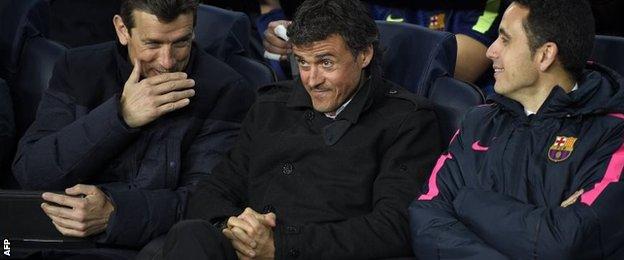 During the first five months of his reign, Enrique achieved the remarkable feat of naming a new line-up for every single game, somehow fielding a uniquely different starting line-up for each of his first 27 fixtures in charge.
From one game to the next, nobody knew - least of all the players, it seemed - who would be rested, dropped, recalled or played in an unfamiliar position, with Rakitic and Gerard Pique among those who mysteriously went from regular starters to being benched and back again.
Finally, however, Enrique put an end to his heavy rotation policy after the defeat against Real Sociedad (that game, again), and the vast improvement to his team's coherence and fluidity is surely not coincidental.
Now Enrique has stopped rotating, the team more or less picks itself, with the only real question being whether Andres Iniesta or Xavi are selected in midfield.
The continuity has allowed several players to shine, not least Suarez, who has kicked on from a moderate start to his Barca career to score eight goals in his last 10 games.
New tactical approach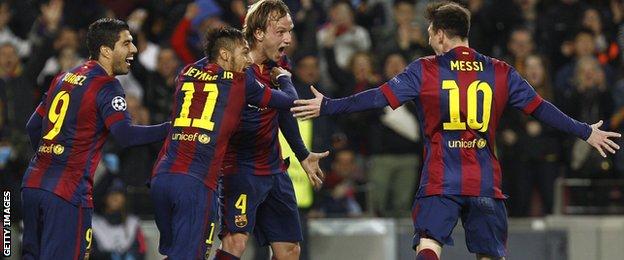 Whereas Barca's glories under Guardiola were based around relentless possession in midfield - the "passing carousel", as Sir Alex Ferguson christened it - now they play to their greatest strength by getting the ball forward to their star strikers as quickly as possible.
This directness is embodied by former Sevilla captain Rakitic, whose physical presence and athletic ability has played a key role in shaping the team's new style.
As he showed with Wednesday's goal against City, Rakitic's forceful thrusts into the penalty area are the perfect complement to the creative skills of the front three, and he was last week described by Enrique as "one of our best ever signings".
Arguably Enrique's undoubted tactical achievement has been implementing a massive improvement in Barca's abilities from set-pieces at both ends of the field.
Champions League last eight
Atletico Madrid- beat Bayer Leverkusen on penalties
Barcelona- beat Man City 3-1
Bayern Munich- beat Shakhtar Donetsk 7-0
Juventus- beat Borussia Dortmund 5-1
Monaco- beat Arsenal on away goals
Paris St-Germain- beat Chelsea on away goals
Porto- beat Basel 5-1
Real Madrid- beat Schalke 5-4
Last season they looked likely to concede any time a free-kick or corner was arrowed into their box, paying the ultimate price on the final day of the season, when Diego Godin's header from a corner secured the La Liga title for Atletico Madrid.
But Enrique and assistant coach Juan Carlos Unzue have turned that around and they now haven't conceded from a set-piece since - you guessed it - that defeat against Real Sociedad, when Sergio Canales's corner was cleared back to him and he crossed for Alba to put through his own net.
Barca now also pose much more attacking threat from set-pieces. Pique has already scored a career-high four league goals this season, and even Messi netted with a diving header from a corner in last weekend's win over Eibar.
How long will it last?
Does all of this mean that Barca are ready to reclaim their lost status as the greatest team in the world? In a word: no. Or, at least, not necessarily.
For starters, it is widely believed - although nobody will talk about it - that Messi and Enrique's relationship is still frosty: they coolly tolerate each other, rather than feeling any mutual warmth, and it's easy to envisage a difference of opinion at a critical moment reopening old wounds.
In playing terms, Barca remain vulnerable defensively and, for all their attacking brilliance, there is still a sense they are tactically unbalanced and can be exposed by opposing teams who are capable of launching rapid counter-attacks.
Off the pitch, the impending presidential elections are bound to unleash another flood of recriminatory headlines, as will the continuing investigation into the deal to sign Neymar, which last week saw the club and president Bartomeu formally indicted for alleged tax evasion.
Enrique, for one, realises his team's form is fragile, regularly dismissing lofty praise by noting they will be plunged into another 'crisis' as soon as they lose another game. And their next game just happens to be Sunday's Clasico against Real Madrid - just the kind of fast-breaking opposition who should be ideally placed to exploit Barca's defensive frailties.
So while life at the Nou Camp might be a bed or roses right now, a return to more thorny times could easily lie just around the corner.