Jermaine Beckford: Ear infection nearly led Preston loanee to retire
Last updated on .From the section Preston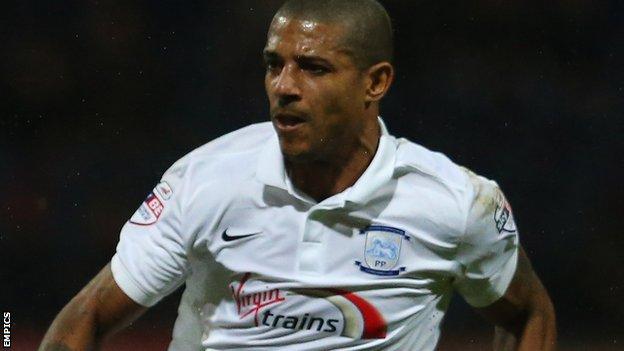 Preston striker Jermaine Beckford says he considered retiring because of the problems caused by an ear infection.
Beckford missed more than a month of football because of the infection.
"I couldn't move," said Beckford. "I was laying down in bed and any time I tried to sit up I would pretty much lose consciousness and pass out."
Speaking to BBC Radio Lancashire, he added: "I had contemplated calling the management and saying 'I don't know if I'll be able to carry on'.
"I would get dizzy, throw up, that sort of thing - it was brutal, a really, really tough time.
"After the third week I'd seen no improvement and I thought 'well after three weeks nothing has got better - I'm pretty sure I'm going to have to call it a day soon'.
"I think the first time I sat up was maybe about 24 or 25 days into it.
"I felt sick and almost passed out, but I realised you're not going to get anywhere unless you push yourself and, fortunately, a week and a half later I was up on my feet."
The former Leeds and Everton forward, who began his career in non-league football, moved to Bolton from Leicester in July 2013.
This season, Beckford had scored just twice in 16 appearances for Wanderers before moving to North End in November, where he has been reunited with manager Simon Grayson, his former boss at Leeds.