'Too much made of racism in Russia', says former football head
Last updated on .From the section Football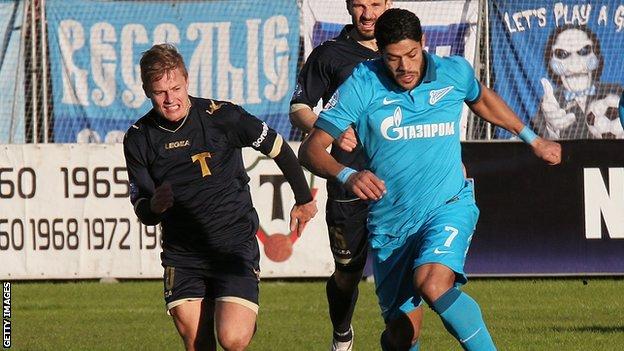 The former head of Russian football says too much is made of racism in the country and has also questioned why monkey chants are assumed to be racist.
Russia successfully won the right to host the next World Cup in 2018.
Vyacheslav Koloskov, a member of the bid, said: "Monkey chants are believed to be racist. Where is it written?"
But Piara Powar, head of campaign group Football Against Racism in Europe, dismissed the claims, saying "there is no other meaning of a monkey chant".
Earlier this month, the Fare network and the Sova Center highlighted more than 200 cases of discriminatory behaviour linked to Russian football over two seasons.
'We have pushed ourselves into a corner with these monkey chants'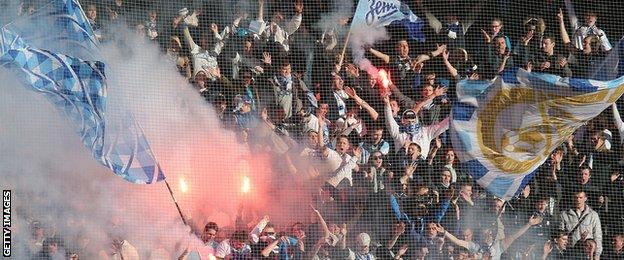 On Wednesday, Torpedo Moscow were ordered to play two games behind closed doors after a section of their fans racially abused Brazil international Hulk during a league match against Zenit St Petersburg.
But Koloskov, a Fifa vice-president for 16 years, played down the incident, telling BBC World Service Sport that neither he not the match delegate heard any monkey chants.
"Saying this, I don't mean we should not react but, in my opinion, we have pushed ourselves into a corner with these monkey chants," he told BBC World Service.
Are Zenit really the victims?
Powar dismissed Koloskov's views, insisting Russia may think they are being "unfairly treated" but that they "have a big issue to deal with".
He added: "There is unquestionably a rising tide of nationalism which is also feeding into racism which is then being played out in football stadiums.
"We can see here that Torpedo are clearly a problem. Ironically, Zenit St Petersburg also have a following which is hardcore and racist."
'We need to work on awareness with fans'
Anatoly Vorobiev, Russian Football Union's general secretary, says more steps are being taken to combat racism.
"We are trying to eradicate such things," he said. "Among our current plans, we will take a decision on introducing a special RFU inspector on racism issues at the next executive committee's meeting. There will be also a task force group created to prevent such issues as racism.
"We need law-enforcement authorities to take much more sanctions and we need to work on awareness with fans."