Black Cats flourishing in Africa
By Stanley Kwenda
BBC Sport
Last updated on .From the section Football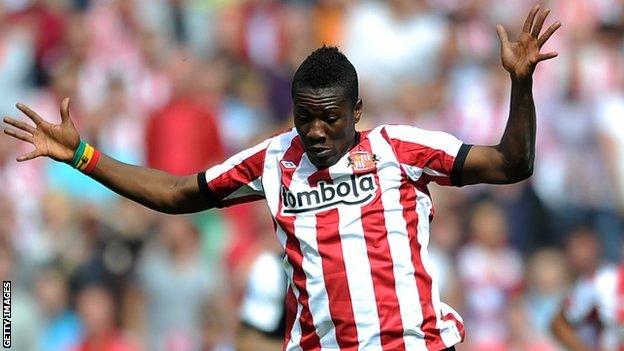 If ambition had a league table, English Premier League club Sunderland would top it.
In stature and global reach Sunderland are considered one of the league's smaller clubs but an appetite for global reach is helping them transform their standing in Africa, where they are establishing a business footprint.
On the field of play Sunderland have not been producing encouraging results. They have slowly fallen into the relegation zone, a situation which led to the club sacking manager Guy Poyet recently.
However, off the field the club's fortunes have been flourishing.
Club officials say things have been falling into place since 2012 when they had their first business contact with Africa. This was through an oil mining company which sponsored the club's official kit.
Sunderland, nicknamed the Black Cats, became famous among African fans for its "Invest in Africa" football shirts which helped to announce its arrival on the African continent.
Now they are looking to join the elite league of popular English Premier league clubs in Africa.
"Our ambition is to be an established club. Everyone follows Manchester United, Arsenal, Liverpool and Chelsea but after those clubs comes the rest of us. What we want is to be that next club," said Gary Hutchinson, Sunderland's commercial director.
The club has taken a deliberate strategy to market itself on the continent through business and community links.
Top Africans who have played for Sunderland
Ghana's Asamoah Gyan - scored 10 goals in 34 appearances between 2010 and 2012
Benin's Stephane Sessegnon - scored 17 goals in 87 matches between 2011 and 2013
Ghana's John Mensah - played 38 games and scored thee goals while on loan between 2009 and 2011
Ghana's Sulley Muntari - played nine games in a loan spell in 2011
Sunderland have an African shirt sponsor based in Johannesburg, South Africa. As part of the deal the club also has a twinning agreement with South African top-flight league team Bidvest Wits and an on-going charity arrangement with the Nelson Mandela Foundation.
And in Ghana, Sunderland are helping develop young talent in an arrangement with Kumasi-based football outfit Asante Kotoko.
"We have three key pillars of work, football, business and community operations. We are in Tanzania, South Africa and Ghana and we hope to be working in at least another country on the African continent by end of 2015," added Hutchinson.
The club has also become Tanzania's official tourism partner. Adverts promoting the country as a destination are an omnipresent feature at its 49,000-seat Stadium of Light.
"We promote the destination through the power of the Premier League and through the 4,2 billion people who follow it. The club will use the global marketing vehicle of the premier soccer league to promote Tanzania as a place to visit," Hutchinson said.
"We are running competitions to activate our fan base so that they can realise what a wonder Tanzania is and encourage them to visit."
For some, the African continent might matter only when there's money to be made or talent to be spotted for the European clubs.
Graham Robinson, head of international football development at the club, says Sunderland have a different philosophy.
"It's the hardest thing to bring players to the UK and Europe. Our strategy is to develop players that can be eligible for the African market because only one or two players make it through to Europe but there are hundreds of thousands who stay within Africa. We want to train them into well rounded players who can be traded on the growing African market," said Robinson, who himself is from South Africa.
As part of the strategy, African football players and coaches will come to Sunderland to experience the way they do business.
"We are opening a partnership. We expect our partners to come over here and see how our infrastructure works, how the club works as a business because nowadays stadiums cannot be used for matches only. They have to be a 24 hour, 365 days a year business," Robinson said.