Plymouth Argyle aim to bring in two players on loan
Last updated on .From the section Football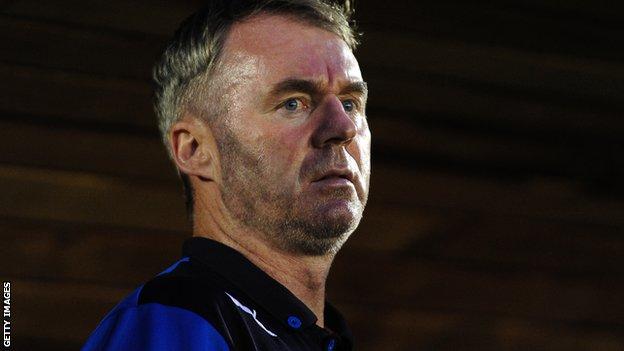 Plymouth Argyle manager John Sheridan says he is trying to sign two players on loan in time for Saturday's match against Newport County.
Sheridan is looking to replace Drew Talbot on Tuesday after he was as well as getting another attacking option.
"I'm trying to bring a couple of players in," Sheridan told BBC Devon.
"I was talking to people yesterday and we need to bring one or two people in to make us stronger."
Argyle have failed to score in four of their last five matches and have slipped out of the League Two play-off places.
"People need to be aware that there are other people after your position for the final two months," Sheridan added.
"I want someone similar to Drew who can play on the right side of midfield and I think we need someone with a bit of pace in our team who's going to disturb the opposition - I feel we've been lacking that a little bit.
"I've offered for two players and it's down to the players now to say yes.
"The clubs have agreed, so if i get a phone call in the next half-an-hour and they say yes, I'd like to get them both involved on Saturday."
Meanwhile, Sheridan has also said the prospect of losing the emergency loan system would make life for clubs in the lower leagues very difficult.
Fifa wants to end the system, which allows clubs to loan players to other teams outside of the two transfer windows, with the
"I think it would affect us really badly," Sheridan said.
"Any team in the lower regions will tell you that you need that loan system,
"Fifa probably don't think about the second division, they're just worried about the big boys unfortunately and that's the way the game's going. But we need them."