Roy Hodgson: England boss sent tailored video messages to players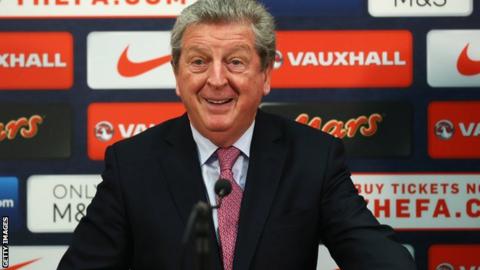 England boss Roy Hodgson sent special video messages to England players after a plan to get them all together outside the international match window failed.
The videos featured an introduction from Hodgson then tailored analysis for each player, presented by coaches Gary Neville and Ray Lewington,
Hodgson said he had no idea if the players had watched the videos.
"There probably is a way of checking, but I don't want to know," he said. "I'm happy we have sent it out."
Each clip was around five to seven minutes in length.
"It was all tactical, the tactical principles we've been wanting to work on," added Hodgson, speaking after naming his squad for the Euro 2016 qualifier against Lithuania at Wembley on 27 March and a friendly in Turin against Italy four days later.
'A little bit of a dinner would have been nicer'
The concept of a video message came about when Hodgson was forced to cancel a dinner meeting with his players in January because they were too busy.
The Football Association said clubs were in favour of the meeting but could not agree a suitable date.
"So we chose a different route," Hodgson explained. "That was to get the message sent to them via video. A lot of work went into that.
"The first idea of actually getting together, all of us, and doing it face-to-face, having a little bit of a dinner afterwards, would have been nicer."
'I don't want to do the Sherlock Holmes bit of finding out who hasn't watched it'
Asked whether he thought all the members of his squad will have watched the video, Hodgson said: "At the moment, I don't have any feedback on this.
"I'm happy we have done what we think is our job, I'm happy we have tried our best to bridge the gap in this four months, I'm happy we are making it clear to them that you wear two hats as a top-class international.
"You can't ever forget your club side. But then if you want to play for England and you want to be an England star, you can't forget England either.
"I don't want to start doing the Sherlock Holmes bit of finding out who has and who hasn't watched it.
"If they haven't, I am sure they will look through them when they get their England cap on again."