Paul Pogba: Injured Juventus midfielder ruled out for two months
Last updated on .From the section Football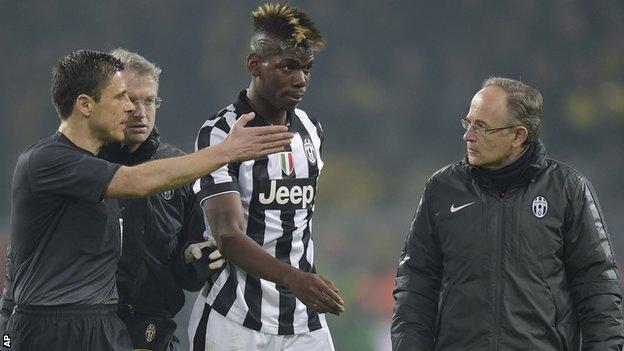 Juventus midfielder Paul Pogba is set to miss the Champions League quarter-finals after injuring his hamstring against Borussia Dortmund.
The former Manchester United midfielder will also miss France's internationals against Brazil and Denmark.
Juve are 14 points clear at the top of Serie A and are closing in on a fourth straight title.
If Pogba returns on schedule, he would be fit for the final three league games of the season and the second leg of a Champions League semi-final - should Juve reach that stage.
The draw for the quarter-finals of the competition takes place on Friday.
Champions League last eight
Atletico Madrid
- beat Bayer Leverkusen on penalties
Barcelona
- beat Man City 3-1
Bayern Munich
- beat Shakhtar Donetsk 7-0
Juventus
- beat Borussia Dortmund 5-1
Monaco
- beat Arsenal on away goals
Paris St-Germain
- beat Chelsea on away goals
Porto
- beat Basel 5-1
Real Madrid
- beat Schalke 5-4