El Clasico: Cristiano Ronaldo is unhappy - so what is wrong?
By Andy West
Spanish football writer
Last updated on .From the section European Football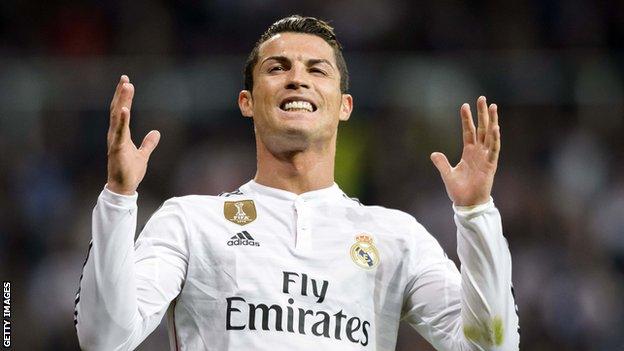 El Clasico: Barcelona v Real Madrid
Venue:
Nou Camp
Date:
Sunday, 22 March, 20:00 GMT
Coverage:
Live text commentary plus report, ratings and analysis on BBC Sport website from 18:30 GMT
Cristiano Ronaldo is angry.
Real Madrid's star man has, at least, spent much of the build-up to Sunday's Clasico - which could see Barcelona move four points clear at the top of La Liga - seemingly in a state of intense frustration with the world around him.
Opposition players, fans, the media and even his own team-mates have all been on the receiving end of his ire and, for a multi-millionaire superstar who was recently crowned the best player in the world for the second year running, Ronaldo certainly appears strangely ill at ease.
So, what is wrong with Cristiano?
Ballon d'Or to burst balloon
Ronaldo's scoring exploits at the start of the season were scarcely believable, as he hit 25 goals in his first 14 league games to put himself well on track to smash La Liga's scoring record.
Since the start of 2015, however, his form has nosedived and he heads into Sunday's Clasico with just five goals in his last 10 league outings, having failed to register even a single shot on target in four of them.
The decline started on 10 January when he failed to score in a 3-0 victory over Espanyol. It was his first goalless home league game for 15 months and his frustration at ending that sequence was plain to see when he reacted with melodramatic horror after Gareth Bale shot rather than passing to him, sparking a drawn-out debate over whether or not the Welshman is selfish.

Ronaldo was presented with his second consecutive Ballon d'Or a couple of days later but his team then tumbled out of the Copa del Rey against rivals Atletico Madrid, and the forward was soon held to another blank in a poor performance at Cordoba, with his irritation again boiling over as he earned a straight red card for a petulant hack at opposing defender Edimar.
When he returned from suspension to deliver a lifeless display in a humiliating 4-0 derby defeat against Atletico, Ronaldo's dip in form was becoming a significant cause for concern.
The Portuguese star subsequently did himself no favours by dancing the night away at his birthday party, enraging fans who felt he should have shown more discretion in the aftermath of such an embarrassing loss, and he is still struggling to overcome the negativity generated by that episode.
Why so angry, Cristiano?
Long-standing team-mate Sergio Ramos believes Ronaldo's dark mood is explained simply by his recent lack of goals. "He's used to scoring 60 goals a year and when he gets 40 he's not happy - he has a very competitive character," said Ramos.
Ramos is, no doubt, correct to suggest that his team-mate's failures in front of goal are the prime source of his discontent. His ambition to be lauded as the world's greatest is well documented, and it's easy to understand how such a relentless obsession can easily spill over into introspective self-indulgence.

Ronaldo often, for example, struggles to muster much enthusiasm to celebrate goals scored by his colleagues, a trait which was unpleasantly evident in last weekend's 2-0 home win over Levante: when his shot was cleared off the line and the rebound volleyed home by Bale, he reacted with an aggressively dismissive wave of the arm, as if to say: "That should have been my goal."
And with his goalscoring troubles providing the spark, Ronaldo now seems to be in a spiral of negativity where anything and everything is capable of annoying him.
Real's notoriously demanding fans, for example, have clearly got under his skin with their recent complaints about the team's poor performances. During the latter stages of the 4-3 home defeat by Schalke in the Champions League, he responded to fans' jeers by darkly muttering to Karim Benzema: "How shameful, how shameful."
And in the next home game - against Levante - he was caught by TV cameras appearing to deliver a foul-mouthed obscenity towards supporters who were voicing their displeasure with the team's second-half display.
Ronaldo has also stated that he will not be speaking to the media until the end of the season, after more unwanted off-the-field headlines were generated by the end of his relationship with long-term girlfriend Irina Shayk, who subsequently stirred the pot by pointedly telling the Spanish edition of Hola magazine that Ronaldo had made her feel "ugly and insecure".
As Ronaldo stalls, Messi stars
It cannot have helped Ronaldo's mood that his dip in form has coincided with his great personal rival Lionel Messi experiencing a joyful rejuvenation.
Since starting 2015 by being dropped to the bench (or rested, depending on your perspective) for his team's 1-0 loss at Real Sociedad, prompting speculation that he was considering leaving Barcelona following a bitter fall-out with boss Luis Enrique, Messi has been sublimely brilliant from his new position on the right wing.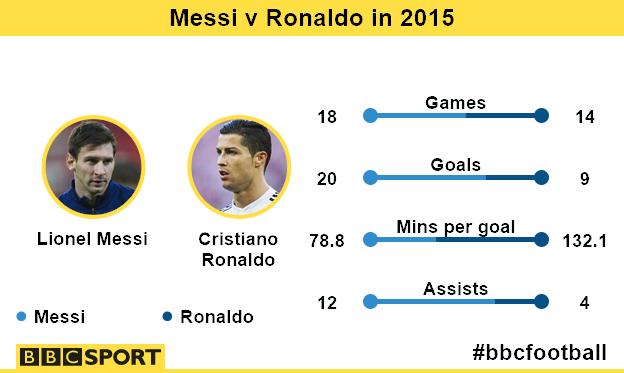 As well as scoring 20 goals during Barca's run of 17 wins in 18 outings, he has also provided 12 assists - many of them to Luis Suarez and Neymar in a mouth-watering and increasingly fruitful three-pronged strike-force.
Those goals and assists have propelled Barca to the top of La Liga, taken them to the Copa del Rey final and eased them past Manchester City into the Champions League quarter-finals.
And despite trailing Ronaldo by 12 goals as recently as December, Messi has also now moved to the head of La Liga's scoring chart, with his match-winning brace against Eibar last weekend taking his season's tally to 32 in the league alone, with another 11 coming in cup competitions.
In the seemingly never-ending battle between Ronaldo and Messi for the status of the world's greatest player, there has only been one winner so far in 2015.

The perfect place for a Ronaldo revival
The good news for Madridistas is that Ronaldo's slump is not likely to last for long.
A headline in Madrid-based newspaper Marca earlier this week confidently asserted: 'Cristiano always bounces back', and it only takes a brief acquaintance with Ronaldo's career history to reach the conclusion that they are surely right.
There would be no better time for Ronaldo to return to his almost unplayable best than a must-not-lose Clasico trip to Barcelona, and his hopes of doing so are enhanced by the fact that the Nou Camp has been a happy hunting ground for the Portuguese star in recent times.
He has scored eight goals on his last seven trips to Barcelona, including a match-winning strike in April 2012 which as good as clinched the title and a brace to seal a Copa del Rey semi-final victory the following year.
Ronaldo's Clasico success is explained in large part by Barca's possession-heavy style of play, leaving them vulnerable to rapid counter-attacks - and that, although he has perhaps lost some of his searing pace, is still among Ronaldo's greatest attributes.
Although Barca's philosophy has changed somewhat this year, becoming more direct and employing greater use of the attacking width, they still base their approach around dominating possession. That could play into Real's hands on Sunday, and Ronaldo will be eager to exploit any space he is granted.
Modric return could help Ronaldo smile again
Aside from the likelihood of Ronaldo returning to his best sooner rather than later, another major cause for optimism within the travelling party is the return of Ramos and Luka Modric following injury.

After missing six weeks and three months respectively, Ramos and Modric both came through Real's victory over Levante last weekend without complications, giving relieved manager Carlo Ancelotti the opportunity to field a pair of players who would always be among the first names on his teamsheet.
They were badly missed during their absence, with Modric's clever range of passing providing a neat link between midfield and attack. Most importantly, the former Tottenham star plays his passes quickly, needing only one or two touches to keep the ball moving - without him, Real's build-up play was often slow and predictable.
As much as his defensive ability, Ramos was sorely missed for his inspirational leadership qualities, with his aggressive and confrontational attitude demanding a similarly determined mindset from those around him. If Ramos had been on the pitch, it's hard to believe that Real's four-goal defensive debacles against Atletico and Schalke would have been allowed to happen.
When you also consider Bale's return to goalscoring form last weekend and the consistent excellence of Isco, Spanish football's new golden boy, there are plenty of reasons to believe that Real can quickly return to the brilliance which saw them set a new Spanish record of 22 consecutive victories earlier this season.
If they can do it on Sunday and claim all three points at the Nou Camp, we might even see Ronaldo smiling again.