Liverpool v Man Utd: The invisible men making both teams tick
Last updated on .From the section Premier League

In his regular BBC Sport column, Robbie Savage looks at Liverpool's Joe Allen and Manchester United's Michael Carrick and examines the role the midfield pair could play in deciding which team will come out on top when they meet at Anfield on Sunday.
Forget him living up to his nickname of 'the Welsh Xavi' - the biggest compliment I can pay Joe Allen is that, if he maintains his current form, he could become Liverpool's answer to Michael Carrick.
By that I mean Allen becoming more than just a quiet, effective midfielder who doesn't always get noticed but does a decent job sitting in front of his defence.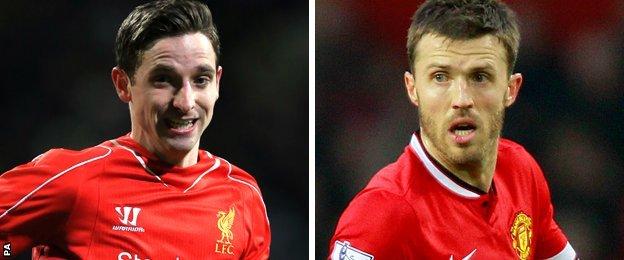 Carrick also rarely makes the headlines, but he has a calming effect on his team-mates because he is always available for them when they are in possession and helps them to flourish.
He is so composed on the ball too but the biggest reason Manchester United boss Louis van Gaal rates him so highly in that role is the way he sets the attacking tempo of the team.
His first thought is to play the ball forward, rather than sideways or backwards which has been happening too often while he has been out injured.
If I was picking the United team to play at Anfield on Sunday, Carrick would be the first name on my team-sheet because he showed against Tottenham last week how pivotal he is to the way they want to play.
It was his first-time ball forward to Marouane Fellaini which set up the first goal against Spurs and it was an example of what all United players should do, which is take risks.
'Allen deserves to keep his place vs Man Utd'
Allen does not have the same influence on Liverpool's attack at the moment - six good games do not make you the new Michael Carrick.
But, in the last few weeks, the Wales midfielder has played a big part in helping the Reds maintain their unbeaten run in the Premier League.
While Steven Gerrard and Lucas Leiva have been out injured, Allen has stepped up and is playing his best football since he joined Liverpool from Swansea in the summer of 2012.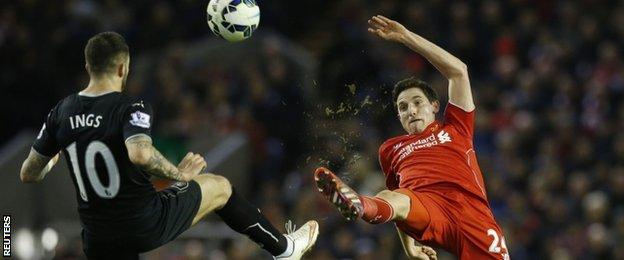 Gerrard played well when he came back from his hamstring problem as a substitute in Monday's win over Swansea but this weekend is the chance for Reds boss Brendan Rodgers to make a huge statement about Allen.
In the past, it would have been the easy option for Rodgers to bring Gerrard straight back in to face United but Allen's performances have not made that decision so straightforward this time.
Allen has been so good that he deserves to keep his place and, if he does, then it will only increase his stature at the club.
For a player who seems to thrive on confidence, and who has looked short of it at times since moving to Anfield, it could be a decision that is the making of him.
Imagine the lift that it would give him, and it could see him kick on even more.
'Allen will be buzzing about his performances'
I labelled Allen a 'miss' when I rated Liverpool's signings under Brendan Rodgers before Christmas because, at that stage, he had been disappointing.
I felt he was under-achieving rather than a failure, though. He was not first-choice and he did not look as if he felt he belonged in the team.
Yes, he was always tidy in possession but he cost £15m and did not look capable of bossing a midfield.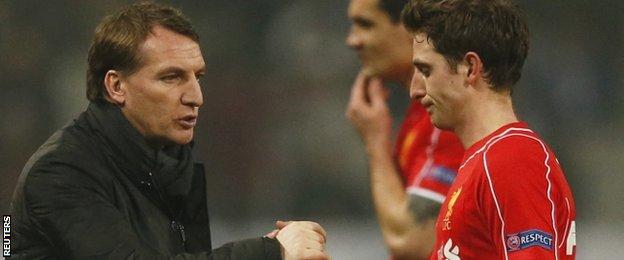 That is not the case now, as he showed in last month's win over Manchester City for example.
Why is he playing better? Well for a start, he is playing regularly.
I know from experience what it is like knowing you will be dropped as soon as other players return to fitness.
Before now, he has probably gone into games thinking 'even if I play well, I am going to be left out next week'.
It is completely different when injuries mean you know you will get a run of matches and start to think you are going to keep your place.
Allen has just played four consecutive league games for the first time this season, and he will be buzzing about the way he has played.
'Becoming more than just a link man'
Liverpool's 3-4-3 system has helped Allen improve too, because he has the job of linking their defence and attack and is seeing more of the ball in the deeper areas that suit him.
Allen is clearly playing an important role but I still think there is more to come from him.
He is yet to make a single assist in 67 league games for the Reds and he has the grand total of one league goal, a header against Crystal Palace last season.
He has only had four attempts on goal this season and should be contributing more in attack but, because of the way Liverpool are set up, he does not have to.
Joe Allen in the Premier League 2014-15

Games

Shots

Goals

Assists

Chances created

16

4

0

0

12
Rodgers likes to keep five players back; the three centre-halves, Allen, and one of his wing-backs.
That means the other five outfield players can get forward, and Allen holding means Jordan Henderson has the freedom to push on.
It is a system that is working, because Liverpool are on such a good run - they are unbeaten in the league since they lost 3-0 at Old Trafford in December, 13 games ago.
That was the first game where Rodgers adopted his 3-4-3 formation, which seems to suit a lot of his players, not just Allen.
'Carrick can play a vital role at Anfield'
Like Allen, Carrick's statistics are never spectacular unless you count his passes per minute on the pitch - he is ranked joint 12th in the Premier League on that list.
Michael Carrick in the Premier League 2014-15

Games

Shots

Goals

Assists

Chances created

15

2

1

2

6
Carrick's header against Tottenham last week was his first goal of the season, from only his second attempt at goal. His pass to set up Fellaini was only his second assist of the campaign, too.
I don't think he will get forward as much at Anfield as he did against Spurs, but he will still play a vital attacking role if United set up the way I expect them to.
It will suit Liverpool if United go at them in the same way they attacked Spurs, because that leaves Rodgers' side with space to break into.
Instead, I think United will sit back, with Carrick helping Ander Herrera and Daley Blind to shield their defence, and also playing quick balls forward to hit Liverpool on the counter-attack.
Robbie Savage was speaking to BBC Sport's Chris Bevan