Man City: Manuel Pellegrini still 'enjoying' management
Last updated on .From the section Man City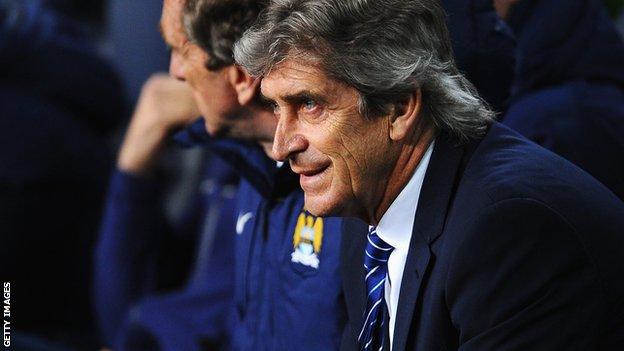 Manuel Pellegrini says he is still enjoying life as Manchester City manager.
Pellegrini has come under pressure after a run of five wins in 14 games during 2015, including City's Champions League exit to Barcelona on Wednesday.
But it has not affected how the Chilean feels about his job.
"If you cannot enjoy playing against Barcelona in the Champions League and fighting for the title, you should go and see a doctor," he said.
Pellegrini confirmed Yaya Toure (Achilles) would miss Saturday's Premier League game with West Brom while Aleksandar Kolarov and James Milner are both doubts.
Pellegrini on his future
"I have been here less than two years. Last year we won the league and a cup. That is not easy. Everyone in England is strong.
"Every manager, when they have not been winning, is under pressure. It has happened with Liverpool, Arsenal, now me.
"In Spain, the same has happened with Carlo Ancelotti and he has won four titles."
On the Premier League title race
"It is not a disaster. Only Chelsea have been better. We will keep on fighting.
"But in England we have very strong teams and all can be champions every year. It is not easy to make the double. Of course, all of us want to win the title every year.
"I don't think it is possible to do it. But it is possible to fight until the end.
"That is the only thing in my mind."
On Champions League exit
"Maybe if we are knocked out against another team and they beat us, we are more frustrated than against Barcelona.
"That doesn't mean in the future you shouldn't try to reach that level. But, I do think the club in five or six years is starting to grow in every sense.
"If Barcelona eliminate you, it is not the end of the project and that is the way to think."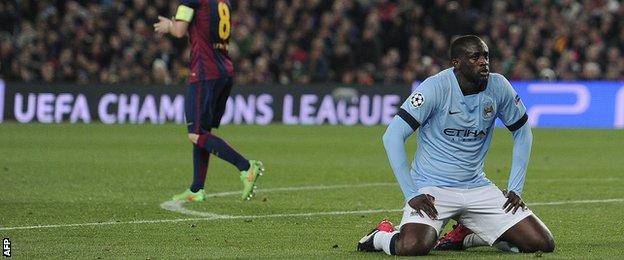 Future success?
"To try to win the Champions League is a target in the future.
"Every team that wants to be a big team must win the Champions League. It is not easy to win it.
"Real Madrid went 32 years without winning one, Barcelona 32 years, a lot of big teams... so it is difficult."