Rangers: Squad confidence at all-time low - Lee Wallace
Last updated on .From the section Football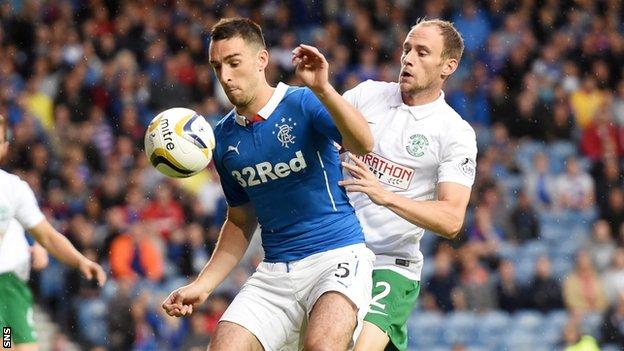 Lee Wallace says Rangers must travel to promotion rivals Hibernian on Sunday with confidence, despite admitting the squad's buoyancy is at its lowest ebb.
Rangers trail the Easter Road side by six points, with a game in hand, in third place in the Championship table.
"I know it's difficult to say we can go there with confidence when it's at an all-time low just now," said Wallace..
"We need to attempt to win, not have any of this nonsense because we're on a poor run and they're on a good run."
Stuart McCall's men have lost all three of their league clashes with the Hibees this season, with December's heavy 4-0 defeat in Leith a particularly sore day for the squad.
"We were littered with mistakes in the games we've played against them, really poor performances," added Wallace. "It'll take a big performance that hopefully we can say can help spark a wee run.
"I've sat a hundred and one times before a big game and said exactly the same - maybe this will be the one because of the type of game it is and the opponent we're facing.
"We look at how poor things have been - it probably can't get any lower at this point in time. It [the 4-0 defeat] was one of the worst days many of us have experienced in our footballing careers. We can use a lot of things as motivation to try and help us get that edge."
While Rangers have won once in their past nine games, Alan Stubbs has guided Hibs to a 15 match unbeaten run that stretches back to early December.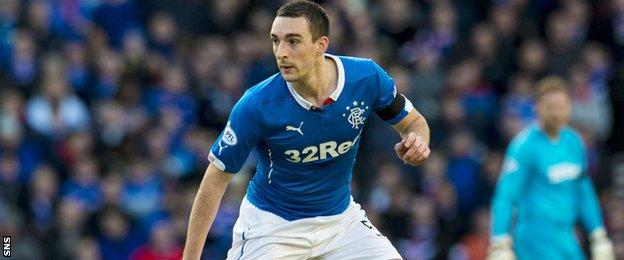 "We're all aware of the form, the head to head games we've got with Hibs, and the momentum they're carrying that we're not," acknowledged Wallace. "We need to win a game to get us out this horrible situation we're in.
"The results against them haven't been good enough, albeit the results against most teams haven't been good enough. Their confidence is sky high and we're obviously the exact opposite of that.
"It [Ibrox] has become a bit of a difficult environment, but that's our own doing, we've not given the supporters anything to cheer about. How can we complain when we've given what we've given?"
"Everybody's kicking us, we're obviously not in a great position, other teams and people are happy at where we are just now.
"We've just never at any point in the season allowed our better players to bring anything to the table and that's been a huge disappointment. Why, I don't know, it's just not happened.
"When I signed I never seen this happening in three years' time. I saw a number of Scotland caps if I was playing well.
"My debut was a Champions League qualifier. I was looking forward to winning trophy after trophy, being in a dressing room of winners and becoming one myself."