Champions League: How race for top four will unfold... possibly

By Phil McNulty
Chief football writer
Last updated on .From the section Football802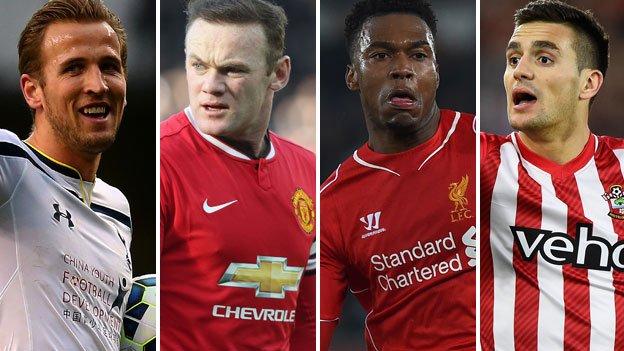 Chelsea strengthened their position in the Premier League title race with victory at Hull City on Sunday to stay six points clear of Manchester City with a game in hand - but the pursuit of the other places in the top four remains red hot.
Manchester United struck a telling blow with victory at Liverpool but Brendan Rodgers' side were the only ones in the top seven not to win as Arsenal, Southampton and Tottenham all picked up maximum points.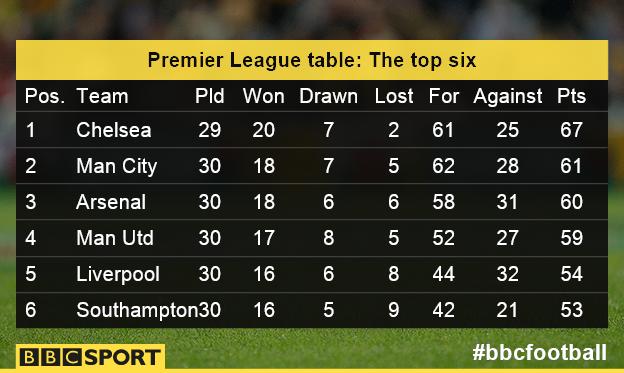 So what better time to indulge in an act of complete madness: trying to predict all the results for the top seven teams between now and the end of the season to see how it will shape up after the final day on 24 May?
My original pre-season prediction was for a Chelsea title win with Manchester City second, United third, Liverpool in fourth and Arsenal just missing out in fifth.
So what, if anything has changed?
Bear in mind at all times this is just a light-hearted stab at sooth-saying from someone whose crystal ball invariably ends up covered in dust. So keep that blood pressure at normal levels.
Give it a go - let us know how you get on and then join the debate below.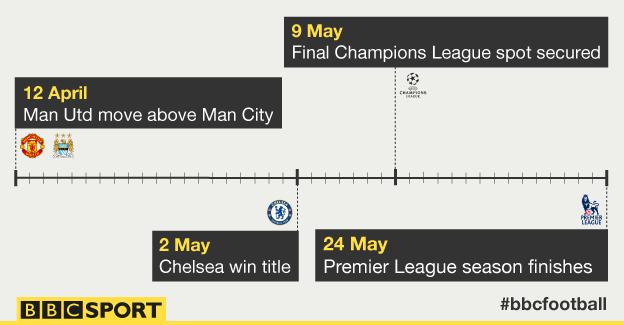 A fatal week for Liverpool?
Predictions: Saturday, 4 April: Arsenal 2-1 Liverpool, Everton 1-1 Southampton, Manchester United 3-0 Aston Villa, Chelsea 2-1 Stoke City. Sunday, 5 April: Burnley 1-1 Tottenham Hotspur. Monday, 6 April: Crystal Palace 1-2 Manchester City
Verdict: Arsenal's meeting with Liverpool is the big one here and so tough to call. I expect Arsenal to score against Liverpool and then it is a question of the Gunners being able to keep out Liverpool's flowing attacking football.
I do not foresee too many problems for Manchester United or leaders Chelsea, at home to Aston Villa and Stoke City respectively - but Spurs will be tested at Burnley and Manchester City will have to show rather more steel than they exhibited away at Anfield and Turf Moor recently to justify the faith I've put in them.
How the table will look: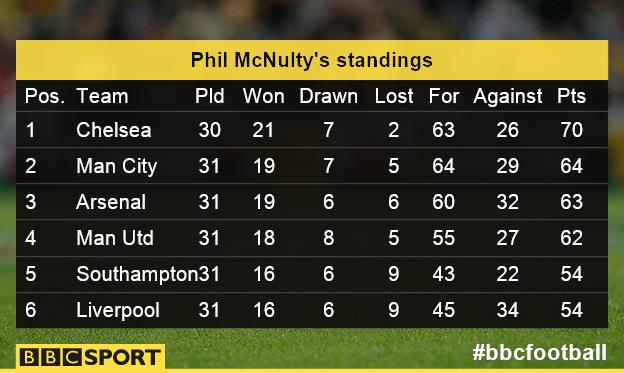 Derby win takes Man Utd above Man City
Predictions: Saturday, 11 April: Southampton 2-1 Hull City, Tottenham Hotspur 3-1 Aston Villa, Burnley 0-2 Arsenal. Sunday, 12 April: QPR 1-3 Chelsea, Manchester United 2-1 Manchester City. Monday, 13 April: Liverpool 3-0 Newcastle United.
Verdict: The stand-out fixture here is the Manchester derby at Old Trafford and with Manchester United showing signs of developing under Louis van Gaal and Manchester City struggling for consistency, I will go for the home side to edge out the reigning champions - although who could predict that result with any real confidence?
A United win will see them leapfrog their city rivals - who would have predicted that might happen a few weeks ago?
Hull City could pose problems to Southampton while the Tim Sherwood factor will be at work when he goes back to Spurs with Aston Villa - but I fully expect Liverpool to get back to winning ways with a comfortable win against Newcastle.
How the table will look:
Man Utd miss opportunity to overtake Arsenal
Predictions: Saturday, 18 April: Hull City 2-2 Liverpool, Stoke City 2-1 Southampton, Chelsea 1-0 Manchester United. Sunday, 19 April: Manchester City 3-1 West Ham, Newcastle United 1-1 Tottenham Hotspur.
Verdict: Plenty of tough calls here and I can see things going either way for Liverpool and Spurs in particular. Steve Bruce has a decent record against Liverpool as a manager while Spurs will be tested on Tyneside. A tricky trip to Stoke will see Southampton drop out of the top six.
Once more, however, one fixture stands head and shoulders above all on a weekend when Arsenal will be in FA Cup semi-final action against Reading at Wembley and Liverpool could join them a day later to face Aston Villa if they overcome Blackburn Rovers, and that is leaders Chelsea v Manchester United.
I expect Chelsea to be closing in on the title by then and they will inch closer with a narrow win over United to maintain that formidable record at Stamford Bridge. That defeat will see Manchester City back into second once more.
How the table will look: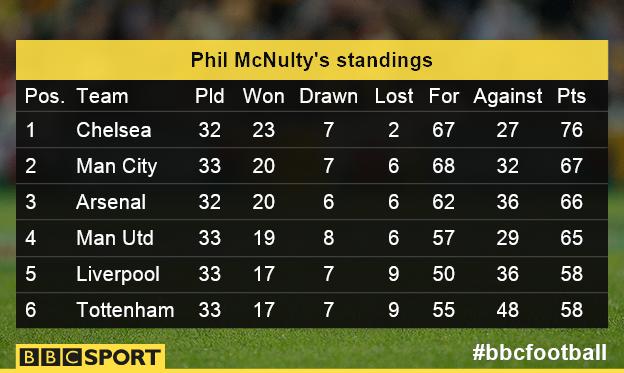 Chelsea move to within one win of title
Predictions: Saturday, 25 April: Southampton 2-2 Tottenham Hotspur, West Brom 0-2 Liverpool, Manchester City 4-1 Aston Villa. Sunday, 26 April: Everton 1-2 Manchester United, Arsenal 1-1 Chelsea. Wednesday, 29 April: Leicester City 0-3 Chelsea.
Verdict: Arsenal and Chelsea meet at Emirates Stadium so I can see a draw there - and while Manchester United's meeting with Everton signalled the end for David Moyes last season, I expect them to snatch a win that will push his successor Louis van Gaal closer to that top-four place.
Mauricio Pochettino returns to Southampton with Spurs and I think it will be a struggle for his side to get three points at St. Mary's, but would not be surprised by a draw. I fancy Liverpool to win at West Bromwich Albion, although they will not have it easy.
I fully expect Chelsea to take yet another stride to the title with a win at Leicester City the following Wednesday, taking Jose Mourinho to the brink of a third title at Stamford Bridge.
How the table will look: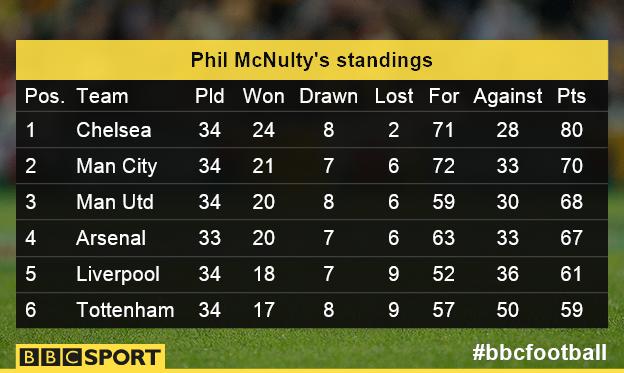 Chelsea champions with three games to spare
Predictions: Saturday, 2 May: Chelsea 3-1 Crystal Palace, Hull City 1-3 Arsenal, Liverpool 4-1 QPR, Manchester United 3-0 West Brom, Sunderland 0-0 Southampton, Tottenham Hotspur 1-1 Manchester City.
Verdict: Going by these calculations, this is the day Chelsea clinch the title with three games to spare as they ease past Crystal Palace.
Arsenal normally find what they need at this time of the season so I'm backing them for three points at Hull City. Manchester United will expect a victory at home to West Brom.
I also expect Liverpool to maintain pressure right until the end and they have a comfortable-looking home game with QPR. Draws for Southampton at Sunderland and between Spurs and Manchester City will have ramifications for the top four and the title.
How the table will look: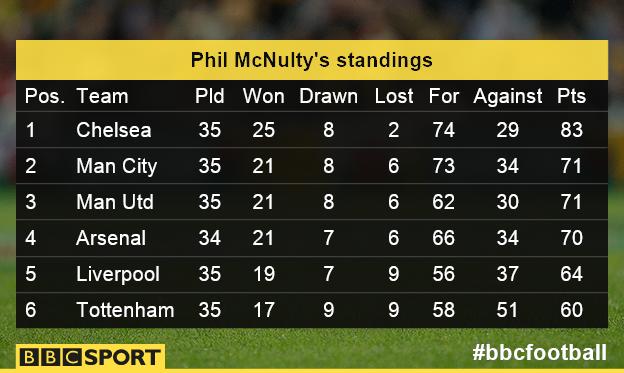 The race for the top four ends
Predictions: Saturday, 9 May: Arsenal 3-1 Swansea City, Chelsea 2-0 Liverpool, Crystal Palace 1-2 Manchester United, Leicester City 0-1 Southampton, Manchester City 5-1 QPR, Stoke City 0-0 Tottenham Hotspur.
Verdict: The title race is likely to be all over by now but Chelsea can see off Liverpool's Champions League hopes and do Manchester United and Arsenal a huge favour by beating them at Stamford Bridge, which I think they will.
That result will mean Manchester City, Manchester United and Arsenal join Chelsea in qualifying for Europe's premier club competition next season.
Southampton should keep up their pursuit of a top-six place by beating Leicester but not sure Spurs will get a win at Stoke, where Mark Hughes has made the Potters so tough to beat.
How the table will look: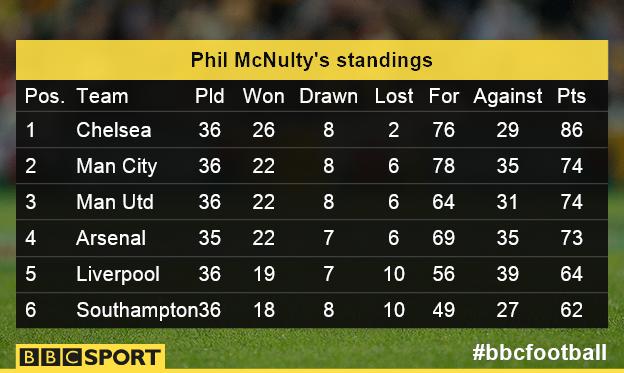 Man City slip to fourth
Predictions: Saturday, 16 May: Liverpool 2-0 Crystal Palace, Manchester United 1-1 Arsenal, Southampton 2-1 Aston Villa, Swansea City 1-0 Manchester City, Tottenham Hotspur 3-1 Hull City, West Brom 1-2 Chelsea. Wednesday, 20 May: Arsenal 2-0 Sunderland.
Verdict: I just have an odd feeling Swansea might nick it against Manchester City on £25m striker Wilfried Bony's return to the Liberty Stadium with what I fully expect to be the deposed Premier League champions.
Defeat in Wales could prove costly as Arsenal move up to second with a point at Old Trafford then a midweek win against struggling Sunderland. Don't forget, the top three qualify automatically for the Champions League, with the fourth-placed team requiring a play-off.
Liverpool's home match against Crystal Palace should be routine simply because they will be swept along on a tide of emotion for Steven Gerrard's final game at Anfield.
Chelsea may be easing back by then but if they need something at West Brom (and I'm fully expecting they won't) then I back Jose Mourinho's side to win.
How the table will look: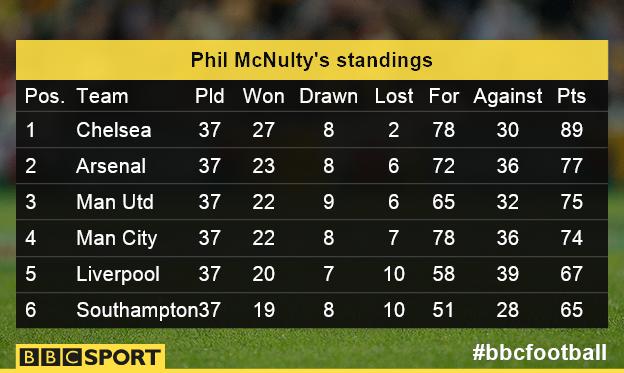 Final-day battle for third
Predictions: Sunday, 24 May: Arsenal 2-0 West Brom, Chelsea 3-1 Sunderland, Everton 1-1 Tottenham Hotspur, Hull City 0-1 Manchester United, Manchester City 3-2 Southampton, Stoke City 1-1 Liverpool.
Verdict: It might not be quite the final day of drama we expect, with the battle for third and a guaranteed spot in the Champions League the main issue needing to be resolved.
I anticipate all of the top four winning on the last day, meaning Manchester United just edge out Manchester City for third. That will leave Manuel Pellegrini's men having to report back early from their holidays for that Champions League play-off tie.
If it comes to pass, Liverpool would be disappointed to finish fifth and it would be the price to pay for making a slow start as they adjusted to so much integrating of new personnel after Luis Suarez's departure.
A place in the top seven would mark a superb first season for Southampton manager Ronald Koeman after so many departures last summer.
And if this conclusion proves deadly accurate it would be a case of eating a pair of socks as well as your hat.
How the table will look: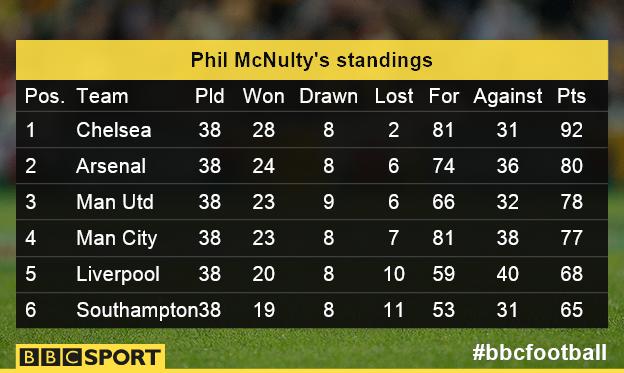 What do you think of Phil's predictions? Is he way off the mark or has he got most things right? Let us know via the comments section.