Celtic v Dundee United: Niggle is understandable - Craig Gordon
Last updated on .From the section Football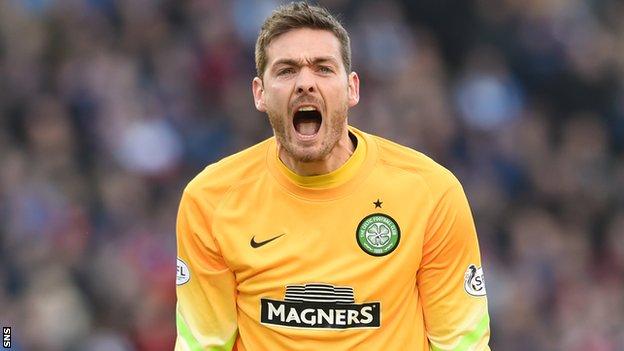 Goalkeeper Craig Gordon says discipline will be key when Celtic meet Dundee United for the fourth time in 14 days.
The three previous matches have yielded six red cards, four for United, including Sean Dillon's in the 2-0 League Cup final loss.
"It is never nice to lose and if you are on the back of a couple of losses it does irritate you," said Gordon.
"You are going to get annoyed by the fact you haven't won in a couple of games."
Saturday's Premiership match at Celtic Park comes after Anthony Stokes and Ryan McGowan both saw red in Celtic's 4-0 Scottish Cup quarter-final replay triumph over Jackie McNamara's side on Wednesday.
"It is unfortunate it has happened but this is another game and if we have to try to win the battles to win the game then that's what has to happen," added Gordon.
"I have not been involved in any of the incidents. I have been well out the way out of it.
"And there hasn't been animosity there, certainly not towards me, everything has been fine.
"We have to concentrate on our game, keep our discipline and keep as many players on the pitch as we can."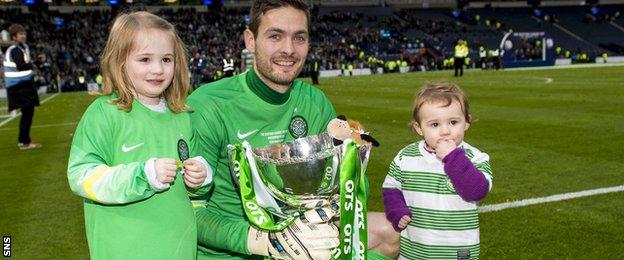 Celtic manager Ronny Deila labelled McGowan's challenge on Liam Henderson, for which the Australian was dismissed, "stupid".
"It was down the opposite corner from me and I haven't seen it back on TV so it is not one I can say with any certainty was deserved or not," mused Gordon.
"Liam was okay. There wasn't a great deal said about it in the dressing room, we were just happy to get the win."
Celtic remain on course for a domestic treble, with the League Cup already secured, leading the Premiership standings by three points, and having booked a place in the last four of the Scottish Cup and a semi-final against Inverness.
"It is up to us to see if we can finish it off," stated the Scotland goalkeeper.
"We have a very difficult semi-final against one of the most difficult teams to play against in Scottish football.
"But we have put ourselves in a great position and it is up to us to try to win the games between now and the end of the season to make it happen.
"We also still have to be wary in the league, there are still a lot of points to win there."