Glasgow City attempt to bridge Paris Saint-Germain gap

By Chris McLaughlin
BBC Scotland
Last updated on .From the section Football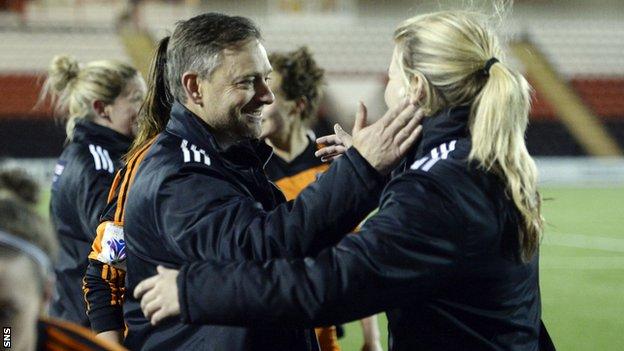 UEFA Womens Champions League: Glasgow City v Paris Saint-Germain
Venue:
Excelsior Stadium, Airdrie.
Date:
22 March, 2015. 4.05pm
Coverage:
Live on BBC Alba and BBC Radio Scotland.
Head coach Eddie Wolecki Black said a Friday night in the south side of Glasgow will accentuate the disparity between Glasgow City and Champions League opponents Paris Saint-Germain.
City enter new territory when they face the giants of women's football at Aidrie's Excelsior stadium on Sunday.
However the pre-match preparation will hit home how big a task his team face.
"They'll be in a big sports complex," he told BBC Scotland. "We'll be in a school waiting on the janitor."
City are used to defying the odds in Europe, qualifying for the knockout stages four years in a row despite their amateur status.
They have never been in the last eight before though, and face one of the best teams in Europe in their quest to go further.
PSG have a budget of £7.5m and will fly their team of professional players to Scotland on their own private jet.
"It's brilliant for the whole club to be at this stage," said Wolecki Black.
"We're going to have to play very well, no doubt about that. We're going to have to be well organised, our game plan will have to be bang on.
"A lot is going to have to go our way, but I'm a great believer in anything's possible."
Bridging the gap
He continued: "Everybody looks at us and obviously thinks we're getting a lot of things right, but there's a number of things we can improve on. If we're going to keep developing as a club we'll have to sort that.
"Training facilities and stuff like that needs to be improved. Eventually you'd hope to see the advent of full-time football in this country. It would be ideal for them, because they deserve it to be fair.
"They'll [PSG] be in a big sports complex. They'll be in every morning, have breakfast together, out on the training park, back in, they're full-time, they've not got any jobs that they would go to.
"And, they'll piggy-back on the men's side with sports scientists, medical staff, psychologists, welfare officers. They'll have that all in a full-time capacity as well as analysts.
"We have all the same things, however people are working round nine to five jobs to do that for us.
"Even training facilities - tomorrow night we'll be in a school in the south side of Glasgow waiting on the janitor to open up the gate, to get on the park and get a quarter of a pitch to train, with a goal with no nets, and a floodlight that goes out every now and then. The contrast probably could be any greater.
"Where women's football is now is probably where women's tennis was 40 years ago. They were fighting to get the same purses and they were fighting to get the same media coverage and exposure that the men's side get.
"If you look now at where it is, it's probably on an even keel now."
Biggest day in City's history
Goalkeeper Lee Alexander is struggling for fitness ahead of the game, but she knows whoever plays is likely to be in for a tough afternoon.
"It's the first time we've been in this stage so it's very new to us and we're obviously playing a very talented side, so we're really just looking forward to it to be honest.
"Champions League football is always really difficult, you're playing against top players across all of Europe, and if you're looking at PSG across the board their players are primarily internationals. It's certainly going to be a big test for us to come against that."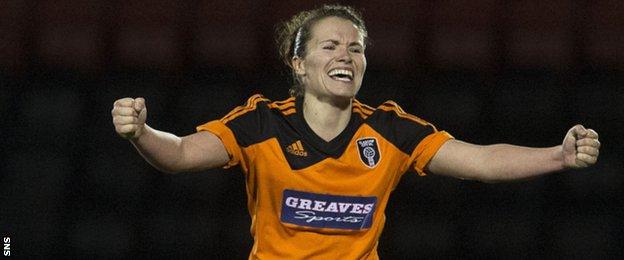 Team-mate Joanne Love added: "It's going to be one of the biggest games in our history. I think for Glasgow City it's just a case of going out and putting on a good performance. We know the stature of PSG, we know it's going to be a very tough game, so we're just looking to do our best and see where it takes us.
"It's what we want. We like the attention and we want stuff like this to happen a bit more often. Hopefully we can push on from her but at the end of the day it's going to be what we do on the field that counts."