David Moyes says Premier League is poorest he has seen in long time
Last updated on .From the section Football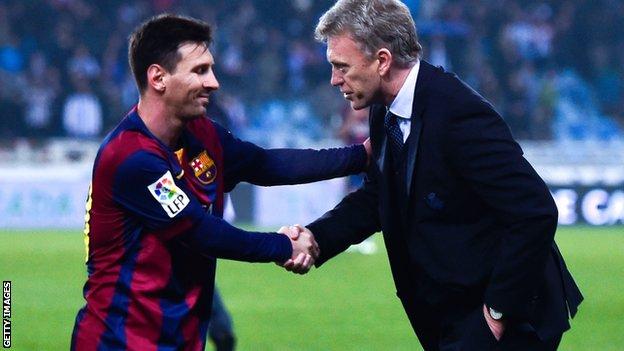 Former Manchester United manager David Moyes has described this season's Premier League as the poorest he has seen "in a long time".
No English clubs have reached the quarter-finals of the Champions League, compared with three from Spain.
"Maybe we have talked up the Premier League more than we should," the 51-year-old Scot told BBC Radio 5 live.
Moyes, now in charge at Real Sociedad, also questioned the English habit of spending big sums of money on players.
"Of course, the top clubs in Spain spend a lot, but the other teams can't," the ex-Everton boss said.
"Atletico [Madrid] have had financial difficulties over the years but they have still reached finals. Valencia, Villarreal, they have have got quite far in the Europa League.
"So maybe we do go over the top about our league. This year it is probably the poorest Premier League I've seen in a long time."
Moyes, who revealed he turned down "three or four" job offers in order to go to Spain, also called for more English managers to move abroad.
"We import an awful lot of foreign managers but we don't export enough, yet I think British managers are as good as those in any country," he added.
Champions League quarter-finalists

Spain

Italy

Germany

England

Other

2015

3

1

1

0

3

2014

3

0

2

2

1

2013

3

1

2

0

2

2012

2

1

1

1

3

2011

2

1

1

3

1

2010

1

1

1

2

3