Liverpool 1-2 Man Utd: Louis van Gaal got it right again - Shearer
Last updated on .From the section Man Utd

MOTD2 pundit Alan Shearer expands on his TV analysis of why Manchester United's impressive start in their 2-1 win over Liverpool was down to their high-intensity pressing game without the ball as much as how well they used it when they did have possession.
Manchester United manager Louis van Gaal has been criticised for his tactics at times this season but, for the second game running, he got them absolutely spot-on.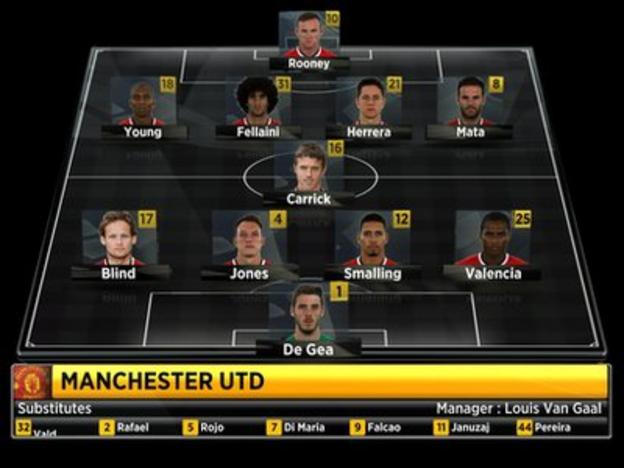 Just as they did in the first half against Tottenham last week, United got on the front foot early on in their win over Liverpool and dictated the way they wanted the game to go.
Van Gaal picked the same team that was so impressive against Spurs and their players looked very comfortable in their positions.
Again, United moved the ball quickly and they passed it well too - their one or two-touch football has clearly improved massively of late.
But the most impressive part of their performance in the first 45 minutes at Anfield was their intensity when they did not have possession.
'Liverpool could not build momentum'
Together, the whole United team pressed Liverpool and put them under pressure high up the pitch.
Average position of Man Utd players in first half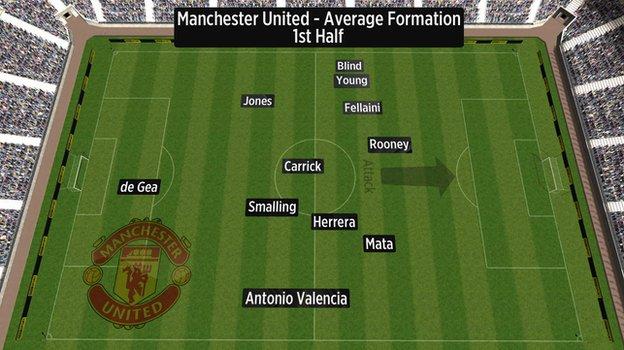 Brendan Rodgers' side like to do something similar to the opposition, which usually allows them to pass and play to their own tempo.
That did not happen until the second half on Sunday.
The Reds had one chance before half-time, when Adam Lallana fired wide, but otherwise they did not get a sniff and were forced so deep they had no chance to build any momentum of their own.
At the start, United's midfielders were sharp into the tackle and also composed when they had the ball. That allowed them to control the middle of the pitch.
'Mata gave Moreno a torrid afternoon'
Liverpool's pace in the wide areas was one of the ways they were expected to threaten, but United bossed them on the flanks too.
In particular, Juan Mata's duel with Alberto Moreno down United's right was a total mismatch. He gave his fellow Spaniard a torrid afternoon.
Juan Mata's touches vs Liverpool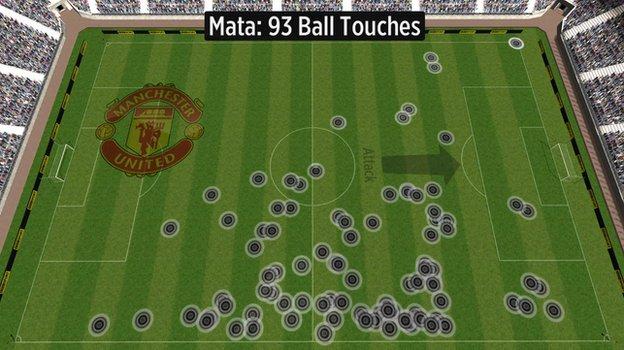 Before the game, when I saw Mata had been picked over Angel Di Maria, that match-up with Moreno always looked like being one of the key encounters.
We know Mata is brilliant going forward but there is a question over how good he is at tracking back.
Moreno is also attack-minded, playing as a left wing-back in Liverpool's 3-4-3 formation.
It was going to be a case of which of them would force the other to do the most defending on Sunday, and how hard they would work without the ball.
Moreno ended up hardly having any impact at all going forward, something Mata deserves a lot of credit for.
Going the other way, he lost Mata for both of his goals - the first time because he was going forward even though United had possession, and the second because he was beaten by a one-two and his recovery was not quick enough.
Alberto Moreno's touches vs Man Utd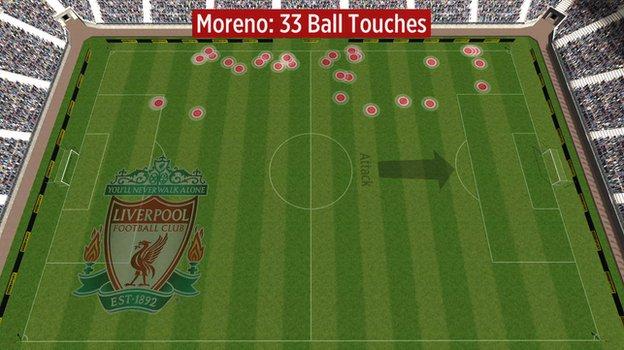 'United's performance matched their result'
Mata showed superb technique to put away both goals and, when United went 2-0 up against 10 men, it appeared they would end up convincing winners.
But, considering how well they started the game, their win was not as comfortable as it should have been.
Even after Steven Gerrard's red card, their performance dropped off in the second half against Liverpool's 10 men.
United sat back far more than they had been, and they stopped containing Liverpool in their own half.
Rodgers' side deserve credit for picking their game up despite being down to 10 men and they showed how they would have played in the first half if United had let them.
Even so, United were deserving winners.
Their performance at Anfield matched their result, when earlier this year they were getting results without performing well.
Average position of Man Utd players in second half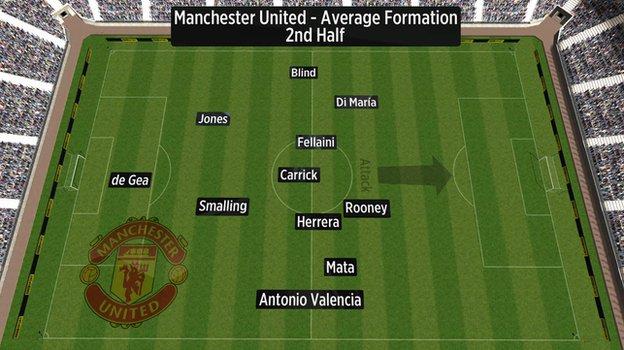 'United for the top four, Liverpool to miss out'
This was a massive victory for United against one of their rivals for a top four place.
United have to get back in the Champions League, it is as simple as that. I think they will make it, and not just because of their recent form.
I have always felt that the top four will finish in the order they are in now - that was my prediction back in August.
Liverpool have left themselves too much to do and it is not this defeat that has cost them either.
They have been on a great run but their results at the start of the season were not good enough and I think they will be the team that misses out.
Alan Shearer was speaking to BBC Sport's Chris Bevan.