Louis Thompson determined for Swindon Town swansong
Last updated on .From the section Football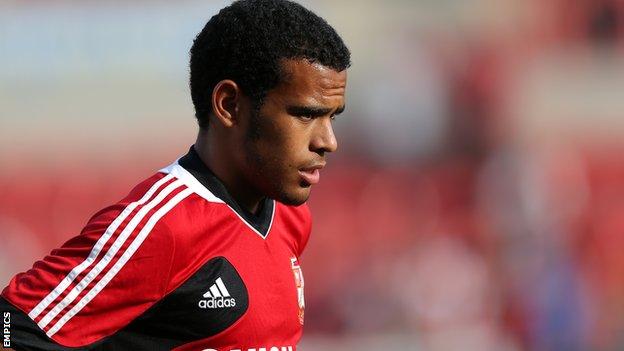 Midfielder Louis Thompson is determined to recover from a shoulder injury in time to make a final appearance for hometown club Swindon Town.
However, he dislocated his shoulder in the League One game against Crewe on 28 February and may not be fit before May.
"Maybe it's me being optimistic but I haven't ruled out playing at the end of the season," he told BBC Wiltshire.
"The physio is doing his nut about that a little bit.
"But I'd like to think I can play at least some part. I know I'm going to have to work hard in the gym and get as strong as I can possibly get.
"Fingers crossed, I can do something to help get the boys over the line."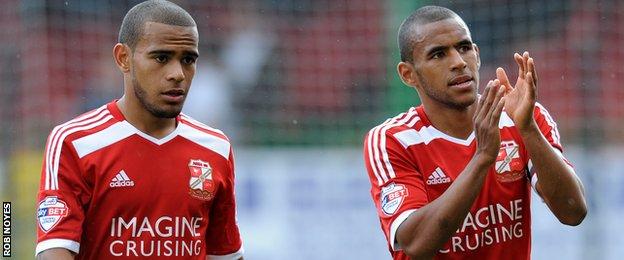 Swindon, who are due to finish the regular season on 3 May at home to Leyton Orient, are currently third in League One and look set for at least a play-off place.
Like his brother, defender Nathan, Thompson has spent his entire career at the County Ground.
He made his first-team debut at the end of the 2012-13 season and has played a total of 75 games.
He was bought by Championship club Norwich in January for an undisclosed fee, thought to be around £600,000, which is set to rise to £1.3m.
"I've got to give myself a little bit of hope," Thompson said of his injury return.
"I'm gutted I didn't give the fans the send off I wanted to. That's what I'm working hard for. Even if it's 30 seconds on 3 May, I'll be happy with that."