Premier League referees must improve their fitness - Alan Shearer
Last updated on .From the section Football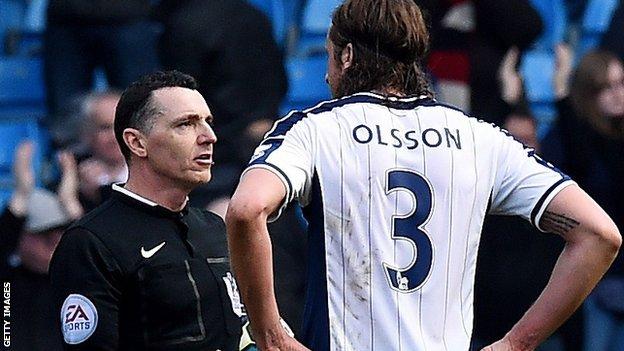 Premier League referees must get fitter to help reduce the likelihood of mistakes, according to Alan Shearer.
Neil Swarbrick sent off West Brom's Gareth McAuley instead of Craig Dawson, and Richard Clark sent off Fulham's Cauley Woodrow but then called him back and instead dismissed Shaun Hutchinson.
"They could be fitter but they need all the help they can get," said Shearer.
The former Southampton, Blackburn, and Newcastle striker also believes ex-players could be trained as referees in a bid to improve fitness levels.
Speaking to BBC Sport, Shearer highlighted an incident in West Ham's 1-0 home win over Sunderland where an offside call prevented a possible penalty for the hosts, despite the ball taking a touch off Sunderland's John O'Shea.
"Referee Lee Mason was miles out of position. At least one of those officials should be seeing that O'Shea's flicking the ball on, so it can't be offside and it should have been a penalty," said Shearer.
Mike Riley, head of the Professional Game Match Officials Ltd, has called for improved video technology to help referees, while Shearer thinks making use of former players would be a step in the right direction.
"The guys that are playing in League One or League Two who have not been financially rewarded, I think we need to get more of those guys in who have played the game. They will be fitter."