John Sheridan: Plymouth Argyle boss criticises unhappy fans
Last updated on .From the section Plymouth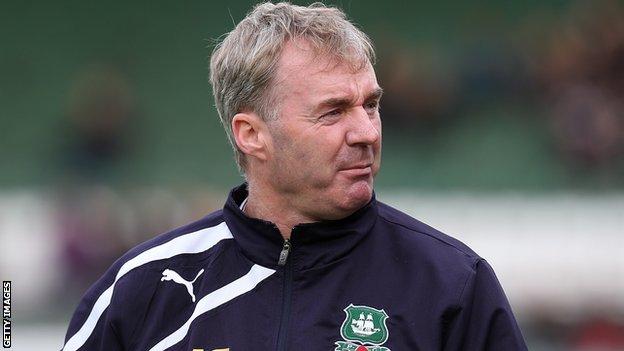 Plymouth Argyle manager John Sheridan has angrily criticised a section of the club's supporters following the
Players were jeered as they left the pitch after the first 45 minutes, a reaction which incensed Sheridan.
"Why did they boo the players at half-time?" he told BBC Radio Devon.
"We're one point outside the play-offs, the club hasn't been anywhere for two or three years, why don't they get behind the team and support them?"
The draw followed a disappointing and they have won just once in the last six games.
However, Sheridan does not believe that is sufficient reason for a negative response from some fans.
"I don't know why they do it, we've got a great chance of making the play-offs, so what's the reason for it?
"Why don't they applaud the performance in the second half? We've had a right go.
"If we didn't, I'd accept it, I wouldn't even bring this up, but they've had a right go and I've told them to stick together and stay together - I don't understand it, I really don't," he said.
Sheridan wants any unhappy supporters to take their anger out on him, rather than his players.
He added: "I can hear people slagging me off from the stands, but I'm the manager and if we're not getting the results and they don't think I'm doing my job properly, they're entitled to do it.
"They're paying my wages, I do know that and I really appreciate that. They can boo me or have a go at me, but leave the players alone, because they're the ones who are going to get us anywhere, if we're going to get anywhere."