Kevin Wilkin: Tuesday game not ideal, says Wrexham manager
Last updated on .From the section Football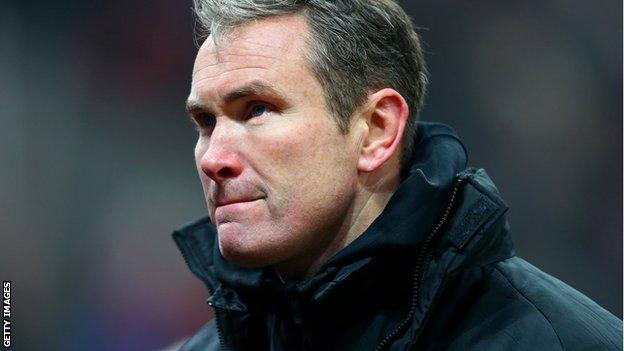 Manager Kevin Wilkin says Wrexham could have done without Tuesday's Conference game at his old club Nuneaton as they prepare for Sunday's FA Trophy final.
Wrexham's hectic league schedule is a consequence of their FA Trophy run, which has seen them reach the final for the second time in two years.
They face North Ferriby United at Wembley on Sunday but must first face the trip to Nuneaton on Tuesday night.
"To not have had a game would have been ideal," said Wilkin.
"With the bumps and bruises we have around the squad ideally it would have been better for us to have had a clear week and been able to prepare in the right way.
Wilkin returns to Liberty Way
Kevin Wilkin will be making his first return to Nuneaton since leaving for Wrexham almost a year ago to the day. In the two meetings his current team have had with his old club at the Racecourse Ground, Wrexham have won both, 3-0 last April, and then 1-0 this season, in August.
"But we're victims of our own success in the cups and this is where we find ourselves."
Midfielder Robbie Evans is back in contention after injury while forward Connor Jennings is available again following suspension.
But defender Blaine Hudson and winger Wes York are unlikely to face Nuneaton although Wilkin has not given up hope of both players being available for Wembley.
"I don't think either will be able to take any part," Wilkin said ahead of Tuesday's game. "Wes should be ok thereafter to enter calculations for Sunday and Blaine will be left as long as we can to see if he can take any part on Sunday. Blaine's situation is very much in the air.
"We've got one or two returning. Robbie Evans should enter calculations as does Connor Jennings after his two-game suspension. It's not all bad but it would have been better and easier not to have had the game."