Shaun Derry: Notts County sack manager
Last updated on .From the section Football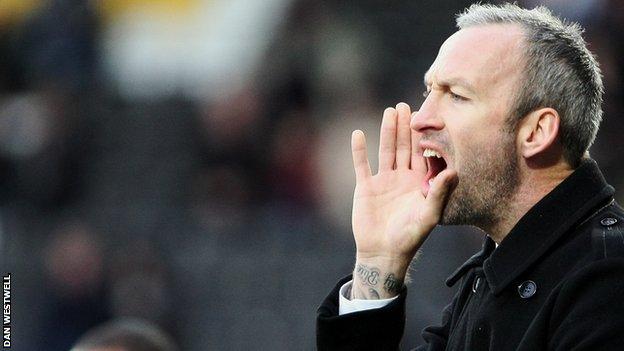 Struggling League One side Notts County have sacked manager Shaun Derry and assistant boss Greg Abbott.
They have won just three games in 24 league matches since November.
Aileen Trew, who has been named chief executive following Jim Rodwell's move to Scunthorpe last week, said: "This is without doubt one of the hardest decisions that we have had to make."
She added: "We know how much this club means to Shaun and Greg and we know how much hard work they had both put in during their time here.
"However, we have to make the decisions that we feel are in the best interests of the club and our perilous position in the table meant that we felt we needed to make a change."
Derry, a former Notts youth team player and Magpies supporter, was named as manager in November 2013 and steered the club to unlikely League One survival in his first season in charge.
Trew, wife of chairman Ray Trew, was only confirmed as Rodwell's successor on Monday morning.
Come in number eight
Notts County have had seven managers - not including caretaker bosses - since Ray Trew took over as chairman in February 2010. Shaun Derry was the longest serving, having been in the role since November 2013. The other six are Steve Cotterill, Craig Short, Paul Ince, Martin Allen, Keith Curle, and Chris Kiwomya.
Trew has been a director for four years, but has become more involved in the day-to-day running of the club.
The departure of 37-year-old Derry means Notts are now searching for their eighth manager in five years since Ray Trew took over as chairman in February 2010.
Aileen Trew said: "I have nothing but positive things to say about Shaun and Greg and the way that they conducted themselves.
"It is with a heavy heart that we say goodbye to them, but with a hope that this difficult decision will be the catalyst for a turn around in fortunes."
Notts are at home against Scunthorpe on Saturday, a side just one point ahead of the Magpies.