Uefa on video technology, World Cup 2018 and protecting referees
Last updated on .From the section European Football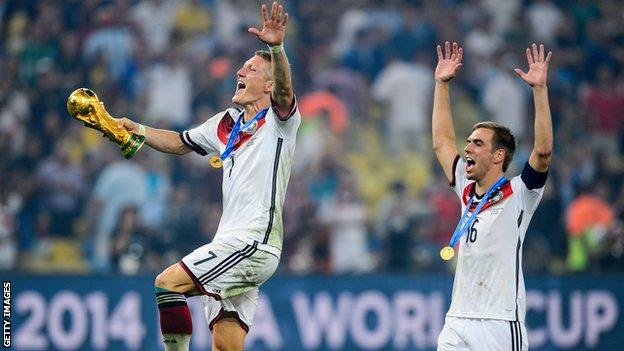 Uefa general secretary Gianni Infantino has called for European nations to be granted an extra qualifying spot for the Fifa World Cup in 2018.
Speaking before Uefa's annual congress in Vienna, Infantino also outlined his organisation's plans to address a number of topical issues in football, including video technology.
The Italian made further reference to standards of refereeing, and incidents of players surrounding the referee.
Read on for a full breakdown.
'To crown the best you must have the best'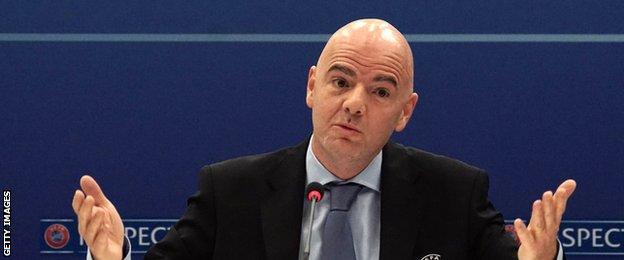 Uefa believes Europe deserves at least one more place at the next World Cup, with Infantino pointing to European nations' superior performances at past tournaments.
Thirteen European countries competed at the 2014 World Cup in Brazil, and Infantino wants a 14th in 2018, in addition to Russia, who qualify automatically as hosts.
"If you look at it objectively, 19 of the top 32 ranked associations are European," he said. "The winners of the last three World Cups were three European teams, so I think it's absolutely objective and fair."
Fifa's executive committee will decide how many qualifying places each continent will get at the World Cup on 30 May.
South America currently has 4.5 places, Concacaf 3.5, Asia, 4.5, Oceania 0.5 and Africa five. A half-place means one of the region's teams must take part in a two-leg play-off with a side from another continent to qualify.
'We must protect and respect the referee'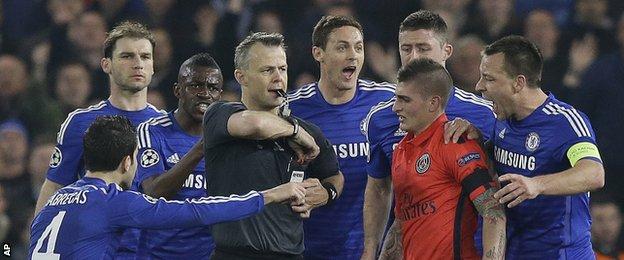 The number of incidents of players confronting match officials in the professional game in England has almost trebled since last season, figures show.
Chelsea's players were criticised for surrounding referee Bjorn Kuipers during their Champions League tie against Paris St-Germain, with PSG striker Zlatan Ibrahimovic describing them as acting "like babies".
"In general we have been seeing an aggressive stance from some players towards referees," Infantino said. "This is something we can't accept. We will not tolerate this behaviour - we must protect and respect the referees."
Infantino added that Uefa's chief refereeing officer Pierluigi Collina has highlighted the concern to clubs who have qualified for the quarter-finals of the Champions League and Europa League.
'It must remain a judgment for the referee'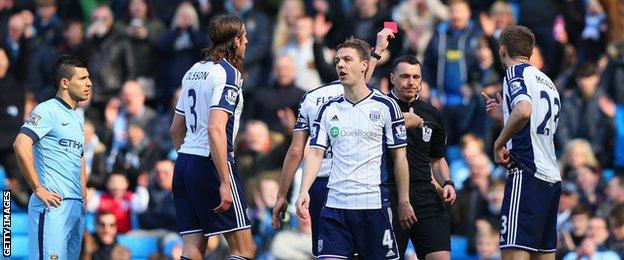 Infantino's comments suggest Uefa would not support the use of video technology as a means to refer difficult decisions to a fourth official.
"What is needed is an appropriate debate on this topic," he said.
"What does it mean? What are we speaking about here? Technology is already in football with goalline technology. For everything else, it's very much a judgement question for the referee - and has to remain with the referee as well in the future."
After referee Neil Swarbrick sent off Gareth McAuley instead of Craig Dawson during West Brom's 3-0 defeat at Manchester City on Saturday, Baggies boss Tony Pulis suggested managers should be able to appeal against decisions using video technology.
Speaking to BBC Radio 5 live's Sportsweek programme after what was a day of controversy involving match officials, English football referees' chief Mike Riley said we "need to see what technology we can use to help get referees' decisions more accurate".
In February, Dutch FA proposals to extend a video technology trial conducted in the Netherlands were referred until 2016 by the International Football Association Board - football's ultimate rule-making body.