Women's Cup: FA reject draw criticism from Birmingham boss
Last updated on .From the section Women's Football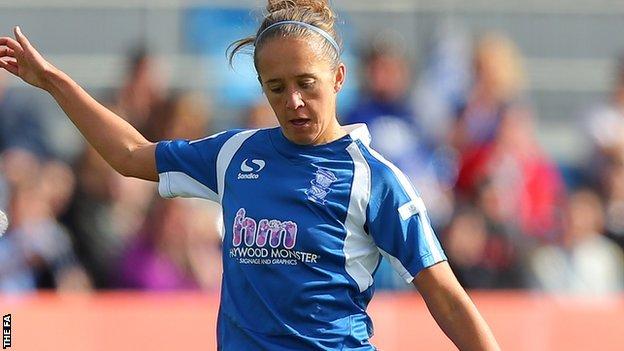 The Football Association has rejected criticism by Birmingham City Ladies boss David Parker of the way the FA Women's Cup draw is conducted.
Parker wants future draws to be televised live.
Ahead of Monday's quarter-final draw, he said: "We have told the girls to expect a top team, away. We will draw a big gun out the hat again. Shock."
An FA spokesperson insisted they adhered "to a stringent set of rules to ensure transparency and fairness".
A statement continued: "Integrity in this process is vital and the draw for the sixth round proper of the FA Women's Cup fully complied with the rules and was adjudicated accordingly."
However, the FA hopes that draws can be screened live in future.
The statement added: "In line with our desire to reach a wider audience for the women's game, the draw was announced live on Twitter for the first time. We hope in future that the interest will continue to grow and the opportunity will be afforded for live broadcast of draws in a similar way to the men's game."
Birmingham, who defeated reigning WSL champions Liverpool in the fifth round on Sunday, were drawn away to Manchester City in the quarter-finals.
FA Women's Cup quarter-final ties
Notts County v Aston Villa
Manchester City v Birmingham City
Everton v Charlton Athletic
Arsenal v Chelsea
Speaking on Sunday, Parker told BBC Sport: "If I'm in the FA's position, you want an Arsenal, a Man City or a Chelsea in the final. Do you want a Birmingham City? They probably don't want that.
"To really befit what we're building up to in growing women's football, instead of a behind-closed-doors draw that is just emptied out onto a website, let's really build this competition up now. Let's get those names in a hat, on TV, and let's get some excitement about this competition."