Rafa Benitez: Napoli boss 'cannot explain' first red
Last updated on .From the section European Football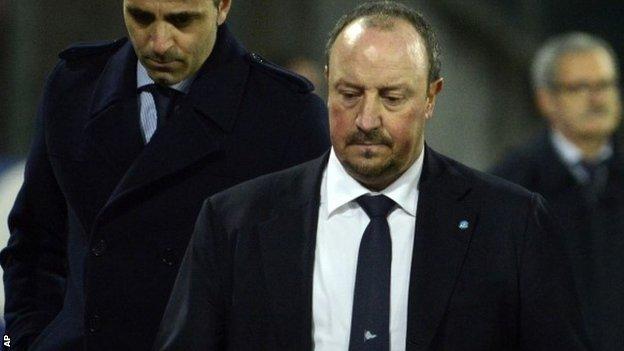 Napoli coach Rafa Benitez was mystified by the first red card of his managerial career in Sunday's 1-1 draw with Atalanta.
Benitez was sent off late on for complaining to the officials, having been angered by Mauricio Pinilla's earlier goal where he appeared to shove Henrique.
"I have never being cautioned by a yellow card in my career as a manager and I cannot explain how they could have ruled me out for misunderstanding," he said.
"After having managed more than 600 matches, I have never being shown a yellow card, If I get angry there is a fair reason. The result was influenced by an event that cannot be considered a fair football decision.
"Maybe six referees are not enough. It should be better to have eight indeed, some decisions could not be explained otherwise."