Torquay United: Kevin Nicholson would like to manage former club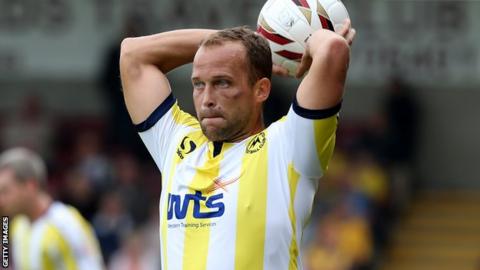 Former player Kevin Nicholson wants to return to Torquay United as manager.
The 34-year-old left-back is in his , having been after seven years at Plainmoor.
Nicholson is still based in Torquay and is preparing to do his Uefa 'A' coaching licence this summer.
"A few years down the line I'd like to come back here as manager, but I'm going to enjoy my playing career for as long as I can," he told BBC Devon.
"It's a nice place to be based, it's not fantastic for football because you've not got many options in terms of clubs, but I'm not going to move unless something comes up and you have to.
"All the best things that have happened to me both professionally and personally have all happened down here.
"I'm sure I may have to move away if I want to get into management at some time, but right now I'm quite happy."
Gulls stalwart
Kevin Nicholson played for Torquay from 2007 to 2014, making more than 300 appearances and scoring 13 goals. He was in the team beaten at Wembley by Ebbsfleet in the 2008 FA Trophy final, but returned the following year for the 2009 Conference play-off final, when the Gulls defeated Cambridge 2-0 to return to the Football League.
Nicholson says a career in coaching is something he has been thinking about for quite some time.
"I've been preparing for at least the last five or six years to go into coaching and management," he added.
"I've learnt a lot - a lot of good and a lot of bad - and I think experience and how you use that is a lot more important that badges to be honest.
"I'm going to make sure I don't fall into the trap of being one of those old school players that comes back and does what was done to them 20 years ago, I'm going to make sure I do what's right now, and really plan it and give it a good go."