Uefa president Michel Platini fears rise of hooliganism
Last updated on .From the section Football
Michel Platini warned of a return to hooliganism's "dark days" as he was re-elected unopposed for a third term as president of Uefa.
The Frenchman says there is a rising trend of "nationalism and extremism" being observed in stadiums.
He reiterated calls for a European sports police force to avoid events witnessed in the "not-so-distant past".
"A past where hooligans and all manner of fanatics called the shots in certain European stadiums," he added.
Platini was a player with Juventus when crowd trouble prior to the 1985 European Cup final against Liverpool at Heysel Stadium led to the deaths of 39 people.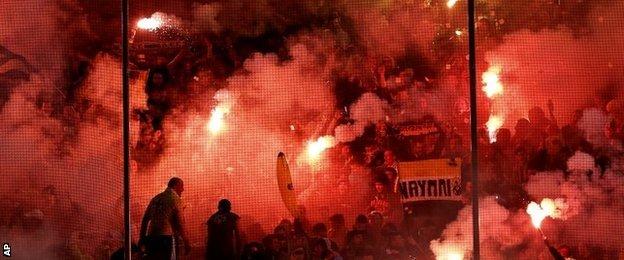 More recently, the Greek Cup quarter-final between AEK Athens and Olympiakos was called off on 11 March after a pitch invasion by fans in the Olympic Stadium.
The Greek Super League was suspended for a week by the government earlier this year after persistent crowd trouble.
Platini says Uefa has been "left to fend for ourselves somewhat" to combat "battles that can only be won with the help of the public authorities".
The 59-year-old former France international was speaking in his opening speech to the Uefa congress, whose 54 member nations handed him another four-year term after he stood unopposed.
"In recent months, we have all been struck by certain images that I thought were a thing of the past," said Platini.
"Some of us experienced that past at first hand. In my case, it was exactly 30 years ago.
"Nobody wants a repeat of such events. We need tougher stadium bans at European level and - I will say it again - the creation of a European sports police force.
"This is something I starting calling for back in 2007, just after I was first elected."
BBC Radio 5 live's sports news correspondent Richard Conway:
"Football officials have increasingly had to deal with issues of discrimination, extremism and nationalism over the past few years. It is a problem that, for a while, many thought belonged in the game's past. There has been a response from Fifa and Uefa who have both introduced tougher sanctions.
"But the politics of hate continues to be witnessed within football stadiums, hence Platini's call for national governments to now step up and help the game combat an issue it feels it is not solely responsible for."
Ukrainian club Dynamo Kiev recently had to close part of their stadium for their Europa League match against Everton after crowd trouble at the Olympic Stadium in the previous round against Guingamp.
The club were also fined £50,761 after the match had to be halted for 15 minutes.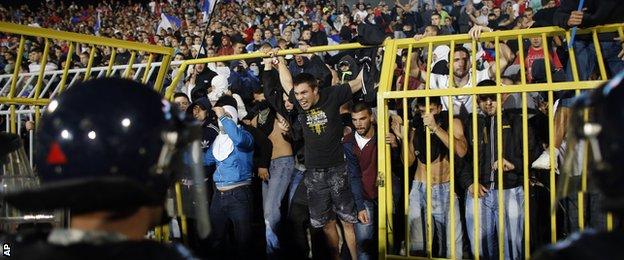 Last October, Serbia's match with Albania was abandoned after a drone carrying a political message led to clashes involving players and fans on the Partizan Stadium pitch.
In 2013, Spartak Moscow were ordered to play two games behind closed doors following crowd trouble in a Russian Cup tie against second tier Shinnik Yaroslavl.
The match was interrupted after fans clashed with police, ripped up seats and threw them on to the pitch.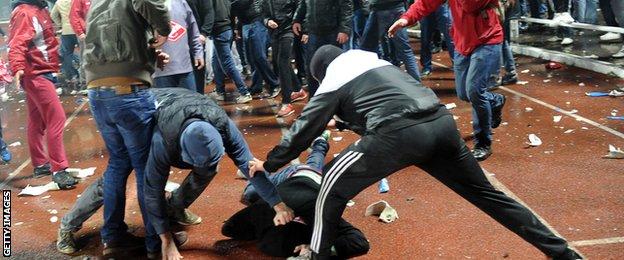 Blatter against Russia boycott
Fifa president Sepp Blatter also addressed the Uefa congress and called on Europe's governing body to reject calls to boycott the 2018 World Cup in Russia.
Russia is in conflict with Ukraine, whose president Petro Poroshenko urged countries not to attend the tournament.
"Speaking of Russia, football has to stay united," said Blatter. "In the past boycotts have never brought any results.
"We have to pay attention to our statutes, and the Olympic charter, and even in the resolutions of the United Nations, it is written: the autonomy of sport must be guaranteed.
"Uefa has the best football and the best footballers, they are the example. We ask Europe to be the promoter of the popularity of our game.
"Football can only be strong if the governing bodies are strong and united. It is solidarity and unity."
Prince Ali: Crucial time for football
Fifa presidential candidate Prince Ali Bin Al Hussein of Jordan has called for changes in the running of the world governing body.
Prince Ali, who is one of the candidates who will challenge Blatter for the leadership of Fifa on 29 May, believes it is an important time for the future of the sport.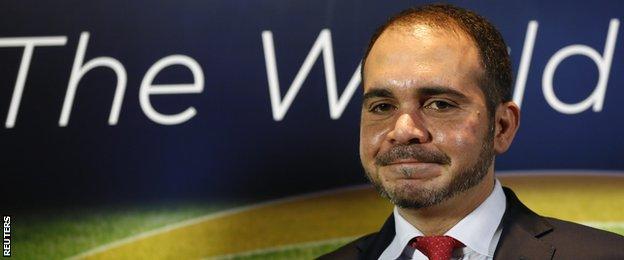 "We are in a crucial time for football," he said. "Both inside and outside the football family, people have expressed concern about the way Fifa is run.
"And there are some deep rooted issues that we as a family must unite to confront together.
"Around the world there is a real appetite for change, new leadership, better support to national associations, meaningful investment in football development, and for Fifa to be a genuine service organisation.
"This movement calls for a better Fifa, one based on respect and dignity, admired by our stakeholders, and governed with a spirit of inclusion and transparency. We need a change of culture and a departure from Fifa's authoritarian approach to strategy."