Gordon Strachan has restored Scotland pride - Kevin Kyle
Last updated on .From the section Football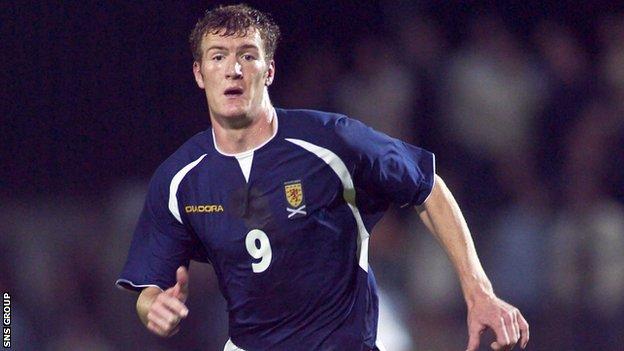 Former striker Kevin Kyle believes the "pride and passion is back" for Scotland under manager Gordon Strachan.
"It will never be what it was like when we qualified every other year," said Kyle, who scored once in 10 appearances for his country.
"But, with Gordon, it's exciting and there are good times ahead.
"I remember dark days under Berti Vogts when you didn't want to get picked. You thought 'I'm doing all right at club level, just leave me alone'."
Kyle, 33, was first capped at the age of 20 by Vogts, with Scotland dropping to 77th in the rankings by the end of the German World Cup winner's two-and-a-half year stint in charge.
"We had experienced guys like Paul Lambert, Barry Ferguson, Gary Naysmith and Christian Dailly," explained former Kilmarnock and Hearts forward Kyle.
"And then there were a lot of young guys with not a lot of club experience and that mix just didn't work, even though we gave it our best shot.
"Results weren't good, we were drawing with the Faroe Islands and we weren't qualifying - we were miles off it.
"You could go away with Scotland, have a bad game, and get crucified by the media and you would go back to your club and maybe not have the air of confidence you had when you left.
"For some it worked out, James McFadden and Darren Fletcher got early opportunities and have had great international careers.
"But others filtered in and out.
"Now all the guys are wanting to get involved."
Scotland's remaining Euro 2016 qualifiers
Gibraltar
(h) 29 March 2015; (a) 11 October 2015
Poland
(h) 8 October 2015
Republic of Ireland
(a) 13 June 2015
Georgia
(a) 4 September 2015
Germany
(h) 7 September 2015
Scotland have not reached a major finals since the 1998 World Cup but hopes are high for place at Euro 2016, with the tournament open to more teams and fortunes on the pitch picking up.
Strachan's team sit third in Group D, three points behind leaders Poland after four games and with lowly Gibraltar up next at Hampden on Sunday.
"Players are hungry to get into the Scotland side," added Kyle.
"I don't know what it is Gordon has done differently. He has maybe been fortunate that in the group he has - a lot are playing regularly and at a good level.
"Darren Fletcher getting games at West Brom is a massive boost. I saw him at Sunderland the other week and he was head and shoulders above the rest.
"And when you look at the guys who haven't made the squad, they'll be itching to get back in, so they'll be pushing and performing well at their clubs.
"It's all good at the moment."