Island Games: Guernsey fixtures no issue for Sharman
Last updated on .From the section Football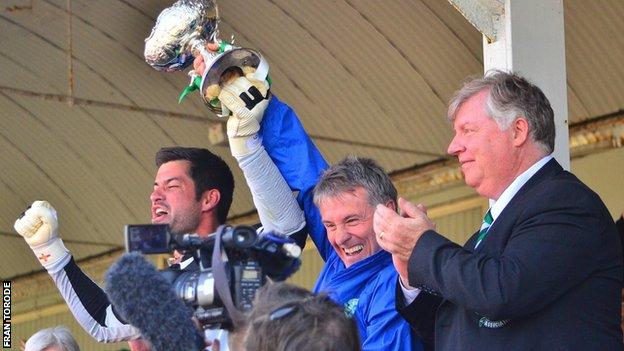 Guernsey FC coach Steve Sharman believes playing matches on consecutive days in this summer's Island Games will not be an issue for his squad.
Guernsey kick-off against Ynys Mon on Sunday, 28 July at 17:30 GMT, and then face Gotland at 13:30 GMT the next day.
Sharman told BBC Guernsey: "The fantastic thing for us is we will have 20 players there and I can pick two teams of equal strength.
"I can rest nine players for the second game and won't have a problem."
Sharman said he had smiled when he saw the schedule for the tournament, which is being played in Jersey.
"My reaction to having the shortest recovery times of any team is a little bit of humour," he said.
"That can be a problem if you're maybe carrying three or four players in your squad you are not so sure of, or who are maybe making up the squad numbers.
"But we don't necessarily have a weaker and stronger team. As you've seen this season with Guernsey FC, our team is different every single game, so for us it is not so much of an issue."
Guernsey play in the Isthmian League Division One South, the fourth tier of English football's non-league pyramid system. They currently lie 10th in the table.
"The players realise that if they don't play against Ynys Mon [Anglesey] on the Sunday they'll play against Gotland on the Monday. And I'd be stupid not to do that.
"When you're hosting a tournament, it would be daft not to take every advantage they possibly can. We would do exactly the same. Jersey play their first three games on Springfield, their home pitch - I would absolutely expect that. But we have experience in playing in all sorts of venues, so that doesn't concern me at all."