Video technology: You have your say on debate & Pochettino's hair
Last updated on .From the section Football
Video technology in top level football would mean the end of incorrect refereeing decisions, right?
Not judging by your responses to our big debate on Sportsday Live and social media on Wednesday.
Some of you think technology will solve everything, from catching the divers to spotting the shirt-tuggers.
Others believe it would cause even more consternation and frustration.
As part of our debate, we asked you to watch a series of clips then picked two of them and asked you to decide whether the referee got the decision right or wrong.
The results were very interesting…
'Don't need technology to see he dived'
Did Wayne Rooney legitimately win a penalty against Preston in the fifth round of this year's FA Cup?
It seems almost two-thirds of you thought no as only 19% of you agreed with referee Phil Dowd, while 65% voted to booked the England striker for a dive.
A further 16% would have waved play on.
The poll sparked lively debate, with hundreds of you having your say on the Match of The Day Facebook page.
Paul Crowther posted: "Don't need technology to see he clearly dived."
Adrian Emsley added: "This is the perfect example of why video tech will not work. When it comes to penalties there is never a unanimous agreement amongst the supposed experts of the game never mind us mere mortals."
Samir Masterplex Hayek wrote: "These decisions win 3 points, win leagues, win cups, avoid relegation. Video refs are a no brainer and paramount."
'Yellow card for the barnet'
The Michael Owen penalty appeal in Japan's Sapporo Dome during England's 1-0 win over Argentina at the 2002 World Cup proved even more divisive.
The poll showed that 45.8% agreed with Pierluigi Collina that Argentina's Mauricio Pochettino - now Tottenham coach - had fouled the former Liverpool striker.
But 40.9% wanted the Italian to reach for his yellow card and book Owen for simulation, while 13.3% would have waved play on.
On Twitter, Robin backed Collina: "Best ref in the world gave a penalty, so it was."
Tom Smith posted: "There has to be a 'benefit of the doubt' rule if this comes in, as there will be cases when it could be argued both ways."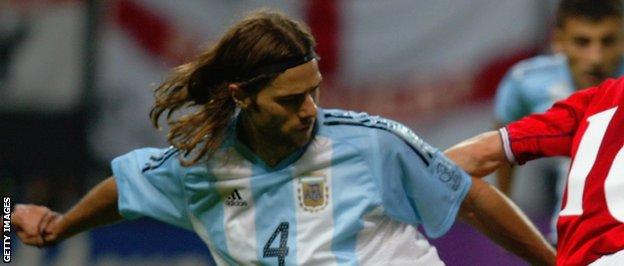 But many of you were too distracted to make a decision.
Adam Fearn posted on Twitter: " I forgot to watch whether there was contact on Owen or not, I couldn't take my eyes off Pochettino's flowing locks."
James Barton added: "Mauricio Pochettino should get a yellow card for that barnet!"
Pochettino's hair aside, your responses prove that even with video technology and every camera angle available, it seems sometimes we just can't agree on the big decisions. The debate rages on.
Rugby has it right
Many of you thought football should take a leaf out of rugby union's book when it comes to best practice of video technology.
During England's 55-35 Six Nations victory at Twickenham last Saturday, referee Nigel Owens used the Television Match Official (TMO) five times at crucial stages of the match.
And BBC pundit and former England international Danny Mills believes football can lean a lot from the 15-a-side game.
He said: "The TMO might be overused but they get the big decisions right."
Leigh Colpitts on Facebook agreed with Mills: "Ask yourselves this. Rugby union has fully integrated video technology and a video ref. How many big, game changing decisions do they get wrong? Very very few, if any."
Joshua May added: "TMO's aren't perfect, any rugby fan will tell you. But it does stamp out a lot of unnecessary decisions or wrong decisions."