Phil Jagielka: No need to panic about English future
Last updated on .From the section England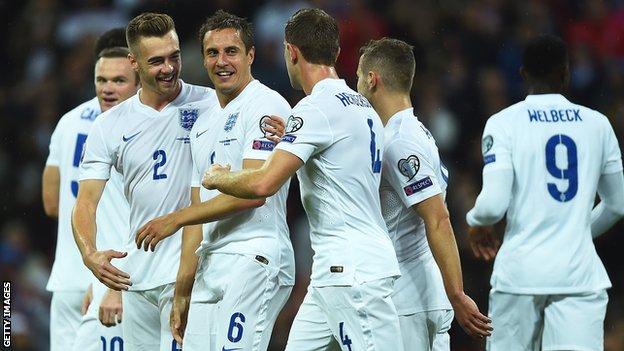 England's Phil Jagielka has backed the quality of English players already coming through the system in the wake of new Football Association proposals.
FA chairman Greg Dyke wants to increase the number English players in the Premier League by changing 'home-grown' rules and limiting non-EU players.
Jagielka agrees with Dyke's principles.
But the 32-year-old said: "If you look at the crop of young lads in this squad, in the under-21s and the under-20s, all I'm hearing is good things."
The Everton defender added: "It would be nice to have more English people playing in the Premier League all the time only if they are the level that we expect to be playing in Premier League level.
"There are still plenty of good, young English footballers around the Premier League and the Championship so there shouldn't be too much of a panic for the future."
Dyke warned earlier this week that Premier League football was in danger of "having nothing to do with English people".
English players only make up about a third of playing time in the Premier League, a 'home-grown' figure which is well below other European leagues.
Part of Dyke's plan includes raising the minimum number of 'home-grown' players in a club's first-team squad of 25 from eight to 12, phased over four years from 2016.
And he also wants to change the definition of 'home-grown' players to one where they are registered at clubs from 15 to 18 years old rather than 18-21.
It is hoped that this will stop clubs buying young foreign players rather than developing those from England.
Jagielka added: "We have things in place, like eight players in a squad, whether that goes up to 10, 12, or 14 players you are still going to get the best players coming through and hopefully representing their country.
"It could be a good plan but if it doesn't happen, the way English football is at the moment and the crop we have, I think everyone is pretty happy."