Ian Dowie: Oldham Athletic return possible, says Simon Corney
Last updated on .From the section Oldham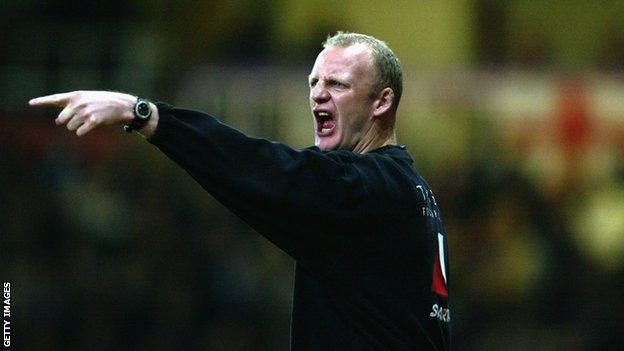 Oldham chairman Simon Corney has refused to rule out the possibility of former Latics boss Iain Dowie returning as manager of the League One club.
Dowie, 50, started his managerial career with the Latics in 2002 and Corney has said a possible return is "not out of the question".
"I've always said he is a very good manager," he told BBC Radio Manchester.
"In terms of man management, I don't think I've personally met somebody who's better.
"But could Iain work with the type of budgets we have here at Oldham? I think it would be tricky for him.
"He's got a great gig on TV, he's wanted a lot by the media, and he's got his own commitments.
"But would I want to see somebody like Iain here at the club? Absolutely - why not?"
Former Northern Ireland striker Dowie left Oldham after just one season, going on to manage Crystal Palace, Charlton, Coventry and Queens Park Rangers.
However, he has not held a post with a football club since a short stint as football management consultant at Hull in 2010, which culminated in the Tigers' relegation from the Premier League.
Oldham Athletic under Dean Holden
Saturday, 28 February: Oldham 0-4 Preston
Tuesday, 3 March: Port Vale 0-1 Oldham
Saturday, 7 March: Yeovil 2-1 Oldham
Saturday, 14 March: Oldham 1-3 Barnsley
Tuesday, 17 March: Oldham 1-3 MK Dons
Saturday, 21 March: Crewe 0-1 Oldham
Tuesday, 24 March: Oldham 3-0 Rochdale
Ex-Latics defender Holden, who is currently being assisted by academy manager Tony Philliskirk and defender Adam Lockwood, has led Oldham to three wins and four defeats since Johnson's departure.
"I would love nothing more than for Dean to give us a problem," said Corney.
"We didn't have the best start, we know that, but I don't think any manager would have had better results than Dean has had with the injury list he was facing.
"The true test will be in another couple of weeks when all the players come back and we'll see what he's got.
"But we've spoken to a lot of good names and we will continue to do so.
"Hopefully that will result in the right person coming along"