Colin Bell: From Leicester City to Frankfurt women's head coach
Last updated on .From the section Women's Football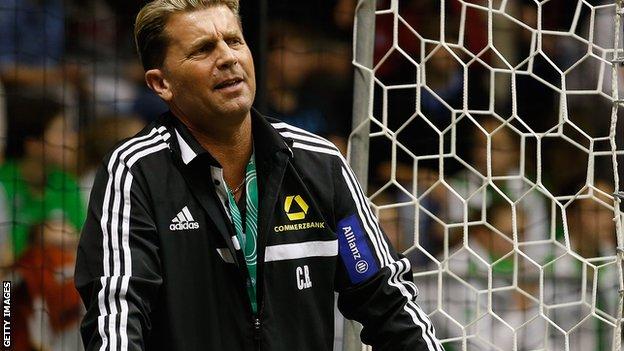 "I'll reward myself with a steak and kidney pie and chips."
Colin Bell has called the land of the frankfurter home for the past 32 years, but only the classic British dish could satisfy the ex-Leicester City defender after his triumphant return to England as a manager.
Bell, who jokingly refers to himself as "the most-capped Foxes reserves player", is closing in on a Women's Champions League semi-final with Frankfurt after guiding them to a 5-0 first-leg quarter-final win over Bristol Academy at Ashton Gate.
"You don't get steak and kidney pies in Germany," laughed 53-year-old Bell, Frankfurt's head coach since 2013.
"It was a big day for me and what made it was seeing both my sisters here and giving them a hug after the match. It was great because they have not seen any of my teams play live ever."
With the DFB Cup holders again through to the semi-finals of the competition and in third place in the German Bundesliga table, the Englishman is focused on winning the treble this season.
Getting directions to Bristol's finest 'chippy' after taking a major step towards European success, with victory at a ground where he once featured in a reserves match, was the best way Bell could imagine to both celebrate and reflect on his English homecoming.
For more than three decades since he left the Foxes, Bell has fashioned a career for himself in the German game, first as a player in the lower leagues before moving into coaching and management.
Bell had spells on the coaching staff at four clubs, including Dynamo Dresden in eastern Germany, before working under Jurgen Klopp when the now Borussia Dortmund manager was boss at Mainz.
He also worked extensively as a scout before being convinced to give management in women's football a go with Bad Neuenahr.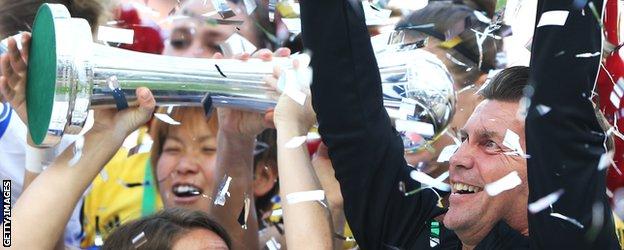 Bell says the thought of managing a women's football side in Germany would have felt like a "millions years away" when he was playing for Leicester, and admits he took some convincing before accepting the initial invitation.
It was not until he watched Potsdam, the side that would go on to win their fourth consecutive title in 2011, that he saw the potential.
"When I watch Potsdam play Bad Neuenahr, I saw what is possible with women," he said. "It was totally amazing how they played, how physical, how strong, technically good they were. And that is when I said to the president that I would take the job."
Bell uses the German phrase "luft nach oben" to sum up what makes the women's game exciting.
"That means there is a lot of space to go up, to move into and that is nice about women's football," he explained. "The girls have improved, they are working very hard and they like to work hard.
"There is so much improvement to be made. It is part of my job to be involved in that and to bring the influences and experiences of men's football. I have worked in Germany at the highest level and worked with many top international players so I want to bring that experience to motivate the girls."
His early success with Bad Neuenahr, guiding them to safety in his first season in charge, quickly led to his move to Frankfurt, the three-time Champions League winners and seven-time Bundesliga champions.
In his first season at the helm they won the domestic cup and qualified for the Champions League, but missed out on the league title when Wolfsburg beat them 2-1 on the final day of the season in front of a crowd of 12,464 to retain their crown.
Bell, a deeply religious man, admits falling short of league success was one of the "downs" in football, but he accepted it as part of his incredible football journey.
And it is a career path he hopes others in Britain would consider following.
"Open your eyes, your heart and horizons," he said.
"Clubs should be looking much more in this direction to help players grow. A spell abroad helps.
"Life takes you on all sorts of different paths and journeys and sometimes you have to go with the flow and see where it takes you."