Real Madrid striker Jack Harper left out of Scotland U19s squad
Last updated on .From the section Football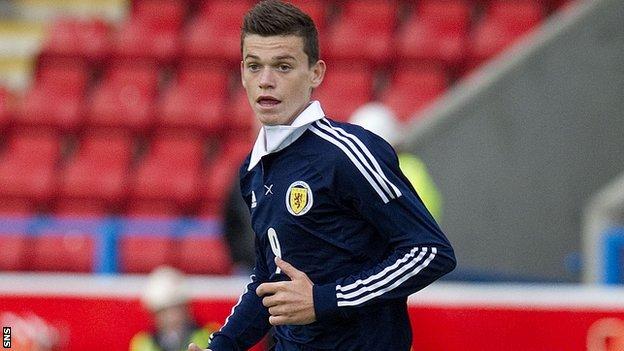 Former Scotland manager Craig Brown is defending Ricky Sbragia's decision to omit Real Madrid forward Jack Harper from his national under-19s squad.
Sbragia has been criticised following newspaper reports quoting him describing Harper as "a luxury player".
But Brown told BBC Scotland: "The name Real Madrid hypnotises people.
"They have hundreds of development players; you can't simply say because he plays for Real Madrid he's got to play for Scotland."
Harper, who was born in Malaga to Scottish parents, has played at under-17s and under-19s level for his country.
But he has been left out of the pool to face Austria, Croatia and Italy in Vienna, as Scotland try to secure a place at this summer's European Championships.
The forward signed a five-year deal with Real in 2012 and has scored three times in this season's UEFA Youth League - the Champions League for Under-20s.
'It about talent, not size'

Sbragia's comments on Harper's lack of physical presence - the forward is 6ft 1in but slim - have irked former Scotland striker Kevin Gallacher.
"I don't believe in it," said Gallacher. "I stood at 5ft 8ins and under 11 stone when I played my best.
"It's about the talent, how you can play for that team and if you fit into it. For me, that's a football player."
Gallacher represented Scotland at the 1992 and 1996 European Championship and the 1998 World Cup, the last time the national side reached a major finals.
"We've always been a nation of hard-workers but football is changing," said the former Dundee United, Coventry and Blackburn forward, who won 53 caps.
'It's a retrograde, almost prehistoric decision'

Former Sunderland coach Sbragia is quoted saying that he has opted for "a physical side" with "more height and runners".
However, speaking on BBC Radio 5 live on Wednesday, Spanish football journalist Graham Hunter ridiculed Sbragia's decision and comments.
"Jack is an intelligent, technical player," he said. "He's been at Real Madrid since 2009.
"They cull every year if you're not good enough, if you're not athletic enough, if you're not intelligent enough, if you're not professional enough - you're out.
"He's been part of the Scotland set up before Ricky Sbragia made this retrograde, almost prehistoric decision.
"Height and power are two of the reasons Ricky's given for excluding Jack, which seems nonsensical in an era when Spain have put talent first.
"They don't pick David Silva, Xavi and Iniesta because they're small, they pick them because they are talented and technical and clever, irrespective of their size.
"Jack is a decent size - over 6ft - slender like Darren Fletcher who'd been our national captain for some time.
"Ricky's backed up his logic for excluding Jack by saying he doesn't see him very often; well go and look Ricky.
"This is a horrible day for the future of Scottish football - if we want to play well, intelligently, maturely, in a cosmopolitan, European style."