Premier League fans to protest over ticket prices

By Richard Conway
BBC Radio 5 live sports news correspondent
Last updated on .From the section Football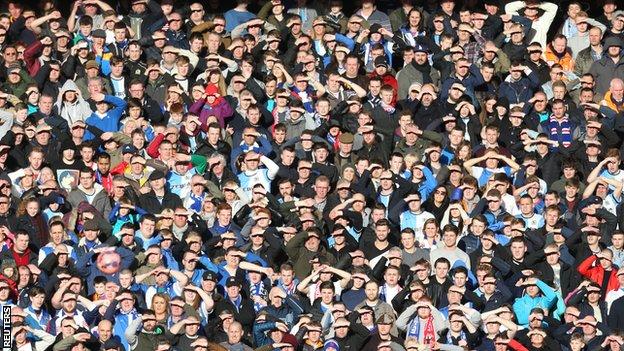 Fans will protest against the price of match tickets by staging a demonstration outside a meeting of Premier League club executives.
Premier League chief executive Richard Scudamore is to present a letter to shareholders during their scheduled summit at a central London hotel.
He will do so on behalf of the Football Supporters' Federation (FSF) and fan groups from all 20 top-flight clubs.
The letter renews a demand for away tickets to be capped at £20.
In addition, fans are also calling for:
Every Premier League club to set aside £1m per season, primarily to subsidise ticket prices for their away fans

A "structured engagement" with supporters at every club to consult on how to spend that £1m subsidy

An end to clubs categorising games for away fans and charging different prices depending on which team is visiting

No reduction in away ticket allocations or relocation of away fans to inferior accommodation
The protest will take place just weeks after the Premier League signed a record £5.14bn TV deal with Sky and BT Sport, which will cover three seasons from 2016-17.
A new report by Deloitte also shows top-flight clubs generated a combined pre-tax profit of £190m in 2013-14, the first in 15 years.
Given the financial success of the division, the FSF feels it is imperative for clubs to now take action on away ticket prices.
"Away fans generate much of the atmosphere, often sparking the home support into life," reads the FSF letter.
"They are among the most loyal of supporters, often travelling long distances at difficult times while generally being regular home fans and consumers of merchandise and TV packages, too.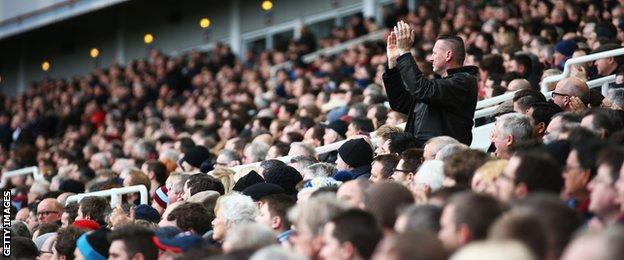 "Over recent years, however, there has been a general decline in the numbers of away supporters - and this has much to do with the high price of tickets.
"This is why the Football Supporters' Federation has campaigned around the idea of 'Twenty's Plenty', seeking a maximum ticket price for away fans of £20 a game.
"We estimate the cost of this to be around £20m a season across the league - a modest figure in the context of the new TV deal."
Richard Conway's analysis
It's a key selling point for the Premier League at home and abroad with TV companies paying fortunes to bring the live match experience to their viewers at home - but many fans now complain of quieter grounds and the FSF feels this is due partly to a decline in travelling support, primarily due to costs.
Premier League clubs insist they know their fans best and have resisted previous attempts to introduce centralised pricing policies.
Indeed, stadium occupancy rates in the upper 90% range show that demand is meeting supply.
But should clubs simply obey market forces? Or should they show restraint on the amount they charge for tickets?
Some sides do help their supporters with travel costs for away games and many have subsidised ticket schemes or have engaged in reciprocal deals with their league counterparts.
But fans' groups want to see more action and feel buoyed that the newly signed £5bn domestic TV deal will help their cause.
The big question is whether the clubs will now listen to them and act.
Future TV revenue for Premier League clubs will be boosted even further once overseas, online and radio rights deals are concluded.
"During the past 20 years, football has been flooded with money, delivering huge reward for owners, agents, and players," said FSF chief executive Kevin Miles.
"This time we want to see fans benefit, too.
"This colossal TV deal gives clubs a tremendous opportunity to give something back. They can easily afford to drop ticket prices and make football affordable for all."
The FSF does praise Premier League clubs for the current 'Away Fans' Initiative', currently in its second season of operation.
Under this scheme, clubs set aside £12m over three seasons to spend on helping travelling fans.
The policy has seen a number of Premier League clubs offer discounted away tickets along with subsidised or free transport to fans.
Several clubs have also arranged reciprocal away ticket price reductions with other teams in the league.