Jack Boyle: Jersey player must move to play for Guernsey FC
By Brent Pilnick
BBC Sport
Last updated on .From the section Football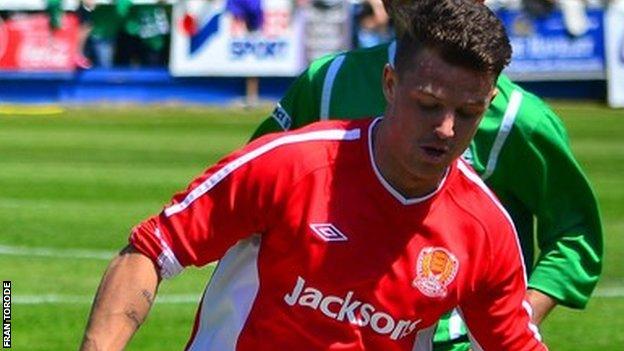 Jersey's Jack Boyle would have to move to Guernsey to play for the island's club side, according to Guernsey FC chairman Steve Dewsnip.
Ex-Southampton forward Boyle, 24, has been in discussions about a move.
Guernsey FC only select players if they are resident in the island.
"For Jack or anybody else play for us, it is simply not sustainable for them to play regularly and effectively for Guernsey FC without becoming resident in Guernsey," said Dewsnip.
"We have always said that if players from outside of Guernsey wish to move to the island, become part of the local community and are good enough to strengthen our squad, we will consider them. That has not changed."
The former Saints, Airdrie and Salisbury City forward says he wants to sign for the Isthmian League Division One South side, and would consider moving to Guernsey, although would prefer to travel between the two islands at first.
"If things could work out and I loved it that much I'd consider moving," Boyle, who now works as an electrician, told BBC Sport.
"I've spoken to (boss) Tony Vance in the past couple of months and he asked if I was interested in getting over and playing.
"I'm planning on getting over there for training and pre-season and play the games."
Boyle was recruited as a young professional at Southampton, but never played a game for the club.
He moved to Salisbury City in January 2011 and played in the Southern Premier League until returning to Jersey that summer.
He tried again to make a career in the game in August 2012 when he in the Scottish First Division, scoring once in 14 games that season.
"It's going to be a bit of a jump from the Jersey standard going over to Guernsey and playing in their league," said Boyle.
"I've played at higher levels so it's getting used to the tempo, but i think straight away I'd be fine."
And Boyle says there is no doubt where his loyalties would lie when it came to the inter-island Muratti match between Jersey and Guernsey.
"I'd play for Jersey 100%. I'm Jersey through and through," he said.