How F1 and the FA are working together at St George's Park

By Phil McNulty
Chief football writer
Last updated on .From the section Football275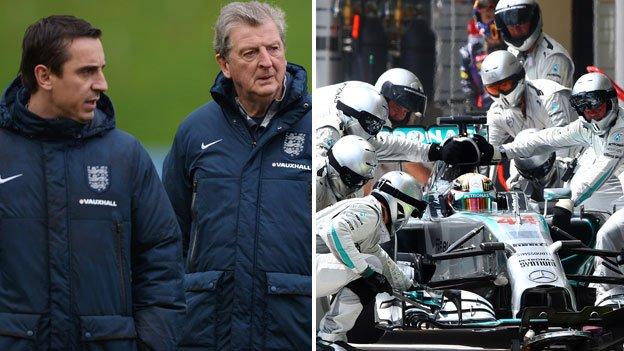 How long does it take a group of footballers to change the tyres on a Mercedes Formula 1 car - and what is its relevance to the next generation of British coaches and managers?
The answers to both can be found on a crisp day at St George's Park at the Football Association's £100m National Football Centre, tucked away in the Staffordshire countryside in Burton upon Trent.
The Mercedes F1 team are passing on lessons in leadership to future management hopefuls as part of a session for the FA Uefa Pro Licence, the mandatory qualification for Premier League managers.
They include former England internationals Phil Neville and Scott Parker, Spurs goalkeeper Brad Friedel, Brentford boss Mark Warburton, Burton Albion manager Jimmy Floyd-Hasselbaink and Neil Adams, who recently stepped down as manager of Norwich City.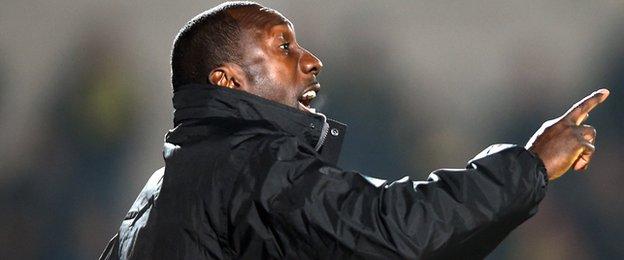 As a rapid-fire exercise in teamwork, trust and cohesion, the novices get to indulge in one of those 'blink-and-you'll-miss-it' tyre changes normally reserved for pit lanes around the world.
Neville's team, accompanied by Leicester City assistant manager Craig Shakespeare, Icelandic FA technical director Arne Bill Gunnarsson and a Mercedes team member, win the day with a 3.6-second change - but the lessons run much deeper.
It is part of an intense three days for the 24 'pupils' taking the course, which concludes with a lesson in managerial life from Howard Wilkinson, the last English coach to win the top-flight title with Leeds United in 1991-92. It also includes a brilliant, humorous and inspirational speech on leadership from Burnley manager Sean Dyche.
Why is the Pro Licence course vital?
The answer is simple. Without it you cannot manage in the Premier League and to get on the course you must also possess the Uefa A licence needed for the Football League.
Wilkinson's occasionally world-weary delivery and laconic humour masks a wealth of wisdom and a lifetime of football experiences; both good in winning that title at Elland Road and bad at Sunderland, where he admitted he made mistakes and was sacked after winning only two games in 20.
His message is brutally honest - with candidates in St George's Park's Ron Greenwood Room greeted with a written message on arrival: "Are You Absolutely Sure You Want To Be A Manager?"
What is an FA Uefa Pro Licence?
Mandatory qualification for Premier League managers
Taken over a period of 18 months
Taken over 27 days/207.5 guided learning hours
It is a basic question but one that needs answering instantly as Wilkinson likens a first job in management to "your first car crash" and says: "In a job it's bad. Out of a job is worse - but we all love it."
The shelf life of managers is getting shorter as he reveals that in 1992, when he was a title winner, the average tenure was 3.12 years but 10 years later it was 1.75 years, while 55% of managers never get a second job.
Wilkinson hopes this course can change those grim statistics.
Dyche, as straight down the line as he appears to the outside world, says the course is about "adding to your toolkit" and is a firm advocate.
He told BBC Sport: "I think there are a lot of things you pick up such as process, psychology, language skills, organisation. I don't necessarily mean the tactical framework of a side but how you operate as a staff, how you manage.
"There was a time, particularly when I was a younger player, where often a coach or a manager came from playing and more or less got given the keys. It was almost like 'you're manager now'.
"Chief executives and boards now are asking 'what have you done, what have you put in place for the next part of your career?'
"It shows people you are a serious campaigner, you want to be taken seriously."
How much does it cost?
FA Licensed Coaches Club member - £7,595
Non-member - £8,510
Neville has coached the England Under-21 side and was alongside David Moyes in his brief reign as Manchester United manager. He believes this represents a crucial phase of his footballing future.
He said: "This is probably the vital part of my development as a coach. I spent a year coaching at Manchester United, I have got coaching experience in the past with various other teams, but I felt there was something missing from my development.
"This next 18 months is vital for me to learn, to mix with other coaches and managers within the group and learn the finer points of management, the nitty-gritty.
"This could be relationships with your board, about relationships with the media and your fans and how to develop your key factors in your own management style.
"What kind of leader are you going to be? What kind of style are you going to manage with?"
How can F1 help management's next generation?
In among the football education came a wider lesson from Mercedes (Lewis Hamilton's current F1 team), and the chance to put practical skills and teamwork into action.
So what can football's potential next generation of coaches and managers learn from a different high-octane, billion-pound sporting industry?
BBC pundit Neville explained: "You are talking about only four tyres and you have got 45 people. They have got to change those tyres in 1.9 seconds.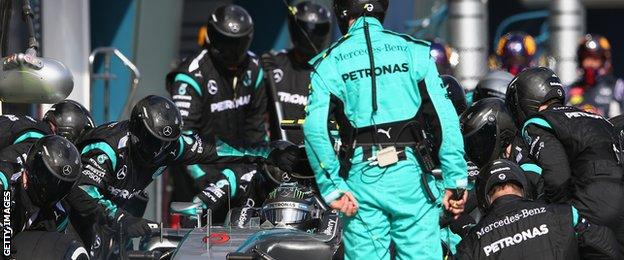 "There is so much teamwork that goes into that, the trust these guys have in Lewis Hamilton that when they are standing there with the jack ready to lift the car, that he's going to stop and not run them over.
"That's pressure and the principles they taught us are no different from the principles you put into a football team and a football club.
"They let us change the tyres as well so we had first-hand experience of working as a team. It was all about cohesion."
Adams was at St George's Park a fortnight after stepping down as Norwich boss and he was as intrigued as Neville by the comparisons that can be drawn.
The numbers at St George's Park
46 candidates on Pro Licence across two programmes
259 on Uefa A Course
1,029 on Uefa B Course
He said: "We have talked about performing under pressure, particularly in a managerial job when you are standing in the technical area and there are five minutes left and you are winning 1-0 or losing 1-0.
"You have got to make decisions then that are either going to make or break you.
"Watching these guys taking four tyres off an F1 car in two seconds - talk about fine margins. The key message coming from them was how they perform under pressure and the main thing was being confident in what you do and keeping your head - that can apply particularly to football management."
Why is St George's Park so important?
Wilkinson was a key figure in the research and development of St George's Park as the hub of English football's present and future from its opening in October 2012.
His answer is simple: "You can't really say you're serious about education if you haven't got a school for the kids - so this says we are serious."
And is the aim to bring the next English, or indeed British, Premier League title-winner, as well as the next generation of coaches, out of the lecture rooms of St George's Park?
"In 10 years' time you would hope you would see a huge change in football as far as coaches who have come through here are concerned," said Wilkinson. "Not necessarily English but also British and foreign. If you don't see a change then it's failed."
The FA course has been a magnet for big names hoping to forge a career in management, with Ryan Giggs and Gary Neville in the 2013 group, along with Huddersfield Town manager Chris Powell and Liverpool coach Mike Marsh.
Phil Neville believes St George's Park can be the envy of the sporting world as a place of learning, adding: "The Mercedes F1 team are a group that travel to the most fantastic parts of the world, stay in the finest hotels, with the best equipment - a billion-dollar industry - and they were blown away by the facilities at this place."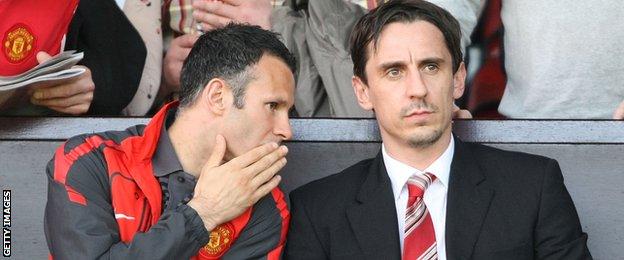 Dyche added: "Every time you come here it is becoming more of a hotbed now and not just for the national sides.
"We are not just talking about what is on the pitch, we are talking about the support system behind that, the coaching and management, all the courses that can enhance the likelihood that the coaches are getting it right. If the managers are getting it right, it can only help to develop the players."
The ultimate success might even be to wipe 71-year-old Wilkinson's name from the record books as the last English managerial title winner.
Wilkinson says: "I think in Germany, France, Holland, Spain, Italy, they would be very, very disappointed if one of their nationals hadn't won their premier competition recently. I think they would see that as a huge black mark on the end-of-year report."
2015 FA Uefa pro-licence candidates

Name

Club

Role

Andy Edwards

Leyton Orient

First-team coach

Ian Woan

Burnley

Assistant manager

Jimmy Floyd Hasselbaink

Burton Albion

Manager

Arnar Bill Gunnarsson

Iceland FA

Technical Director

Mark Sampson

The FA

England women's manager

Mark Warburton

Brentford

Manager

Scott Parker

Fulham

Player

Neil Adams

Independent

Brad Friedel

Tottenham Hotspur

Player

Allen Bula

Independent

Steve Torpey

York City

Assistant Manager

David Connolly

Independent

Dino Maamria

Stevenage

Assistant manager

Andy Awford

Portsmouth

Manager

Gerry Peyton

Arsenal

Goalkeeping coach

Phil Neville

Independent

Brian Borrows

PFA

Regional coach educator

John Achterberg

Liverpool

Goalkeeping coach

David Flitcroft

Bury

Manager

Ben Garner

Crystal Palace

Coach

Eamonn Dolan

Reading

Academy manager

Craig Shakespeare

Leicester

Assistant manager

Richard Beale

Birmingham City

Coach