Scotland's Ryan Gauld: British youngsters 'need lifestyle change'
Last updated on .From the section European Football
Ryan Gauld: The Brit abroad
Watch the full interview on Football Focus
Saturday 12:10 BST on BBC One and online
Scotland's Ryan Gauld says more young players should follow his lead and quit British football in order to develop.
Football Association chairman Greg Dyke this week warned home-grown talent was inhibited by "bog-standard" imports.
But 19-year-old Gauld, who left Dundee United for Portuguese side Sporting Lisbon last July, says British players can learn more from moving abroad.
He said: "It's a chance to experience a different lifestyle, a different culture and a different style of play."
The Scotland Under-21 international, speaking in an interview that will be broadcast on Saturday's Football Focus, added: "It's certainly something I would encourage.
"The common route is to go to England, but I felt like coming abroad would test myself and I would find out what my personality is really like."
Nani keeps me focused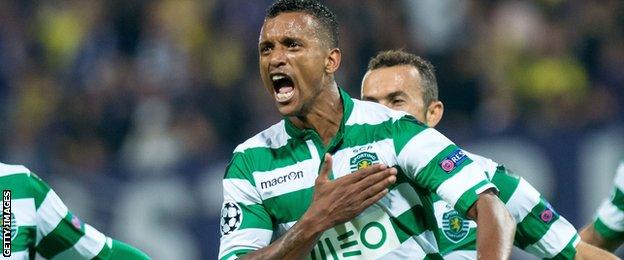 Gauld, who signed a six-year deal at Sporting last July, admits he struggled to adapt to his new life in Portugal at first, but reveals how an unlikely friendship with former Manchester United winger Nani has helped him to settle.
"It took me a few months to feel like I'd really settled in," he adds. "Not speaking a word of Portuguese - it was very difficult at the time.
"Nani has been brilliant with me. After training he's made sure that everything is good with me and even in training he makes sure I'm totally concentrated, telling me the things I need to work on."
Dealing with loneliness
Gauld admits there have been days when he wondered whether or not his move to Portugal was the right one.
"There's the moments where training finishes and you're back in your house by one o'clock and you've got the rest of the day with nothing to do," he says. "You're just sitting there wondering what you can do and wishing you were back home with your pals.
"But that's just something I've got to deal with if I want to be the best that I can be at football, and go through the hard times to enjoy the good."
Ready for the move abroad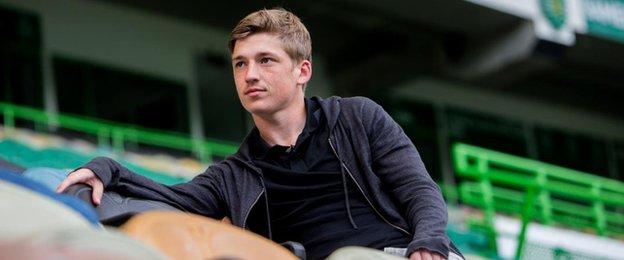 Gauld has scored two goals in five Portuguese Cup matches and made a handful of impressive cameos in the league, prompting Sporting fans to adopt the "Mini Messi" tag first attached to him by team-mates at Tannadice.
But Sporting coach Marco Silva - a man already drawing comparisons with Chelsea manager Jose Mourinho - is easing Gauld into first-team action, with a view to establishing him in a starring role next term.
"I think I was ready for the move to Sporting," he adds. "I knew it was what I wanted to do and that I would make it work.
"I've settled in really well and I'm just enjoying everything that's happening in my life right now."