Jim McIntyre: Ross County have achieved nothing yet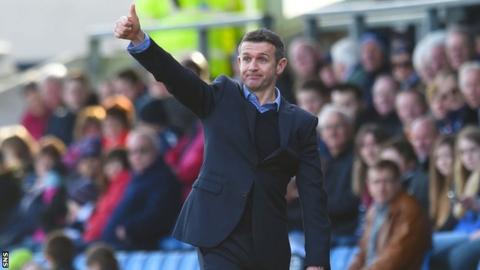 Ross County manager Jim McIntyre insisted his side has achieved nothing, despite winning five of their last six matches.
County have earned 16 points out of the last 18 to pull away from the relegation and play-off positions.
However McIntyre refuses to write other sides off ahead of the season finale.
"I think we've been on a very good run," McIntyre told BBC Scotland. "We've still got the hardest part still to do."
The former Queen of the South manager added: "The players have been excellent and results have been very good.
"We've given ourselves a platform to go forward and put it back into our own hands. That was the aim.
"We've just got to keep it going. We know it's going to be really tough.
"I don't think we've achieved anything.
"I expect St Mirren to start picking up again and start getting some results.
"It wasn't too long ago that we were in a similar position when we were six [points] adrift. So I don't think we should write anybody off.
"It's now coming to the crux part of the season, the business end if you like. We've got to make sure we keep doing what we're doing."
County face three games in nine days after the international break before the Premiership splits, concluding with a tie away to bottom-placed St Mirren.
McIntyre concedes those games will be vital in determining who faces relegation.
However, the pressure seems to have been alleviated to a degree as their six game unbeaten run has developed. That, after the Dingwall side earned just 12 points from their opening 24 league matches.
"I think it has lifted to a degree, I think results do that," he said.
"You feel it more when you're on a losing run but you also put yourself under personal pressure to keep delivering results.
"That's whether you're a manager or a footballer. We work in a pressure environment.
"We've got to put ourselves under pressure to get positive results to get the better of your opponent. That's football."
McIntyre believes the management team have benefitted from chairman Roy MacGregor's approach, who he describes as "different class".
He said: "It's easy for any manager to sit here and say that. Roy has a wealth of knowledge.
"Obviously he's been involved in football but he's a very successful businessman. He's good to chat to and bounce ideas off about life in general.
"He's been great. Anything I've asked for he's backed me on it. You give him the reasons why you want to improve things and do things differently. He's a great support.
"The chairman knows exactly what I want to do, what the plans are. He's firmly behind me.
"It's important that the man at the top shows that support and patience which sometimes you don't get.
"When we came in the door he knew we had a big job here. It has been a big job. We've still got a lot to do."